The Golden Rule
The golden rule: "Treat others as you would like to be treated."
A subset of that is: "If you don't have something nice to say... don't say anything at all."
What the Golden Rule Misses
That is a guiding rule which generally helps people prevent themselves from wasting time and/or causing an issue by offending someone. But there are a few things that are missed by that rule:
It is easy to tell someone not to internalize stuff, but the truth is if you don't respond at all then over time those sorts of people can start to wear you down
If you do not respond to someone they may think they are correct & then spread their misinformation further, as some of them attribute a lack of response to "the smoking gun."
Some consider bluntness to be impolite, however the alternative is the destruction of the English language.
The Rise of Enraged Consumers
With the rise of social media there is a rise of consumers feeling empowered to threaten, extort, and slander businesses. The media goes so far as training consumers to do so!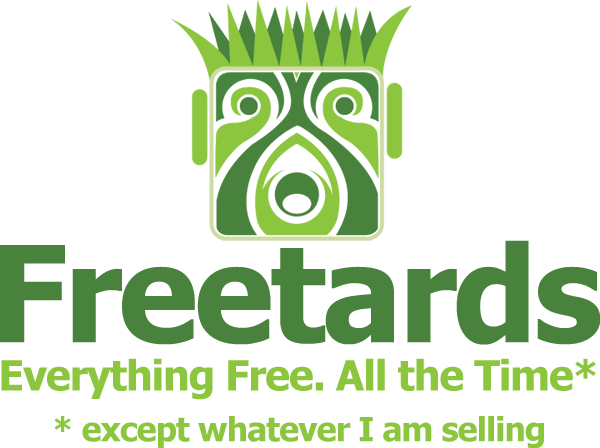 Some businesses deserve it, however others have done nothing wrong other than being in front of an overly important individual. I am having trouble finding it right now, but a couple times people have threatened to smear my name and brand if I didn't give them a refund for some scammy crap they bought from someone else! They acknowledged that I wasn't associated with it, but they wanted their money back from someone & were willing to take it out of my brand if I wouldn't give it to them. And so I spoke French.
What Caused the Freetardation of the Web?
One time The Conumerist said they wouldn't link to our website because some other sites using infographics are spam, but then they ran our infographic (sans the attribution to the person who spend thousands of Dollars creating it and marketing it) and they got tons of awareness and exposure from our content. Sites like the Huffington Post do that sort of stuff all the time, and often become the canonical source for YOUR content.
Not only are there business models built on paying users to steal other's valuable content, stripping attribution & make it free (like Youtube), but the model is so acceptable online now that you can simply program bots to do it (see Ask or Mahalo).
Google claims to make copyright better online, but if you search on Google they will recommend looking for torrents, cracks, keygens, and serial numbers. A friend of mine even showed me a YouTube video which shared a DreamWeaver serial code in it. As a person who has bought their software 4 or 5 times now I think that is just awful!

What caused this sea shift? What caused people to expect & even DEMAND the labor of others for free?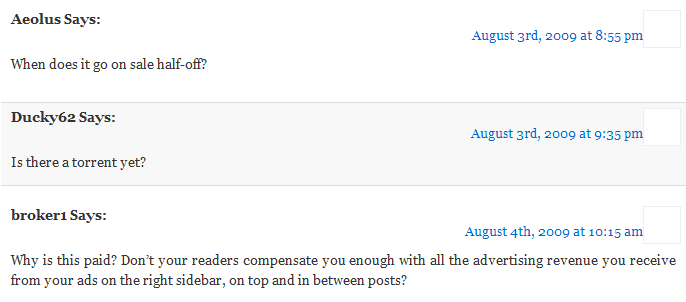 I think a lot of it is an extension of the penny gap, an online bias towards ads, and open source software.
The Penny Gap
A lot of dumb people the world over are trained that Kim Kardashian and other such celebrities are important to their daily lives. In spite of all of this sort of stuff, Bing reported that for 2010 "free" was one of the top 10 searched for keywords on the web.
The penny gap is a concept where by charging *anything* for what you do you have to make it exceptionally better than anything which is freely accessible. Free is such a powerful psychological motivator that people will do irrational things for free. Such moves are largely driven by the fear of loss. If you turn down free you potentially lose out on something, but if you accept it there is no risk (that you are aware of, anyway) since it is "free." Anything that is paid not only has the risk of you being wrong, but it also has the risk of fine print.
The fine print isn't the only reason people get screwed though. The people who do the screw jobs via fine print techniques often pay a lot for exposure. And since the web (as a network) is optimized for generating maximum revenues it means that the people who eventually find you will likely become distrusting by the time they do, as they will already have got conned by someone else who is great at sales, but nothing else!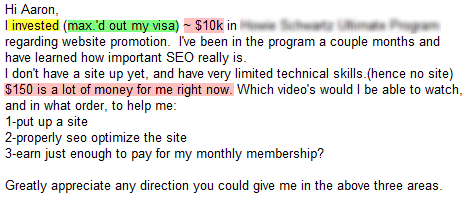 That will only reinforce the penny gap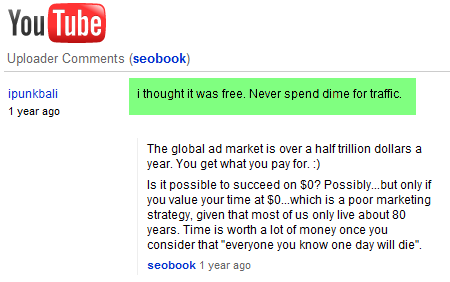 Profitably Publishing in a World Dominated by the Penny Gap
Since so many people chase free, a lot of publishing business models are built around tricking people to click ads rather than selling something. In some circles you are viewed as sleazy for having an affiliate link in your content even if you buy and use what you are promoting & spend hours writing in-depth reviews and tutorials. Many of the same folks who view any affiliate link as sleazy carpet bomb their own websites with AdSense ads. And lets not forget that AdSense even has an ad category for "get rich quick."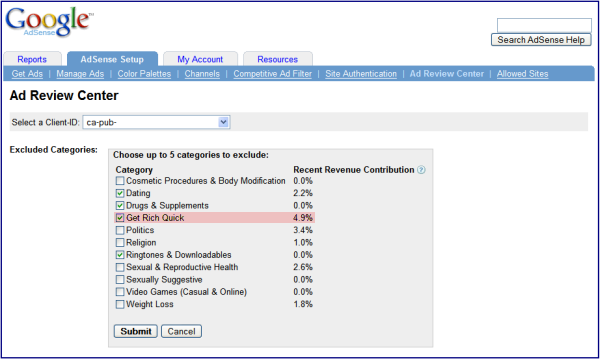 Further, with Google launching Boutiques.com, selling CPA product ads on their search results, offering comparison lead generation forms on their search results, and running the Google affiliate network it is safe to say that Google is easily one of the top 5 affiliates in the world. If being an affiliate is so sleazy (and tricking people into ad clicks is somehow any better) then why is Google such a big affiliate & why do so many of their AdSense ads carry links promoting affiliate offers?
5 Online Business Models
The web has a bias toward making stuff somewhat free for most people & really monetizing the hell out of the pour souls who are naive enough to click the ads. As an online publisher you generally have 5 main business options
trick people into clicking ads
do biased reviews of hyped junk that rip people off
encourage negative reviews and extort businesses (illegal, and the model of some sites like RipOffReport)
honestly review and promote the best products and services available and monetize some of those efforts with affiliate links (I include networks like OpenTable in this category)
add enough value yourself that you can offer a product or service for sale
Anyone can easily do the first 3 models, but the last 2 are more challenging. The 4th one is hard because its easier to convince naive people to buy products that are built around the sales letters than it is to convince people to buy things where the sales letter was built around the product.
The tricky part with the last category...actually adding enough value to be able to charge...is that it is far harder than most people realize. The minute you publish anything publicly there are forces pushing to commoditize it (most open source software is a remake of an existing paid software solution rather than an entirely new category unto itself). Also, if someone buys something from you and gets a great return they may not want to mention it to others precisely because they rely so heavily on you and they are getting such great returns from your product or service. And even if you sell physical products, Google selling CPA ads to the likes of Wal-Mart can still drive you under unless you turn it from a product into a service (like Zappos has done).
Aggressive Sales Techniques Yield Bad Customers
If you are aggressive in your sales tactics you get customers you do not even want. The guy who created the Product Launch Formula stuff highlighted how he saw 30% refund rates on it. If you are not aggressive in your sales tactics then you will find affiliates tend to promote the stuff that is more aggressive, typically optimizing for yield rather than promoting what is best. That is how self-interested economics works.
Why You Should Give Something Away
The way to get around with having to compete with that sort of stuff is to rely on a freemium model.
In spite of the negative impacts of freetards, giving something away is almost a requirement of online marketing today in many competitive markets, particularly if you do not want to scam people & you are not sitting on an established brand and a mountain of cash.
You give some stuff away and set up a sales funnel, while hoping to eventually sell something else. This, in turn, is the tricky part. As soon as you set up *any* barriers you will get tons of complaints. If you optimize for minimizing complaints you would have to stop selling anything and just get a job working at Wal-Mart being paid just enough to live on (after you add in your food stamp income).
What Are You Optimizing?
Support is *not* free. Especially after you become popular and the value of your time increases. If people are too lazy to read the instructions or are too incompetent to follow directions they need to eat that. If you try to 'help' them they will not only eat your time, but also make your employees want to quit:
In talking with other plugin developers, it seems fairly universal that the reward for a successful plugin is a deluge of support email that includes the worst kind of sense of entitlement, rudeness and ignorance. The community as a whole seems to expect to be able to pay nothing, yet received expert and individual help and support for free.

One of my goals with WordPress HelpCenter was to try to affect change in this area. My belief was that we could work with plugin developers to have them send support requests to WPHC, have WPHC provide commercial support services, and give a revenue stream back to the plugin developers. While WPHC has been successful overall, it has utterly failed in this effort. What we found was that regardless of the actual issue, users experiencing trouble with a plugin blame the plugin. They assume it's a coding problem (even though it isn't in most cases), expect free support and are so rude that we've lost people from our team as a result
I would say anyone who pays you nothing and then steals your time *AND* your employees is the exact opposite of a customer: a freetard!
To clarify, all people who use your free stuff are not freetards, but the people who use it incompetently then curse at you and demand phone support and such certainly are freetards.
Ultimately you are not optimizing for the 99% of people who come across your website and never spend a Dollar. You are instead optimizing for the people who are considering purchasing. This gives you a diametric view of the market, where the same content receives a wide range of responses, which range from...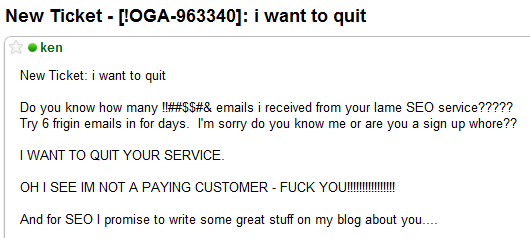 ... right on through to ...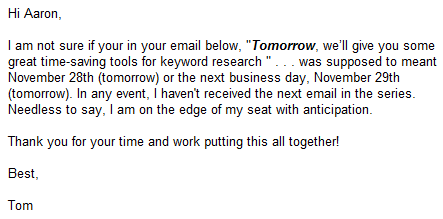 If you optimize to make that first person happy it means you lack internal respect and are throwing away over half of your income, because the second person won't have a sales funnel to build trust in you.
You can put an unsubscribe link in every email (we do), allow people to opt into the auto-responder or choose not to (we do), but you can't stop a person from taking steroids and/or missing their medication. A marketer who sets up a free email subscription on a site about marketing and then is angry about receiving free marketing tips is a complete idiot.
When people are polite (like the second example) I respond right back and try to help them as best I can. When someone acts like a steroid addicted enraged freetard who missed this morning's medications (like the first message, from K. Boostrom) I either ignore them or tell them to screw off. I usually ignore them, but when they provide curse words AND threats then they typically get a response. ;)
What constructive advice can you glean from

Because media and many software products have no cost to consumers people think that everything online (except whatever they sell) should be free. Not only should products be free, but so should services. Look at this lovely email from France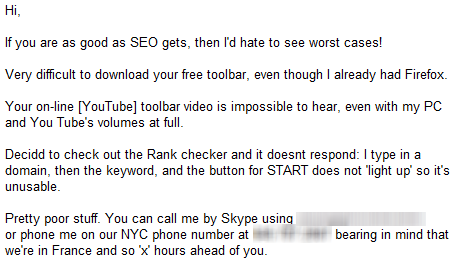 Note that it starts off with the obligatory insult, then complains about all the free stuff we offer AND the free content we give away. They then suggest I should SPEND my time and my money to give them a free consult. He also wants me to schedule my life around him being half-way around the world. The flip side of that is I have received numerous 3am wake up calls from people who looked up my phone number from our whois and decided I would like to have a chat about how incompetent they are.
I wish I could tell you that the above was a remarkable outlier, but sadly, such interactions are becoming more common. Hence using private registration.

The web is a great economic force. It makes information more accessible and for free. Many millionaires and billion Dollar companies are built on free open source software. But the reason open source software is free is that there are other means of monetization:
support is not free and/or
the site is a PageRank funnel to another monetized website (see Wikipedia/Wikia & Wordpress.org/Wordpress.com/Foodpress) and/or
the software builds network effects and/or awareness that builds stature, which can be monetized in other ways
the software acts as a recruitment tool to attract employees
etc etc etc
Help Wanted: Millionaire Seeking Free SEO Consultant
Some people might say that "well the freetards are just staring out, so you need to give them the benefit of the doubt." And part of why we offer so much for free is that I do remember where I came from and we do try to help people out. A lot!
But some of the freetards are anything but poor. Case in point: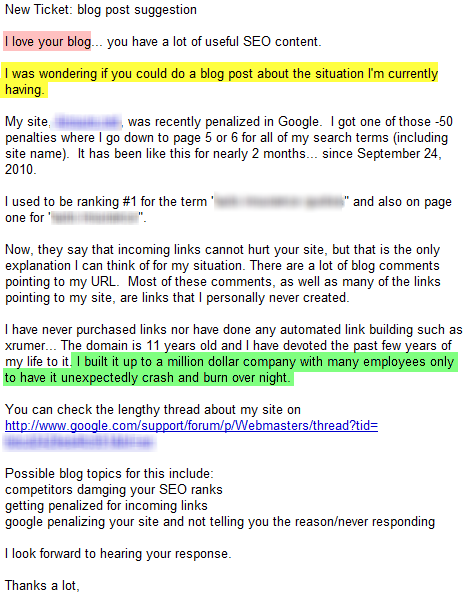 Freetard vs Customer
How does Wordnet define a client?
Client:
a person who seeks the advice of a lawyer
customer: someone who pays for goods or services
Prospective customers can make absurd claims and announce desires that will clearly lose you money but they are NOT your customer until they pay you. And even then, if they are abusive you have the right to terminate the relationship.
Freetards ACT like they have paid you and want the benefits of your services without paying a cent.

In the years to come these trends mentioned above will only accelerate. And that means that you have to make a choice on who you want to work for and what you want your work life to be like. You can choose your customers or let them choose you. But part of the process needs to be filtering what you don't want, lest you end up with freetards threatening to give your paying customers a beat down.