Google announced they were going to extend their vertical paid inclusion program to product search queries, where the paid inclusion results are put inline with the organic search results, often driving most (if not all) of the organic search results below the fold.
The layout of the result looks something like this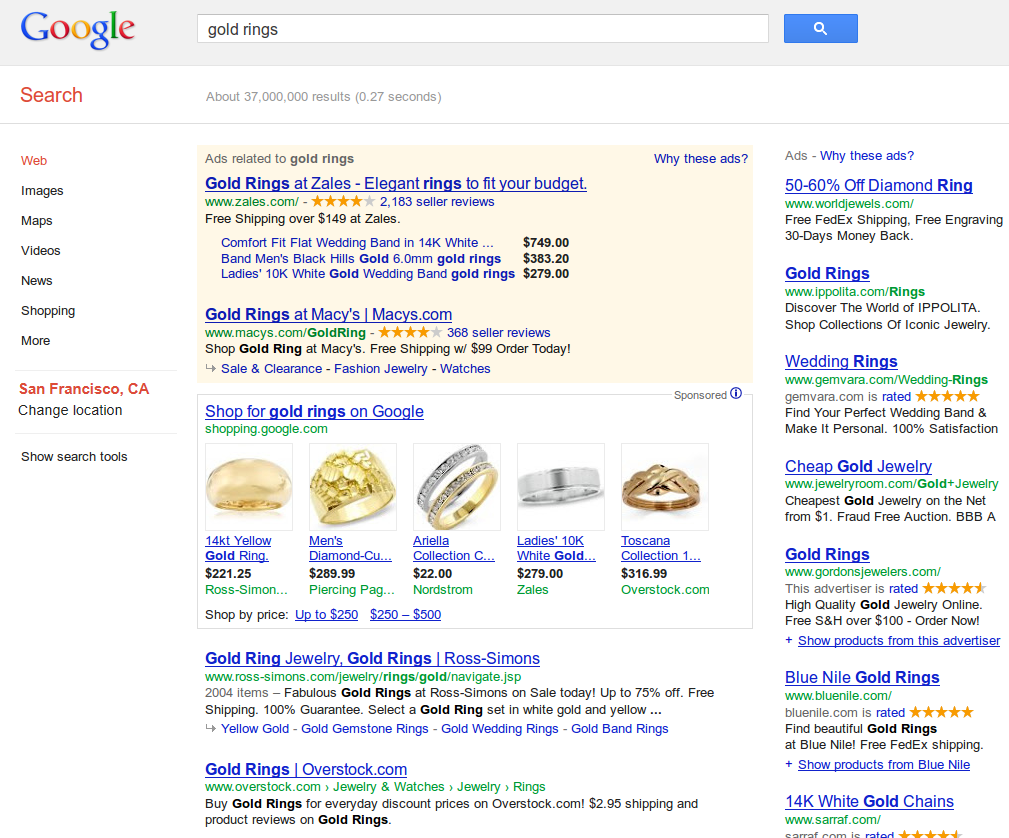 Or if you put it in Google's browser analysis tool, it looks something like this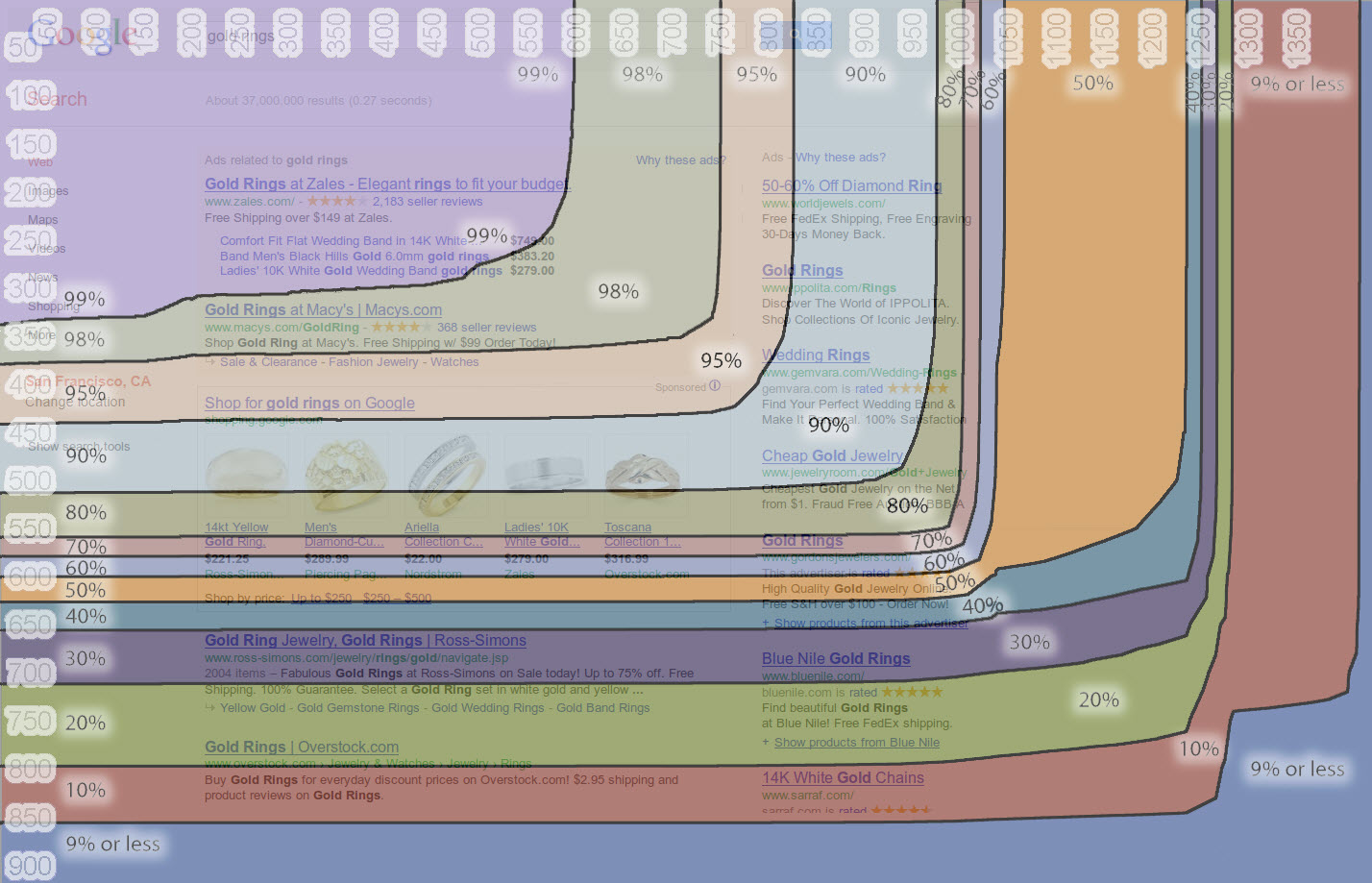 And with that move, if you are in ecommerce & you don't rank #1 you are essentially invisible to most searchers.
As John Andrews highlighted on Twitter: "Notice Google tells us "paid relationships improve quality" and then penalizes for paid links?"
As always, it is more profitable to follow Google's biz dev team than Google's public relations pablum.
In some cases Google might include 3 or 4 different types of monetization in a search result. In the below search result Google includes:
AdWords ads
Google Offers
Hotel Comparison ads
Hotel Price ads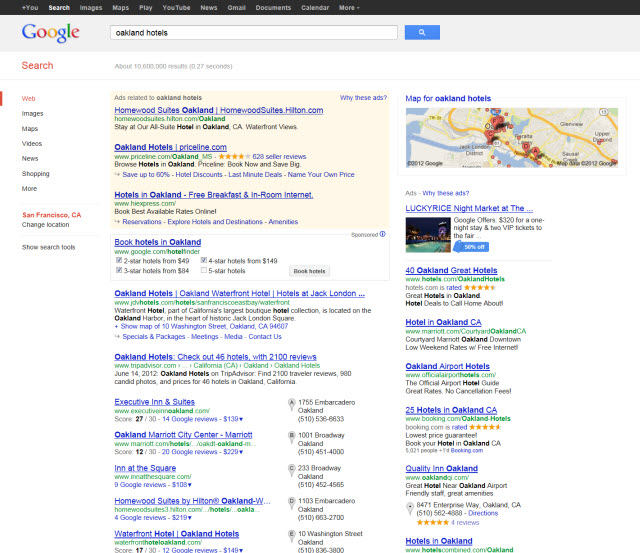 And those are *in addition* to featuring promotional links to Google Maps & Google+ in the search results. Further, some of these vertical results consist exclusively of paid inclusion & then have yet another layer of PPC ads over the top.
As SEOs we focus a lot of energy on "how do I rank 1 spot higher" but when the organic results are displaced and appear below the fold why bother? The issue of the incredibly shrinking organic result set is something that can't be over-emphasized. For many SEOs the trend will absolutely be career ending.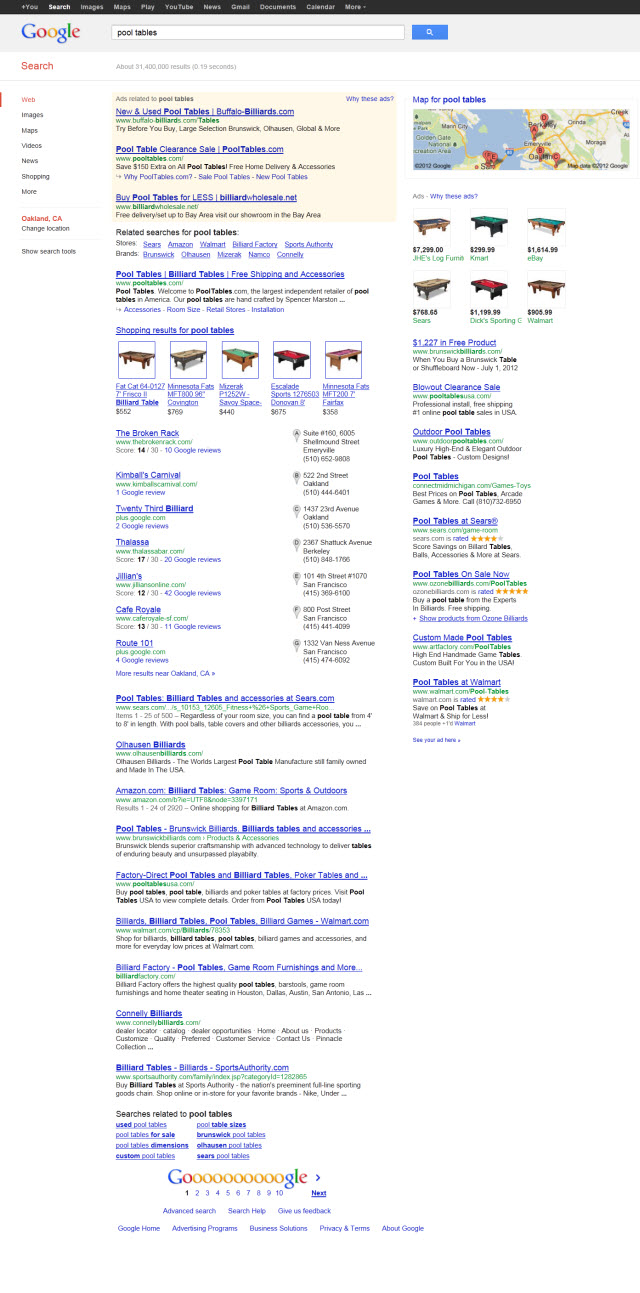 AdWords, product listing ads, brand navigation, product search, local, etc. A result like this has a single organic listing above the fold & if Google decides to rank their local one spot higher then that turns to zero.
If you look at the new TLD announcement Google applied for .MBA & .PhD (as well as many names around entertainment, family & software). Thus it is safe to say that education will eventually be added to local, video, media, shopping & travel as verticals where Google is displacing the organic results with links to more of their fraternal listings. About the only big categories this will leave unscathed will be real estate, employment & healthcare. However those first 2 are still in contraction during our ongoing depression & Google blew a lot of their health credibility by pushing those illegal ads for steroids from a person posing as a Mexican drug lord.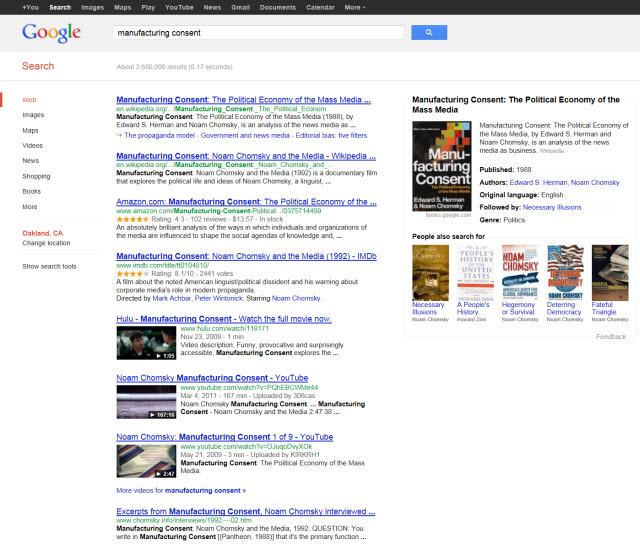 In addition to these fixed vertical that cover the most profitable areas of search, Google is also building a "vertical search on the fly" styled service with their knowledge graph. Their knowledge graph extracts data from 3rd party websites & then can be used to funnel traffic and revenue to Google's various vertical services. To make it seem legit, Google will often start by sending some of the traffic onto 3rd party sites, but the end destination is no different than product search. While it is a "beta" product it is free to justify an inferior product being showcased front & center, but after Google gets enough buy in they monetize.
There is a non-subtle difference between Google's approach and Microsoft's approach to building a search ecosystem.
Sucking the Brains Out of the Internet
After Google was unable to acquire Yelp they offered Yelp (& sites like TripAdvisor) an ultimatum: "either let Google steal your content & displace you with a competing service consisting largely of the stolen content, or block GoogleBot if you don't like it." While Google sucks in the value created by such 3rd party sites, they also explicitly exclude them from various vertical services aligned with the most valuable keywords. Yet at the same time, all this is to be seen as legitimate because there is a computer used somewhere. It as though humans are not making these profitable business decisions at all & so Google hires lawyers to write coin operated legal opinions about how computer generated results are free speech.
Nextag's CEO wrote a scathing article about Google in the WSJ, which promoted a response from Amit Singhal.
If you've wondered why Google keeps appearing before regulators, keeps being called evil, was just sued by the Texas AG, & has their own hate organization the above exemplifies why.
Let's compare that behavior against Yahoo! or Bing.
Yahoo! has long been considered out of the search game, yet when they want to have a competitive advantage they do things like license photos from Getty. They use the content with permission on agreed terms.
Google's approach is more along the lines of "scrape it now & figure out legal later." And after a long enough period has passed they will add monetization & mix it into the core of their offering, like they recently did with books:
This launch transitions the billions of pages of scanned books to a unified serving and scoring infrastructure with web search. This is an efficiency, comprehensiveness and quality change that provides significant savings in CPU usage while improving the quality of search results.
Both Bing & Google are creating knowledge graphs. Bing does things like partner with Britannica, Yelp & Qwiki.
Eric Enge interviewed Stefan Weitz about the new Bing interface. As part of that interview, Stefan described Bing's editorial philosophy on building a search ecosystem
We partner with 3rd party services instead of trying to build or acquire them. There are probably something like a million apps out there today.

I talk to probably two dozen start-ups every week that are doing different cool things on the web. To think that we are ever going to be able to actually beat them, or out-execute them (when they are talking about 12 guys with half a million angel funding building some really interesting apps), it is just not likely.
Ars Technica also has a piece discussing the creation of entity graphs (which is where the "sucking the brains" line came from). A key difference between Bing & Google is that Bing feels they should partner with sources & link out, whereas Google links the results back into more Google searches. What's more, when Google features their own vertical results in many cases links to the data sources are not provided at all & you stay on a fully Google experience, in spite of the cost to 3rd parties in building & maintaining databases that are scraped to power Google's offerings.
Off the start forays into new categories might provide some value to publishers in order to get buy in, but eventually the "first hit free" stuff shifts to paid & Google continues to displace publishers across more and more of the ecosystem, using content scraped from said publishers.
Funding Scraping
When Google or Apple drive cars around the country or fly military-grade planes over cities to create 3D maps of cities they are creating databases & adding new information. Outside of collecting private data (like wifi payload data) there is little to complain about with that. They are adding value to the system.
However, at the same time, Google not only scrapes themselves, but they are a revenue engine that drives a lot of third party scraping. And they design penalties in a way that allows those who scrape penalized sites to outrank them. With batch penalty updates some folks can chain redirects, expired domains & so on to keep exploiting the combination of copyright violations & Google penalties to make a mint. Google also had a long history of funding Traffic Equalizer sites, sites like Mahalo that would take a copy of a search result & auto-generate a page on it, newspaper sites that would hang auto-generated stub preview articles on subdomains, & sites like eHow which integrate humans into the process.
While many sites are still penalized from the first version of Panda, downstream referrals to eHow.com from Google in the US were up over 9% last month. They know "how to create SEO content."

Recently a start up that launched a couple years ago decided to take their thousands of subdomains of scraped databases & partner with authoritative websites to syndicate that content around the web. Some of those get double listings & for some search queries there is the same page (with a different masthead logo) 5 different times. Those sites don't get hit by duplicate content filters or algorithms like Panda because they have enough domain authority that they get a free pass. Including AdSense in the set up probably makes it more palatable to Google as well.
If you have scale you can even auto-generate a bunch of "editorial" questions off the database.


More data = more pages = more questions and comparisons = more pages = SEO alchemy (especially if you don't have to worry about Panda).
The parent scraper site includes links back to itself on every syndicated page, which to some degree makes it a glorified PageRank funnel. WPMU.org got smoked for syndicating out a sponsored theme on one of his own sites, but the above industrial-scale set up is somehow reasonable because it was launched by a person who sold their first start up to Google (and will likely sell this start up to Google too). The site also includes undisclosed affiliate links & hands out "awards" badges to the best casual encounter sex dating sites, which then get syndicated around the web & get it many inbound links from "high quality" porn sites.
I won't name the site here for obvious reasons, but they are not doing the above in a cloak of darkness that one has to look hard to find & do deep research to patch together. For some search results they are half or more of the search result set & they even put out press releases when they add new syndication partners, linking to numerous new automated subdomains or sections within sites related to various categories.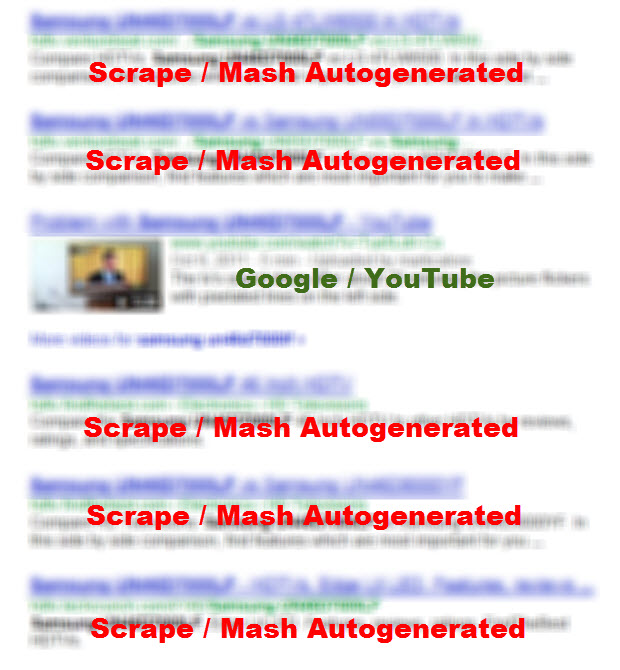 When the search results look like that, if you do original in-depth reviews that are expensive there is zero incentive structure to leaving your content and ratings open to Google and these sort of scraper/syndicaters.
There is always a new spin on the mash up low end content with high trust websites and try to feed it into Google. So long as Google biases their algorithms toward big brands & looks the other way when they exploit the ecosystem that trend will not end.
The Illusion of Choice
It is hard to see & feel the cost of a dominant market participant unless you have to do business negotiations with them:
The Independent Publishers Group, a principal distributor of about 500 small publishers, recently angered Amazon by refusing to accept the company's peremptory demand for deeper discounts. Amazon promptly yanked nearly 5,000 digital titles. Small-press publishers were beside themselves. Bryce Milligan of Wings Press, based in Texas, spoke for most when, in a blistering broadside, he lambasted Amazon, complaining that its actions caused his sales to drop by 40 percent.
However, even when companies are brutal in some aspects they do amazing things in other areas, so one has to weigh the good with the bad.
Now more than ever we are drowning in perceived choice, but if you look at market after market they are far more consolidated on the business side.
Into hipster indie music? Those labels are heavily reliant on the bigs. The increased flow of online streaming royalties will further increase the consolidation as big businesses prefer to negotiate with other big businesses & small players lack the resources needed to move the needle.
At any point Google can fold one vertical into another or extend out a new model. The Android Marketplace feeds into Google Play, Google local feeds into Google+, Google search force feeds just about everything else & even free offerings on sites like YouTube will eventually become pay to play stores.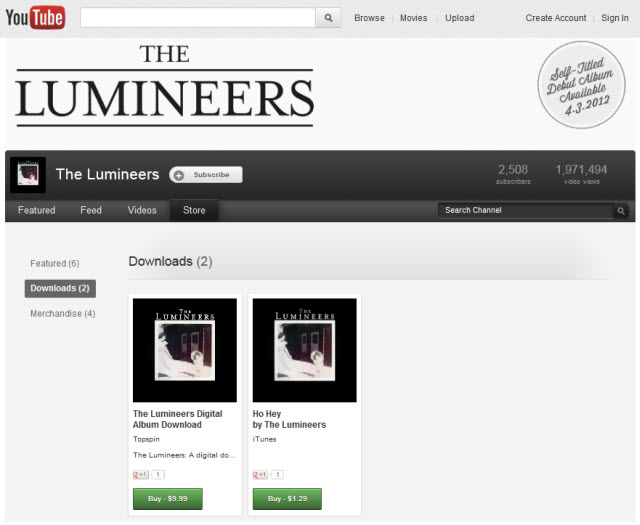 Where Google lacks marketshare & forced bundling isn't enough to compete they can buy the #2 or #3 player in the market & try to propel it to #1 using all those other forms of bundling.
Part of what made search competitive against other platforms was its openness & neutrality. But if the search results are Wal-Mart over and over again (or the same scraped info 5 times in a row, or a collection of internal listings) then the system becomes more closed off & the perception of choice becomes an illusion. John Andrews wrote a couple great Tweets expressing the shift in search:
"Google SEO is no longer worth the effort for those who are not writers, artists, speakers, trainers, or promoters. What happened to Search?"
"If you want to see what Google will look like after it locks up, look at Apple. ipad users are already "managed" very tightly."
When companies try to expand the depth of their platform with more features it is a double edged sword. At some point they capture more value than they create and are no longer worth the effort. When they get to that stage it becomes a race to the bottom with scrapers trying to outscrape one another. Then in turn the company that created the ecosystem problem uses the pollution they rewarded to further justify closing off the system, guaranteeing only more of the same. Those who actually add value move on looking for greener pastures.
Protecting Privacy
Google promotes that they make browsing safe & Firefox will soon stop passing referrer data. Apple was granted an anti-Big Brother patent. StopBadware partnered with Google, Facebook & others to create a self policing industry organization named the Ads Integrity Alliance.
When these companies are not busy "protecting" users they acquire recognition technology, collect a treasure trove of personal data, deliver fake endorsements, provide false testimonials & sell off the data to third parties.
Microsoft filed a patent for serving mood-based ads & there is research on how depressed people use the internet.
These companies compete on both the hardware & software level, collecting more data & creating more ad formats.
A label or an interest is a vector for ad targeting. There is no need to worry about de-anonymizing data for ad targeting when it is all in-network and you monitor what someone does, control which messages they see, & track which ones they respond to. Tell someone something often enough and they may believe it is true.
The Contempt Large Companies Have for their Customers
There is a sameness to customer service from a lot of big companies. They spend loads & loads to track you and market to you, but then disappear the moment things go wrong, as they are forbidden to care.
Perhaps the only thing worse that AOL's customer support is the unmoderated comments on the YouTube page.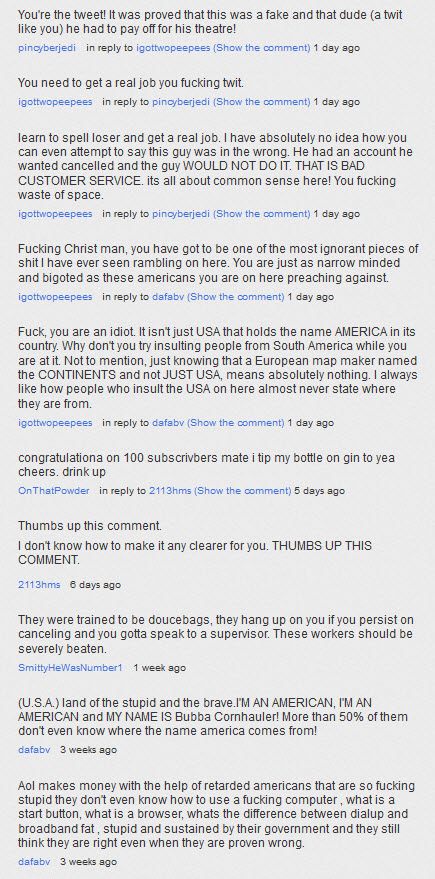 Google will rate YOUR customer service, but when it comes to customer service FROM them you are on your own:
Denise Griffin, the person in charge of Google's small customer-support team, asked Page for a larger staff. Instead, he told her that the whole idea of customer support was ridiculous. Rather than assuming the unscalable task of answering users one by one, Page said, Google should enable users to answer one another's questions.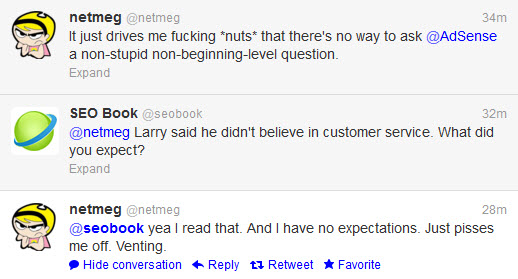 Even their official blog posts announcing that they are accepting customer feedback for your applications go unmoderated.
This sort of contempt exists at essentially all large companies.
Everything seems on the up & up, but that "private listing" was maybe for a counterfeit product.



If it isn't a counterfeit & you get too good of a price you are threatened with a lawsuit, and the branded network falls behind a "oh we are just a marketplace and can't be bothered to give a crap about our customers" public relations angle.
If a company has size there is a limit to how much they can invest in any individual transaction. And so ebooks made of YouTube comments invade Amazon.com.
Apple creates "beautiful" products designed around forced obsolescence:
The Retina MacBook is the least repairable laptop we've ever taken apart: unlike the previous model, the display is fused to the glass—meaning replacing the LCD requires buying an expensive display assembly. The RAM is now soldered to the logic board—making future memory upgrades impossible. And the battery is glued to the case—requiring customers to mail their laptop to Apple every so often for a $200 replacement. The design may well be comprised of "highly recyclable aluminum and glass"—but my friends in the electronics recycling industry tell me they have no way of recycling aluminum that has glass glued to it like Apple did with both this machine and the recent iPad. The design pattern has serious consequences not only for consumers and the environment, but also for the tech industry as a whole.
...
Every time we buy a locked down product containing a non-replaceable battery with a finite cycle count, we're voicing our opinion on how long our things should last. But is it an informed decision? When you buy something, how often do you really step back and ask how long it should last? If we want long-lasting products that retain their value, we have to support products that do so.
One last bit of absurdity on the YouTube front. Google recently threatened to sue a site designed to convert YouTube videos into MP3s.
How does Google's "computers deserve free speech rights" & shagging 3rd party content to fill out their own vertical search services compare against their approach when someone uses YouTube content in a way Google does not desire?
There are AdWords ads promoting free unlimited MP3 downloading & song burning bundled with shady adware.
Google's AdSense for domains funds boatloads of cybersquatting. While Google threatened to sue this particular site, they could have just took the domain due to it cybersquatting on the YouTube trademark. The fact that they chose to turn this into a press event rather than simply fix the issue shows that this is more for posturing.
Further aligned with the above point, while Google singled out a specific MP3 conversion site, there are other sites designed around doing the same exact thing which are PREMIUM ADSENSE PARTNERS, with the body of the page looking like this:

How Small Companies Are Taxed With Uncertainty
When Google decided to move away from direct marketing to brand advertising things that are often associated with size, scale & brand recognition became relevancy signals.


For big brands there is no shortage of companies trying to service the market that Google is favoring. For smaller companies it's a struggle. There are so many things to know:
how much to invest in marketing, where to invest it, how to balance the need for short term cashflow with the required reinvestments to build real (or fake) brand signals
how long does the market have left before Google enters the niche and destroys the opportunity that organic SEO once represented
should you run 1 website, or many to hedge risks? and how many is optimal?
how big should your site be?
if one of your sites gets penalized, should you try to fix it up, should you start over with a new site, or should you consider SEO to be a pointless goal?
Google mentions that they want people to do what is best for the user & not worry about Google, but that advice is a recipe for pain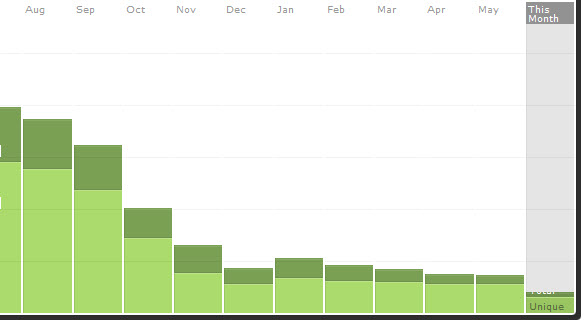 If you do not run a large & authoritative website there are so many landmines to trip over with the increasing complexity of SEO. And any of Google's "helpful" webmaster messages can suspend a webmaster in fear, leading them to an eventual bankruptcy.
Small companies need to do all sorts of canonicalization hoops & prune content and such to hope to avoid algorithms like Panda. Then Google changed their host crowding preferences to let some large sites get up to 8 listings in a single search result page for their LACK OF effort. Those larger sites can then partner with glorified scraper sites that syndicate databases feeding on domain authority with no risk of Panda.
Due to how Google penalizes smaller sites, those that rewrite their content will outrank them when they get hit. These horrible trends are so obvious that even non-SEOs like Tim Carter (who was a Google golden boy for years) highlights how the tables have tilted away from what is most relevant to what pays Google the most.
The promise of the web (especially search) was that it could directly connect supply and demand. However, just like propaganda promoting the superiority of certain countries in the physical world, it is unfortunately fast becoming a myth.