In years past Consumer Reports WebWatch studies showed that consumers struggled to differentiate ads from organic search results and that "more than 60 percent of respondents were unaware that search engines accept fees to list some sites more prominently than others in search results."
Since those studies Google has changed the background color on top ads from blue to a light yellow color that is hard to notice on some monitors. Changing my contrast setting from 50% to 55% it is hard for me to see the edge of the sponsored box...it simply bleeds into the organic search results. Google interviewed German searchers to ask if they noticed the yellow background on sponsored links and got a negative answer:
INT [interviewer]: "Why do the results on top have a yellow background, did you notice?"
TP [tester]: "I didn't notice this."
INT: "What does it mean?"
TP: "It definitely means they're the most relevant."
Google has done studies on the the brand lift of search, but it only tells part of the story. When one considers that
many searchers do not know where the paid ads are,
people will be searching more on mobile devices,
maps and other verticals will eventually have ads integrated in them, and
search suggestion services may show ads before the searcher hits the search results
...it is going to get much harder to compete for attention in big verticals unless you have the best visitor value and can afford PPC, or you build a formal partnership with the search engines.
To see where this is headed check out the Yahoo! Search results for a popular band, and see how Yahoo! turned their search results into a useful interaction AND an advertisement for Rhapsody - allowing searchers to play songs directly in the search results. Large portions of the search stream (lyrics, music, entertainment, sports) are going to be directly controlled by the search engines that keep users on their network longer and the second click.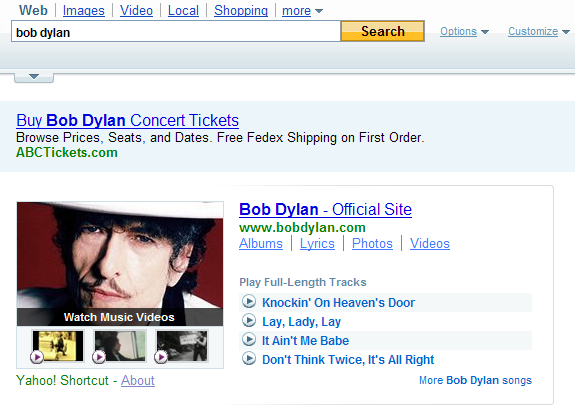 * at least in the mind of searchers tested by Google and used in Google promotions to promote paid search advertising.