One of Google's leading marketing secrets is to appeal to power users. When describing how they designed Gmail, Google's Todd Jackson stated:
We started with the early-adopter crowd. That was on purpose. We wanted to build a product for people who were getting hundreds of e-mails a day, because we believe by focusing on the power user, you're designing the product the rest of the market will want in a couple years when everyone's usage habits catch up to the most active users. We pay most attention to seven-day active users (those who use Gmail at least once every seven days) and usage--the amount of actual engagement with the product. Something that Larry and Sergey (Larry Page and Sergey Brin, Google's co-founders) are always, always telling us is to focus on usage rather than users. That's what matters more. You get better feedback and you are properly kept more on the leading edge if you're focusing on the people who are using the product all the time, using the product all day, than just the casual users.
This is why marketing to developers and designers is so important...they use the web more, and the stamp they leave on it is much deeper than the average user. But they also tend to be sensitive to marketing messaging, especially when it becomes a bit hypocritical.
Eric Schmidt On YOUR Privacy With Google
Recently in an interview Eric Schmidt made the awesome statement "Judgment is important ... If you have something that you don't want anyone to know, maybe you shouldn't be doing it in the first place."
That approach to privacy from a search engine intent on personalizing the search experience is horrible for a number of reasons. It is bad enough that it encouraged reactions from security professionals and open source advocates, who like to remind us that Google is *always* trying to spy on you and collect more data.
"Everyone knows that every site you visit and all address bar searches in Chrome go to Google, right?" - Christopher Blizzard
Why did Google create an operating system? So they can spy on you. Why does Google care about speed so much that they created a DNS service? It was a convenient excuse to use...so they can spy on you. Why is Google launching their own cell phone? So they can spy on you.
Mozilla makes most of its money from their search syndication partnership with Google, and yet Mozilla's Asa Dotzler wrote about how to switch your search provider to Bing. Explaining why he favors Bing, he wrote:
Because search is broken like browsers were broken in 2002. No competition means that Google can do what ever it wants and you have to like it. Bing's search is pretty good, in the US at least, and their privacy policy is so much better (they don't, for example, connect your Microsoft email or office accounts with your search results like Google does so search data they collect isn't personally identifiable.)
Bruce Schneier understands why privacy is important
For if we are observed in all matters, we are constantly under threat of correction, judgment, criticism, even plagiarism of our own uniqueness. We become children, fettered under watchful eyes, constantly fearful that -- either now or in the uncertain future -- patterns we leave behind will be brought back to implicate us, by whatever authority has now become focused upon our once-private and innocent acts. We lose our individuality, because everything we do is observable and recordable.
The following comment also reveals how this sort of tracking + philosophy on privacy can go astray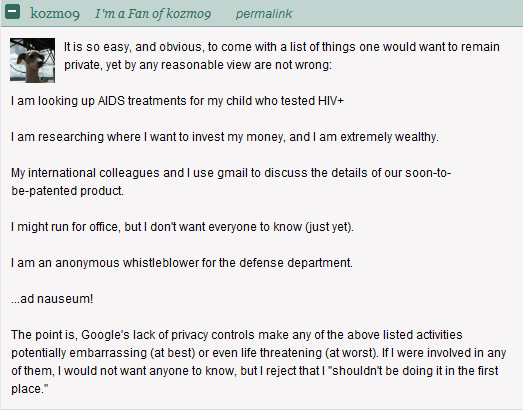 Why does Eric Schmidt dismiss your privacy?
money
Exploiting User Flaws for Maximum Profit Potential
Google collects more data than they need to (putting you at greater risk), so they can better exploit your mental weaknesses for profit. Eric Schmidt is betting big on exploiting YOUR privacy for profit:
Even better, the device knows who I am, what I like, and what I have already read. ...
Some of these stories are part of a monthly subscription package. Some, where the free preview sucks me in, cost a few pennies billed to my account. Others are available at no charge, paid for by advertising. But these ads are not static pitches for products I'd never use. Like the news I am reading, the ads are tailored just for me. Advertisers are willing to shell out a lot of money for this targeting.
But a bet for ads that learn you and profile your faults and weaknesses is not one that Tim Berners-Lee would make. The creator of the WWW is firmly against it:
In a world where democracy is getting more participatory, it's very important that people are informed over a neutral medium so they can connect to whoever they want. Another issue that is very important is snooping. I don't want any snooping on my Internet traffic.
You can do things to ensure that my Internet runs smoothly, but when I am doing something which is perhaps very intimate: when someone looks up something to see if they have cancer, or a teenager wonders if they are homosexual or not and wants to go online to find answers, this should be private. So systems that monitor every click and build a profile of me are very damaging.
The things we do on the Internet are so intimate that they are much more valuable to others and damaging to me than having a permanent TV camera in my living room. I don't want my health premiums to go up if I look up health information; I don't want to be a suspected terrorist if I do research on chemicals, I don't want to get leaflets from gay rights groups if I look up something on sexuality.
At least we know why Eric Schmidt says "Advertisers are willing to shell out a lot of money for this targeting" and why he thinks you don't need to worry about it.
But maybe Mr. Schmidt is right. Lets look at how Google operates...
With Nearly Unlimited Privacy & Secrecy
What happens when Google gets search personalization or search suggestion wrong and your spouse wants to divorce you because of a Google error? Judgment is important, after all. Well Google wouldn't make such errors, they are perfect. Or are they?
Google's Data Privacy Strategy is a Leaky Boat
Google wants you to trust them enough to store your data with them in the cloud. Eric Schmidt said that the cloud was their most important focus in 2010. Well what happens when your internal data is exposed publicly due to a Google bug? Couldn't happen? Well guess again and again.
Is Eric Schmidt suggesting that businesses simply shouldn't consider using Google Apps because Google has a track record of not caring about user privacy & being sloppy with private data? How should we judge Google based on their current business practices? Judgment is important.
Google Promotes Lambasting Content
A few weeks back while watching CNBC I remember seeing reporters mention that if you want customer service from airlines that you should complain on Twitter. Google has since integrated such messages directly in their search results. So now any bad customer experience (or envious competitor) becomes part of your brand. And you can't make money while making everyone happy. As the web gets more competitive the markets will only get nastier, where more people try to cash in on established brands.
In fact, running AdWords ads asking if (or exclaiming that ) product or service x is a scam is one of the most popular AdWords affiliate strategies. Google doesn't let brand advertisers opt out of such messaging on their brands, and if you don't buy your brand they will be glad to sell that ad slot to someone else.

Google AdWords Ads Promote Scams
Sure Google recently sued some scammers who were cashing in on the Google brand directly, but how long was Google running the Obama stimulus and government grants for after they lied and said they were already cleaned up?
What does it say about the Google brand that their own brand is being tarnished, but will run scam ads on other keywords even after they said the issue has been cleaned up?
It is so bad that Google has an ad category called "get rich quick".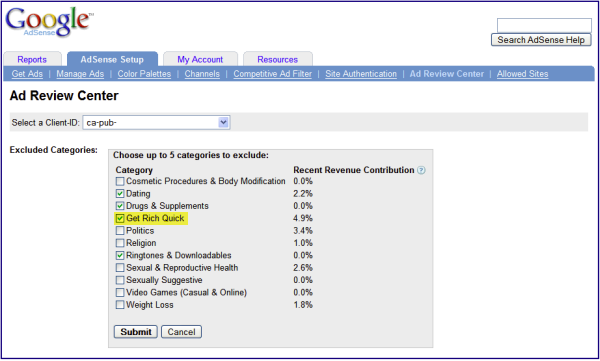 How should we judge Google based on their current business practices? Judgment is important.
Google Recommends Violating Copyright
Most sites violating copyright online which carry ads are wrapped in "Ads from Google", via Google AdSense & Google DoubleClick.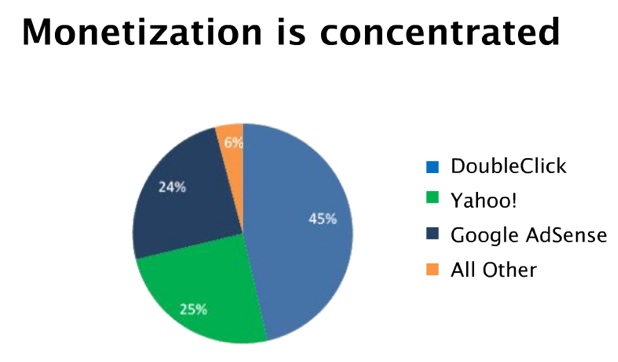 Further, Google also promotes cracks, warez, and torrent searches on copyright materials.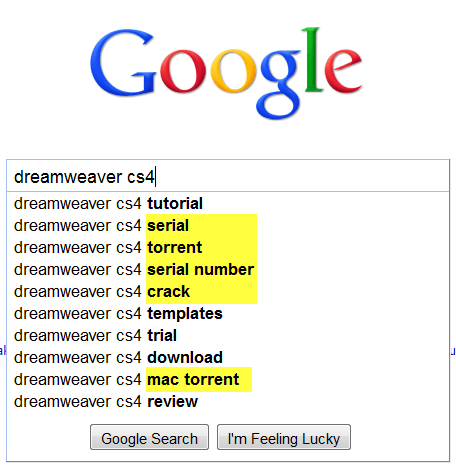 Sure it is not as bad as when Google ran AdSense ads on the #1 cracks website, but how hard would it be to sanitize words like warez and cracks from search suggestions?
How should we judge Google based on their current business practices? Judgment is important.
Google Uses Limited Ad Disclosure
Google has frequently talked up the importance of publishers disclosing ads. And yet in some cases Google removed the "Ads by Google" notification with a little "I" button that you have to scroll over to see that it is an ad.
Further sometimes they have shown NO ad notification on some ad units, making some website visitors think certain site owners condoned homosexual activity.
And Google even marketed the fact that their searchers did not realize that paid search AdWords ads were advertisements:
INT [interviewer]: "Why do the results on top have a yellow background, did you notice?"
TP [tester]: "I didn't notice this."
INT: "What does it mean?"
TP: "It definitely means they're the most relevant."
Google did not use this feedback to beef up their clearly confusing disclosure...they stuck with what was working well for them.
How should we judge Google based on their current business practices? Judgment is important.
Google Funds Manual Information Pollution
I was looking through some of the suggested article titles for some of the garbitrage websites, and came across gems like "Miley Cyrus Did What? Celebs who Make Bad Decisions and How to Teach our Kids Right"
Could that title be any more leading? And Google is funding that sort of garbage - right now.
How should we judge Google based on their current business practices? Judgment is important.
Google Funds Automated Information Pollution
And there are sites with automated content generation built around arbitraging brands. A few months ago I saw the following automated crap ranking for some of our branded keywords...trying to arbitrage our brand & associate it with foreclosure scams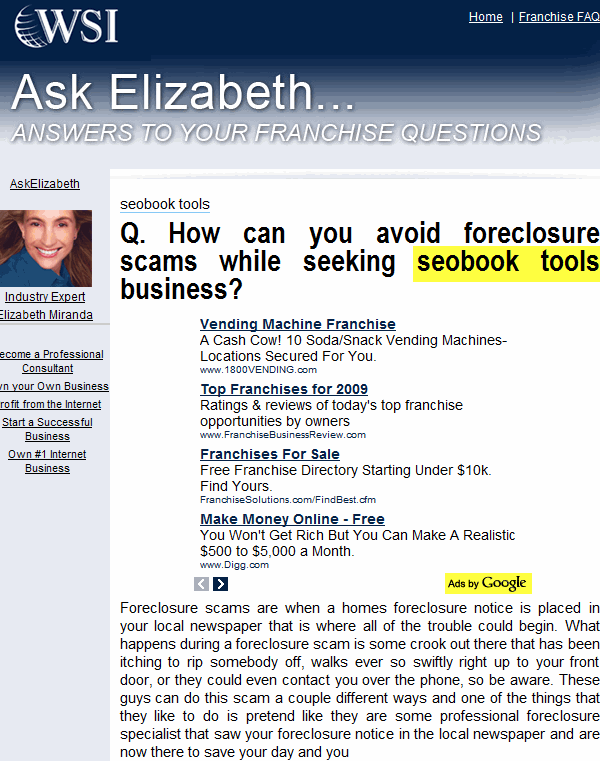 And that was not a 1 off article...Google is paying to have 10,000's of such gems created, and is indexing them with glee

What does it say about the Google brand that their ads support this automated generation of trash? What message does that send to online consumers and business owners? How should we judge Google based on their current business practices? Judgment is important.
Google's Enjoyment of Privacy (aka Black Box Pricing)
Some advertisers have fallen out of grace with Google over the years and have had no luck getting back in. Google arbitrarily decides they don't like them (or maybe even their business model) and that the relationship should end. The game is complicated, but in some cases one strike and you are out. The same sort of privacy and secrecy is core to Google's organic search engine ranking algorithms, how they profile and target certain webmasters, the proprietary standards they push onto the web (like rel=nofollow), & almost every other aspect of their business.
Are you a Google cell phone partner who built a phone on Google's Android OS? If so, did they tell you that they were going to thank you for the cross marketing by creating a competing product? I doubt it.
Are you a Google partner who syndicates their ads? Want to know what percent of the click price you are earning? Screw you, you can't. Go eat crow.
And in the markets where Google is dominant they not only pass arbitrary judgment without care, concern, or explanation...but they also use their market position to exert monopoly pricing powers. They frequently state that the market sets the prices on the ads, but for one of our sites we did some brand ads on informational searches where there are no competing sites buying AdWords ads.
Our ad is so relevant that even the broad matched version of the ad is pulling in a 12%+ clickthrough rate (with phrase match more than doubling that clickthrough rate). Searchers love our ad and website. But if we bid less than a nickel Google won't even display the ad (in spite of the high relevancy and complete lack of competition in the marketplace).

Google sets arbitrary floor prices and shows you that if you want more clicks you need to pay more, even though the only competitor in this auction is Google. It is no better than the shill bidding SnapNames got in trouble for.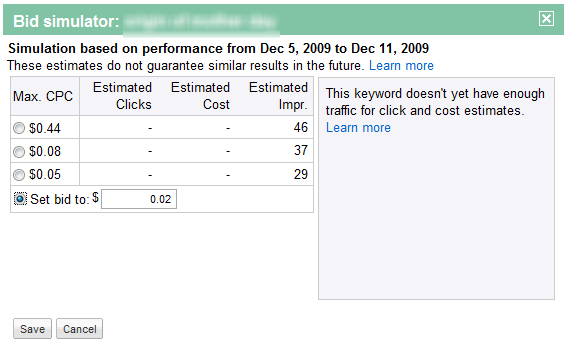 And yet you often hear Google talk about the power of democratic marketplaces. Something they clearly don't believe in. What message does that send to business owners? How should we judge Google based on their current business practices? Judgment is important.
What is YOUR Judgment on Google?
Anytime you see Google do something stupid make sure you blog about how stupid Google is, and compare their errors to what sort of results are available on Microsoft Bing. Feel free to leave your examples in the comments AND blog them. I'll share one of my favorite examples from today, showing me New York hotels near San Francisco :D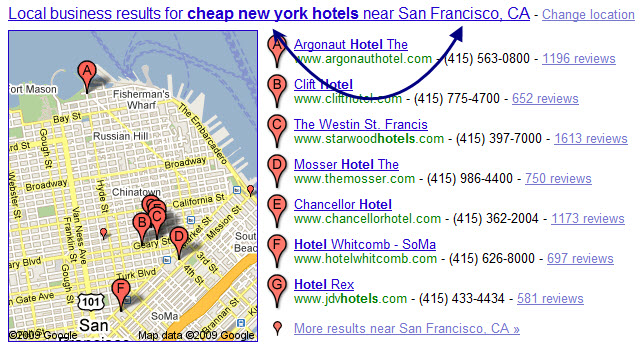 I still use a lot of Google products and write the above knowing that they have been pretty good to me, but seeing nonsensical garbage absolutist statements from the top of their company scares me.
If Privacy is Unimportant...
Think I am being hard on Google? Well if they think privacy is unimportant, then maybe they can explain why they host a PDF titled Inside the Black Box Technology and Innovation at Google.
Google workers think THEIR own privacy is crucial to their success (and WILL fire any employees who get it wrong), but think YOUR privacy is a commodity they should sell to the highest bidder.
Good to know!
Careful what you enter into a search box. And be careful when choosing your web browser. I would rather pay $50 more upfront and not get spied on. How about you?