Google announced that over the next week they are going to implement their Google Suggest search suggestion feature on Google.com. This change will help searchers find popular keywords that other searchers recently searched for.
Short Term Influence on Search
When this search suggest change is coupled with the recent launch of automatic matching and the new quality score update it may consolidate PPC competition against a smaller set of core industry keywords. Some outlier keywords, like misspelled terms, are going to be much harder to build a traffic stream from.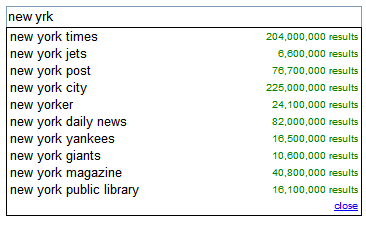 This will also likely have the effect of focusing organic search attention on a smaller set of well defined queries. And the extra competition in the PPC space will drive yet more competitors to adopt SEO practices. But as an SEO smarter than 99.9% of other web publishers, you have some profitable drafting opportunities you can use to build a profitable search traffic stream. :)
SEO Drafting Tips
Search Query Drafting: If you can create a brand that starts with and industry keyword and drive search volume on it then your brand can show up for some people looking for the broader topic. For example, a webmaster may not have enough PageRank/link authority to rank for seo, but if they can create enough hype around their brand then maybe people search for it and their brand related search query shows up as a suggestion around the broader search queries. This is something that should also be taken into consideration when coming up with official names and page titles for leading resource oriented linkbaits.
Brand Drafting: If SEO Book is a decently strong brand and a fairly generic keyword, and SEO Books is the second most popular term suggested right below it then you might be able to pick up some of that search volume by ranking at or near the top for that alternate version. An April Hitwise blog post showed that in the US nearly 15% of brand related queries were intercepted by third part websites, and that was *before* Google launched search suggest directly on Google.com.
Brand Coupon/Discount Drafting: This is an extension of the above type of drafting, but rather than creating a compilation of sorts you focus on getting an affiliate commission for offering consumers a discount on the core brand. Many consumers will be reminded that there are coupons, discounts, promo codes, and reviews to find and read through when reviewing popular brands.
Media Drafting: This technology is already live on Youtube, so Youtube presents 4 ways to draft popular media.
create a video optimized for a phrase that is already popular on YouTube
create a video optimized for a phrase where you think the video has a good chance of ranking high in Google results
create a video that has a title similar to other popular YouTube content that is watched by hundreds of thousands or millions of people
create a relevant video that is a video reply to a video that is already well received
Long Term Influence on Search
For websites and businesses that have no intent of building a real brand and intend to run primarily as an organic search arbitrage player the significance of domain name may be lowered significantly.
As people get more acclimated with using search to navigate the web (as many people already do) then some brands and domain names that seemed too long and not viable may become viable marketing platforms.
Conversely, short acronyms may lose some of their value as people become acclimated to having the search engine help complete their search queries.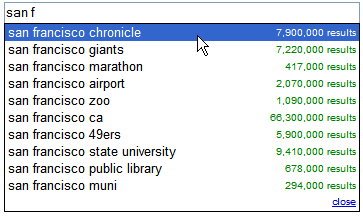 Your Turn
How do you see search suggestion influencing how we search and how we write?