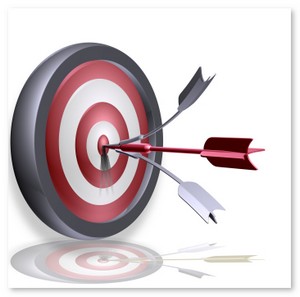 Do your tags scream "Click Me"?
Following on from my post yesterday, How To Craft Kick-Ass Title Tags & Headlines, lets look at meta tags as an advertisement, and why you need to think carefully about your offer, and the offers of your competition, when you craft your tags.
Why Are Title Tags Important?
Ranking debates aside, the main reason Title tags are important is because they are displayed, in bold, in the SERPs.
A SERP is a list of 20+ links, all clamoring for the visitors click. It is therefore important to entice visitors to click on your listing, rather than everyone else's. Sometimes you achieve this by rank placement alone, but with well-crafted tags, you stand a better chance of receiving that click.
What Is The Optimal Length For A Title Tag?
The W3C recommends the title tag should be less than 64 characters long.
Some SEOs think that long, keyword-loaded tags are the best approach. Some SEOs think short punchy tags are best, as long tags may dilute the weight of the keyword phrase, and there is less risk of Google cutting off you message midstream.
Because other factors play a more significant role in terms of rank, I ignore prescriptive tag lengths. Instead, I look to optimize the message in line with the business goals of a site.
Know Your Enemy
This is a proven Adwords strategy which also dovetails nicely into SEO.
The first step is to evaluate your surrounding competition.
Look at the wording of the most successful adwords ad for your chosen keyword term. Your aim is replicate success. Run an adwords campaign and experiment with the wording to find out the wording combination that receives the most clicks and subsequent desired action. You then craft your title tags and description tags to match. What works for Adwords works in the main SERPs, too.
Another way to approach title tags is to constantly rotate the tags using a script, and monitor the results. The is a split-run approach known as Keyword Spinning. You keep with the winners and cut the losers. This approach is describe in my post "Tested Advertising Strategies Respun For SEO"
What Are The Ideal Lengths For Meta Description Tags?
Common SEO wisdom dictates the description tag should be around 160 characters long.
Again, my approach is take prescriptive lengths with a grain of salt. Instead, focus on marketing and business goals.
The description tag doesn't have any ranking benefit, but it can be used to encourage people to click on your listing. Evaluate the surrounding competition, run tests using phrase variations, and make your description tag enticing. Also keep in mind that Google may match up a page description if the exact search query exists in the description tag.
Examples Of Title And Description Tags
This is how it should be done:

The title and description are clear and descriptive. There is a call to action and an appeal to self-interest.
This is a jumble:

The title and descriptions are confused. It is not clear what the benefit is to the visitor.
Google's Quirks
One problem is that Google sometimes uses a snippet Google may also use a DMOZ description.
Google will use the snippet when it finds no description tag, or determines the description tag that your provided is inappropriate. To improve the chances your meta description tag will be used, see Google's guide: "Improve Snippets With A Meta Description Make Over". Essentially, you need to make you meta description tag descriptive, as opposed to a series of keywords.
You can prevent search engines from using the DMOZ description using the following meta tag:
Prevent DMOZ META NAME="ROBOTS" CONTENT="NOODP"
See Googles Webmaster Guideline: "Changing your site's title and description in search results".
Get Into The Mind Of The Searcher
An important part of positioning an offer is to know what's on the searchers mind.
In some cases, the keyword query will contain this information. For example "Buy X Online Overnight Delivery" is self-evident, however the majority of searches are not transactional.
According to a Penn State research study, the breakdown of searches is as follows:
80% Of Searches Are Informational
10% Of Searches Are Navigational
10% Of Searches Are Transactional
Definitions:
Informational queries are meant to obtain data or information in order to address an informational need, desire, or curiosity.
Navigational queries are looking for a specific URL.
Transactional queries are looking for resources that require another step to be useful.
Query classifications can be broken down further into the following sub-categories:
Directed: Specific question. i.e "Registering a domain name".
Undirected: Tell me everything about a topic. i.e. "Singers in the 80s".
List Of Candidates: List Of Candidates i.e. "Things to do in Hollywood".
Find: Locate where some real world service or productcan be obtained i.e."PVC suit"
Advice: Advice, ideas, suggestions, instructions. i.e. "What to serve with roast pork tenderloin".
Navigation to transactional: The URL the user wants is a transactional site i.e "match.com"
Navigation to informational: The URL the user wants is information i.e. "google.com"
Obtain: Obtain a specific resource or object i.e. "Music lyrics"
Download: Find a file to download ie. "mp3 downloads"
Results page: Obtain a resource that one can printed,save, or read from the search engine results page i.e. (The user enters a query with the expectation that 'answer' willbe on the search engine results page and not require browsing toanother Website)
Interact: Interact with program/resource on another Website. i.e "buy table clock"
And further by sub-category type:
Closed: Deals with one topic; question with one, unam-biguous answer. i.e "Nine supreme court justices ".
Open: Deals with two or more topics . i.e. "excretory system of arachnids".
Online: The resource will be obtained online i.e. "Things to do in Hollywood".
Off-line: The resource will be obtained off-line and may require additional actions by the user i.e."Airline seat map"
Free: The downloadable file is free i.e. "Full metal alchemist wallpapers Free".
Not free: The downloadable file is not necessarily free i.e. "family guy episode"
Links: The resources appears in the title, summary, or URL of one or more of the results on the search engine results pages
Other: The resources does not appear one of theresults but somewhere else on the search engine results page
Source: "Determining the informational, navigational,and transactional intent of Web queries" Bernard J. Jansen, Danielle L. Booth, Amanda Spink; Pennsylvania State University
Google have teams devoted to this very function, and this type of classification will feed through into their algorithms.
When crafting your tags, think about what classification of query the searcher is undertaking. How would they structure it? What terms would they use? Would they phrase their query as a question? What words would they include? What words would they omit? Dig deep into your keyword research tools and web logs to find this data.
Think about their mindset. Using words like research and compare help you tap into people in the research mode, whereas words like buy, save, coupons, and free shipping attract people ready to buy.
A Call To Action
The title tag and description provides opportunities to include calls to action. A call to action is a phrase that provides the opportunity for a visitor to take a step along the sales process.
The keyword term you've selected might give you a clue as to what point of the sales process the visitor is at. Obviously, "Buy X Online Overnight Delivery" tends to indicate a visitor is about to hand over the cash, so you draft your title tag and description accordingly in order to help close the deal.
However, most keyword terms aren't this overt. This is where you need to think about the type of offer you present.
How To Decide Between A Hard Offer And A Soft Offer
Some of the most effective offers are seldom "reasons to buy", but rather "reasons to respond." This is the difference between a hard and soft offer.
The vast majority of searchers are not ready to buy, so by using a soft offer, you stand to capture a greater number of leads than you would if you just made a hard "buy right now!" offer. If all you've got is a hard offer, then visitors who aren't ready to buy will click back, or won't select your SERP result at all.
Opportunity lost.
Instead, encourage the visitor to take a relatively painless action, such as joining a mailing list, or downloading a free case study.
You can take this a step further my using the case study title to find out more about your visitors. For example, a case study entitled "Real Estate" won't tell you much about the problem your visitor is trying to solve, but a descriptive title, such as "Seven Ways To Sell Your Own Home" will. If they download the latter, and your service solves this problem for people, you're one step closer to making the sale.
Benefits Of The Soft Offer
You'll generate more leads
You have the opportunity to enter a dialogue with the visitor, thus moving them through the process
Only you'll know if a hard offer or a soft offer is most appropriate. But think carefully about the nature of your offer when crafting your titles and descriptions. Is your offer exactly the same as every other offer in the SERP? Or could you tweak you offer to make it stand out from the rest? Your offer should be more enticing than every other offer on the page. Try to get this across in your title and description.
Related Reading & Tools