Sep 12th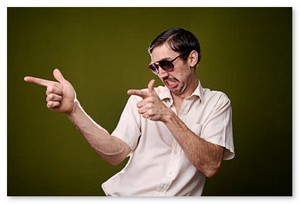 "Wanna buy a car?
I got great cars for sale!
I've got the cheapest cars. I got the best deals in town! You won't get better!"
What is wrong with this picture?
This is how sales used to work. The salesperson worked to a script. The complex desires and concerns of the customer mattered a whole lot less than the need to push a generic solution. There is little in the way of relationship development or needs assessment.
Fast forward to 2008, and we live in a very different world. Due to rich, deep product and services markets, the customer has near infinite choice and options. The power has shifted to the consumer, albeit the downside is often confusion and inaction. This is why it is important to listen.
What Does The Customer Really Want?
In my opening paragraph, the salesman hasn't really bothered to find out what the customer really wants. All he knows is they probably want a car. He has made assumptions about the rest, and launched straight into benefits.
Many websites make the same mistake.
Here is a market research questions format you can incorporate into your SEO and copy writing. The aim is to find out if the benefits you are selling are the benefits the customers actually want. This is known as the SPIN selling method, and it was devised by Neil Rackham.
Situation Questions: These ask about facts or explore the buyer's present situation. For example, "How big is your family?"
Problem Questions: These deal with the problems, difficulties, and dissatisfactions that the buyer is experiencing with the present situation and that the supplier can solve with its products and services. For example, "What mile per gallon is your car old getting?"
Implications Questions: These ask about the consequences or effects of a buyer's problems, difficulties, or dissatisfactions. For example, "How much is it costing you to run your car each week"?
Need-Pay Off Questions: These questions ask about the value of usefulness of a proposed solution. For example, "How much extra money would you have for other things if we could reduce your weekly transport costs?"
Can you imagine how focused your pitch would be if you had the answers to these questions? You'd know exactly what your visitor wanted, and you'd have a good chance of closing the sale. However, it can be difficult to get this level of engagement from web visitors.
There are a few strategies we can adopt to get closer to those answers. It can help our SEO, too.
1) Path Your Visitors
On your landing page, write some copy, then ask the visitor a few questions. Keep the SPIN methodology in mind. Make each question a link to another page. Depending on how the visitors answer, they will be taken through a series of different pages that help address their needs. This will lead them closer to desired action. This has a great payoff for SEO, too. You can incorporate hundreds of pages into your site, all asking slightly different questions about pretty much the same thing. These pages become natural, interlinked keyword variations on a theme.
2) Overload With Answers
Sometimes pathing isn't appropriate.
One of the potential risks is the visitor may tire of the questions, and drop out of the sales process. Always be sure to make it easy for the visitor to complete the desired action (e.g. make a purchase ) at any step.
Another approach you can use is to overload your sales pages with keyword copy in an attempt to answer most buyer needs on the one page. In the direct marketing world, it is an established fact that long copy produces more sales than short copy. Part of the reason for this is because people are at different stages in their buy cycle, and their needs and desires will vary. You see this approach on sites such as Amazon.com, and some pretty horrid examples on hard-sell sites where this technique is taken to the extreme.
Try making long copy from a series of independent short copy units. One obvious example of this is a FAQ. A person doesn't need to read all the copy to get their questions answered, but can jump to the appropriate place to find their answer. Another can be seen in the Amazon page structure. Those who like customer reviews know to scroll down to the bottom of the page. Those who want a description look in the middle section. Those who want to price compare can do so against second hand copies. And so on.
If you're thinking this point is obvious, you're right. It is. But it underscores the need to always consider your visitors needs and how they may vary. Orient your strategy around the idea that there will be multiple questions and answers, needs and wants, and work this into your copy and site structure.
3) AIDA
AIDA stands for Attention, Interest, Desire, and Action.
These are the things you must do, in terms of web information structure, in order to get your visitor to the close.
Capture attention and interest. Create desire by sweetening the deal (one day offer, bonus gift, discount today only, etc). Help visitors complete the action by overcoming objections (money back guarantee, etc) You lead the dance, but you're always listening out for the visitors wants and needs. Create funnels in your analytics programs. See where people are dropping out and ask "why"? Sales used to be about talking. These days, it's about listening.
Eventually, your sales copy will meet the varied desires and needs of your visitors.
I'll be making further posts about AIDA, but the important thing for now is to think about how listening can be used in terms of information structure, and the ways in which you need to respond. SEOs are already good at listening. They "listen" for keyword queries, and orient their copy accordingly.
Think of the process less as a sales funnel, and more of a buy path. The buy path is a relationship, consisting of questions and answers. That process starts on the search engine, and ends when you provide a visitor with the answers, and the solutions, they need.
Further Reading:
Published: September 12, 2008
New to the site? Join for Free and get over $300 of free SEO software.



Once you set up your free account you can comment on our blog, and you are eligible to receive our search engine success SEO newsletter.
Already have an account? Login to share your opinions.
New to the site? Join for Free and get over $300 of free SEO software.



Once you set up your free account you can comment on our blog, and you are eligible to receive our search engine success SEO newsletter.
Already have an account? Login to share your opinions.
Over 100 training modules, covering topics like: keyword research, link building, site architecture, website monetization, pay per click ads, tracking results, and more.
An exclusive interactive community forum
Members only videos and tools
Additional bonuses - like data spreadsheets, and money saving tips