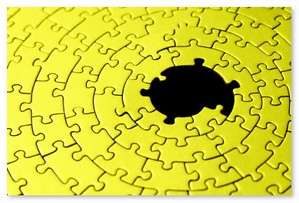 There is a black hole forming.
A few of them, actually.
These black holes aren't the result of the CERN Hadron Collider. They are forming for two reasons: the desire to keep people on site longer; and to hoard link juice, in order to dominate the SERPs.
Increasingly, top-tier sites are becoming cagey about linking out. They are more than happy to be linked to, of course, but often the favor is not reciprocated. Check out this post by SEOBlackhat.
What Does A Black Hole Look Like?
Uber-black hole, The New York Times, seems reluctant to link to anyone but themselves. This is especially annoying when they write about websites.
Wikipedia no-followed their links some time ago, thus forming a PageRank variant of the black hole.
The mini-me black hole, as practiced by TechCrunch. Rather than directing you to a site mentioned in an article, TechCrunch would direct you to their own CrunchBase entry instead, thereby keeping you on-site longer, and passing link authority to their own web pages. As a result, a search on Google for a sites' name may well bring up the CrunchBase entry. To be fair, TechCrunch does also link out, and there is an explanation as to why TechCrunch aren't as bad as the New York Times here.
The result is a link-love black hole. Sites using such a strategy can dominate the rankings, if they are big enough.
So if you wanted to create a blackhole, what would you do?
Don't link to anyone
If you must link out, then No-Follow the links, or wrap them in scripts
Direct page rank around your own site, especially to pages featuring your competitors names
Buy a motherlode of links
Become a newspaper magnate :)
Now, if you're an SEO, you might be feeling a tad conflicted about now. Why wouldn't every SEO do this? What if you owned a black hole? Isn't that the ultimate SEO end game?
In the long term, I doubt it.
If this problem becomes too widespread, Google will move to counter it. If Google's results aren't sufficiently diversified, then their index will look stale. If you search for a site, and get third party information about that site, rather than the site itself, then this will annoy users. Once confidence is lost in the search results, then users will start to migrate to Google's competitors.
I'm not certain such a move will be entirely altruistic, however. After all, what is the point of Knol? No, really - what is the point of Knol? ;)
The Advantages Of Sharing The Love
Consider what you gain by linking out.
Webmasters look at their referalls, and may follow the link back to check out your site
Outbounds may count for more in future, if they don't already
Your users expect it. Don't fight against their expectations else you'll devalue your brand equity
Any site that looks "too-SEO'd" risks standing out on a link graph
There is social value in doing so. Black hole sites start to look like bad actors, can receive bad press, and risk damaging their relationships with partners, suppliers, and communities.
Create More Value Than You Capture
Tim O'Reilly put it well:
"..... The web is a great example of a system that works because most sites create more value than they capture. Maybe the tragedy of the commons in its future can be averted. Maybe not. It's up to each of us".
Update:
The phrase Black Hole SEO was used by Eli on BlueHatSEO.com over a year ago to describe various aggressive SEO techniques.