Here's a recent video of the founders of RapGenius talking at TechCrunch disrupt.
Oops, wrong video. Here's the right one. Same difference.
Recently a thread on Hacker News highlighted a blog post which pointed how RapGenius was engaging in reciprocal promotional arrangements where they would promote blogs on their Facebook or Twitter accounts if those bloggers would post a laundry list of keyword rich deeplinks at RapGenius.
Matt Cutts quickly chimed in on Hacker News "we're investigating this now."
A friend of mine and I were chatting yesterday about what would happen. My prediction was that absolutely nothing would happen to RapGenius, they would issue a faux apology, they would put no effort into cleaning up the existing links, and the apology alone would be sufficient evidence of good faith that the issue dies there.
Today RapGenius published a mea culpa where ultimately they defended their own spam by complaining about how spammy other lyrics websites are. The self-serving jackasses went so far as including this in their post: "With limited tools (Open Site Explorer), we found some suspicious backlinks to some of our competitors"
It's one thing to in private complain about dealing in a frustrating area, but it's another thing to publicly throw your direct competitors under the bus with a table of link types and paint them as being black hat spammers.
Google can't afford to penalize Rap Genius, because if they do Google Ventures will lose deal flow on the start ups Google co-invests in.
In the past some of Google's other investments were into companies that were pretty overtly spamming. RetailMeNot held multiple giveaways where if you embedded a spammy sidebar set of deeplinks to their various pages they gave you a free t-shirt: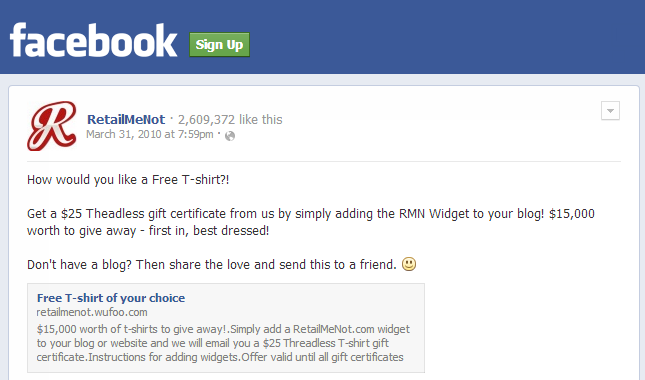 Google's behavior on such arrangements has usually been to hit the smaller players while looking the other way on the bigger site on the other end of the transaction.
That free t-shirt for links post was from 2010 - the same year that Google invested in RetailMeNot. They did those promotions multiple times & long enough that they ran out of t-shirts!. The widgets didn't link to the homepage of RetailMeNot or pages relevant to that particular blog, rather they used (in some cases dozens of different) keyword rich deep links in each widget - arbitraging search queries tied various third party brands. Now that RTM is a publicly traded billion Dollar company which Google already endorsed by investing in, there's a zero percent chance of them getting penalized.
To recap, if you are VC-backed you can: spam away, wait until you are outed, when outed reply with a combined "we didn't know" and a "our competitors are spammers" deflective response.
For the sake of clarity, let's compare that string of events (spam, warning but no penalty, no effort needed to clean up, insincere mea culpa) to how a websites are treated when not VC backed. For smaller sites it is "shoot on sight" first and then ask questions later, perhaps coupled with a friendly recommendation to start over.
Here's a post from today highlighting a quote from Google's John Mueller:
My personal & direct recommendation here would be to treat this site as a learning experience from a technical point of view, and then to find something that you're absolutely passionate & knowledgeable about and create a website for that instead.
Growth hack inbound content marketing, but just don't call it SEO.
Growth hacking = using 2005-era spam tactics. http://t.co/5ISCPmMEkp cc @samfbiddle @nitashatiku

— Max Woolf (@minimaxir) December 23, 2013
What's worse, is with the new fearmongering disavow promotional stuff, not only are some folks being penalized for the efforts of others, but some are being penalized for links that were in place BEFORE Google even launched as a company.
Google wants me to disavow links that existed back when backrub was foreplay and not an algo. Hubris much?

— Cygnus SEO (@CygnusSEO) December 21, 2013
Given that money allegedly shouldn't impact rankings, its sad to note that as everything that is effective gets labeled as spam, capital and connections are the key SEO "innovations" in the current Google ecosystem.