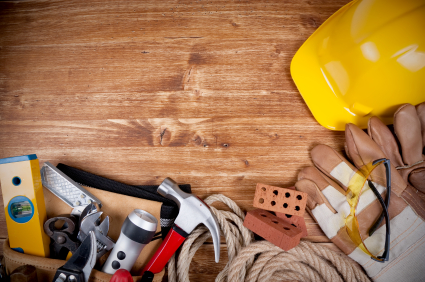 There are a lot of tools in the SEO space (sorry, couldn't resist :D) and over the years we've seen tools fall into 2 broad categories. Tools that aim to do just about everything and tools that focus on one discipline of online marketing.
As we continue to lose more and more data (not provided) and the data we have access to becomes a bit more unreliable (rankings, competitive research data, data given to us by search engines, etc) one has to wonder at what point does access to a variety of tools start producing diminishing returns?
In other words, if you are starting with unreliable or very, very inexact data does layering more and more extrapolations on top make you worse off than you were before? Probably.
I do think that a fair amount of tool usage scenarios have become less effective (or less necessary) at this point. Consider what were once the cornerstones of industry research and data:
Rankings
SERP difficulty analysis
Link prospecting
Competitive link research
Analytics
Each one of these areas of data has really taken a beating over the last 2-3 years thanks to collateral damage from broad-reaching, unforgiving Google updates, the loss of actual keyword data, the less obvious relationship between links and rankings, personalized search, various SERP layout changes, and on and on.
I believe the best way forward for evaluating what tools you should be using is to determine what does X best to the point where supplementing it with data from a similar provider is overkill and not worth the extra monthly subscription cost nor the cognitive overhead.
Which Ones to Choose?
Well, this certainly depends on what you do. I'm going to focus on the small to mid-size agency market (which also includes freelancers and folks who just operate their own properties) but for those tetering on mid-large size I'll make 2 recommendations based on personal experience:
If I were operating a bigger agency I'd strongly consider both of those. They both do a really solid job of providing customized reporting and research modules.
For the rest of us, I'll share what I'm using as a basis for my recommendations with reasons why I selected them.
These tools are focused on what I do on a daily basis and are the ones I simply cannot live without. They cover:
Reporting
Competitive Link & Keyword Research
Keyword Research
PR and Outreach
Advanced Web Ranking
This is the tool I rely on the most. It does just about everything with the only drawbacks being the learning curve and that it is desktop software. The learning curve payoff is very much worth it though. This tool does the following for me:
Reporting for pretty much every aspect of a campaign
Interfaces with Majestic SEO for link data as well as data from Moz for link research and tracking
Connects to social accounts for reporting
Site audit crawls
Interfaces with Google Analytics
Keyword research
Competitor analysis
Rankings
On-page analysis
They have a cloud version for reporting and I believe that in the near future a good amount of this functionality will go to its cloud service. This tool is highly recommended.
Advanced Web Ranking - here's a basic overview of the software from a few years ago, though it has been updated a number of times since then
Ahrefs
I remember when this was for sale on Flippa! I find Ahrefs to be very reliable and easy to use. They have added quite a few features over the past year and, in my opinion, they are right up there with Majestic SEO when it comes to relevant, deep link data.
Their interface has improved dramatically over time and the constant addition of helpful, new features has left other tools playing catchup. I'm hoping to see more integration with them in 2014 via services like Raven and Advanced Web Ranking.
Ahrefs.com - here's a review from last year (though they no longer offer the SERP tracking feature they offered back then)
Authority Labs
The most accurate and stable online rankings provider I've used thus far. The interface has improved recently as has the speed of exports. I would still like to see a bulk PDF export of each individual site in the near future but overall my experience with Authority Labs has been great.
I use it as a stable, online, automated rank checker to supplement my data from Advanced Web Ranking. It also has some nice features like being able to track rankings from a zip code and showing what else is in the SERP it encounters (videos, snippets, etc).
Authority Labs - here's a review from 5 months ago
Buzzstream
Buzzstream is an absolute must have for anyone doing PR-based and social outreach. The email integration is fantastic and the folks that help me with outreach routinely rave about using Buzzstream.
The UI has really been turned up recently and the customer support has been excellent for us. I'm positive that our outreach would not be nearly has effective without Buzzstream and there really isn't a competing product out there that I've seen.
This is a good example of a really niche product that excels at its intended purpose.
Buzzstream - here's a review from a couple years ago
Citation Labs Suite
We use the Contact Finder, Link Prospector, and Broken Link Building tool inside our prospecting process. Much like Buzzstream this is a suite of tools that focuses on a core area and does it very well.
You have to spend some time with the prospector to get the best queries possible for your searches but the payoff is really relevant, quality link prospects.
Citation Labs - here's a review from a couple years ago
Link Research Tools
While LRT is primarily known for its Link Detox tool, this set of tools covers quite a bit of the SEO landscape. I do not use all the tools in the suite but the areas that I utilize LRT for are:
Link cleanup
Link prospecting
SERP competition analysis
Competitive domain comparisons
It's missing a few pieces but it is similar to Advanced Web Ranking in terms of power and data. LRT hooks into many third party tools (Majestic, SemRush, Moz, etc) so you get a pretty solid overview, in one place, of what you need to see or want to see.
The prospecting is similar, to an extent, when compared with Citation Labs but you can define specific SEO metrics to prospect filtering as well as base it off of links that appear across multiple sites in a given SERP.
Majestic SEO
Majestic is still the defacto standard for deep link data (both fresh and historical data). They recently launched a new feature called Search Explorer, which is designed to be a specialized search engine devoid of personalization and what not, while showing rankings based on its interpretation of the web graph and how influential a site is for a given term.
As of this writing, Search Explorer is in Alpha but it does appear to be a really solid innovation from Majestic. The other reason for having a Majestic subscription is to get access to it's API so you can integrate the data however you choose to. I use it (access to the API) inside of LRT and Advanced Web Ranking.
Majestic SEO - here's a review from a couple years ago by Julie Joyce
Moz
I use Moz mainly for access to it's link data via Advanced Web Ranking. Compared to the other tools I use I do not see a ton of value in the rest of its tool suite and I also get data from it via my Raven subscription (which is where I tend to do a fair bit of research).
If you are on a tight budget it's worthy of consideration for the breadth of tools the subscription offers but I think you could get better options elsewhere if you have some budget to spread around.
Raven Tools
I don't use every single feature in Raven but I find Raven to be one of the most well-executed, stable tool suites on the market. I use Raven to:
Manage keyword lists
Research competitors
Manage and report on Twitter/Facebook profiles and campaigns
Track social mentions
Automate site crawls
Compare various, customizable metrics between sites
Google Analytics and Google/Bing Webmaster tools integration
In 2014 I'm looking to do more with Raven in the content management area and in the reporting area. I still prefer to supplement GWT rankings data with rankings data from another source (Advanced Web Ranking, Authority Labs, etc) but a goal for 2014, for me, is to fit more reporting into Raven's already excellent reporting engine.
Raven - here's a review from a few years ago
SemRush
In terms of keyword, ranking, and PPC competitive research tools SemRush really has moved ahead of the competition in the past year or so. I use most of the features in the suite:
Organic SEO Research
PPC keyword and strategy research
Multiple domain comparisons covering organic and paid search strategies
Yearly historical data feature on a specific domain
I also like the filtering feature(s) that really help me whittle down keyword data to exactly what I'm looking for without worrying about export limits and such.
SemRush - here's a review from a few years ago
SeoBook Community and Tools
Knowledge is power, naturally. All the tools in the world will not overcome a lack of knowledge. All of the specific, unbiased, actionable business & marketing knowledge that I've received over the last handul of years (and the relationships made) is the single most direct reason for any succcess I've had in this space.
The SeoBook Toolbar is still one of my most utilized tools. It is data source agnostic, you get data from a variety of sources quickly and reliably. Seo For Firefox takes most of the info in the toolbar and assigns it to each individual listing in a given SERP. Both tools are indispensible to me on the research front.
We also have some premium tools that I like quite a bit:
Local Rank - It scans up to 1,000 Google results and then cross-references links pointing from those sites to the top 10, 20, or 50 results for that same query. The tool operates on the premise that sites that are well linked to from other top ranked results might get an additional ranking boost on some search queries. You can read more about this in a Google patent here.
HubFinder - HubFinder looks for sites that have co-occuring links across up to 10 sites on a given topic. This is useful in finding authoritative links that link to competing sites in a given SERP.
Duplicate Content Checker - This Firefox extension scans Google for a given block of text to see if others are using the same content. The Duplicate Content Checker searches Google for each sentence wrapped in quotes and links to the results of the search.
Screaming Frog SEO Spider
This is my desktop crawler of choice for most sites, it's complimented by Raven's Site Auditor (which can be run automatically) and Advanced Web Ranking's site audit tool in my usage.
Just about anything you can think of from a site architecture and on-page standpoint can be done with this tool.
Screaming Frog - a few years ago Branko did a great review
TermExplorer
A cloud-based tool that processes large amounts of keywords pretty quickly and does a good job of bringing in terms from multiple sources.
It also offers a competitive analysis feature that I don't use very much as well as white-label reports. It has pretty slick filtering options for keywords and scans for exact match domains (.com and .net) in addition to CPC and keyword volume data.
Avoid Tool Fatigue
There is going to be overlap across some of these tools and while the idea of all-in-one sounds nice it rarely works in practice. Clients are different, deliverables are different, and business models are different.
The trick is to avoid as much overlap as possible between the tools that you use, otherwise you end up wasting time, money, and resources by overthinking whatever it is that you are doing.
I have less than 20-ish toolsets that I use on an almost daily basis. Some of these are not used daily but definitely monthly. At one point I had access to over 40 different tools. The tools mentioned in this post are the ones that I've found the most value in and gained the most success from.