Buzzstream recently rolled out a beautiful UI update and I've been impressed with their offering for awhile now.
We like to review products which we ourselves use , as well as products that we feel are impressive. For me, Buzzstream fits both of those characteristics.
Buzzstream is a tool that I am fully adding to my toolset for 2012 and I think you should give it a shot as well.
What is Buzzstream?
Buzzstream has two products:
Buzzstream for Link Building
Buzzstream for Social Media
We will be focusing on the link building tool in this post. Buzzstream for Link Building focuses solely on link building functionality from soup (prospecting) to nuts (tracking, reporting, relationship management).
One of my favorite aspects of this tool is it's dedicated nature. It focuses on making link building more collaborative, more scalable, and more effective. It does all three quite well and reinforces the belief that sometimes a dedicated tool is the answer.
Why Buzzstream for Link Building?
Link building has come so far in recent years with respect to things like degree of difficulty, requirements of quality, as well as the need to track links and manage relationships.
Link building is such a key piece of an online marketing campaign (not just passing link juice but bringing in targeted, quality traffic and building up brand equity) to the point where I think having a robust tool for it makes a lot of sense; especially when you can use a tool like Buzzstream for it.
Here are some of the key features of Buzzstream that we'll be covering here:
Link Prospecting
Link Reporting and Tracking
Contact Management
IMAP Email Integration
Buzzmarker - Link Bookmarking Tool
Buzzstream Dashboard
The dashboard gives you a good, high-level overview of your account's history and tasks.
You can filter the history by:
Showing complete history (notes, emails, twitter, logged calls, blog comments)
One of the above mentioned history fields
Show for all projects or a specific project
All items for/from a user or for/from a specific user
The filtering capabilities are solid and make project spot checks very easy. For a quick export of your history, in .csv format just click on the folder to the left of the task area (in the right column).
Here is what the dashboard looks like: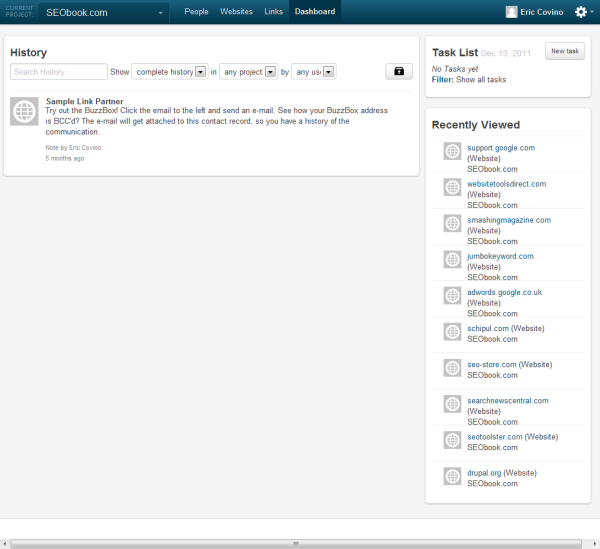 To the right of the history pane is the task pane as well as recently viewed link prospects. The task pane also offers some good filtering capabilities: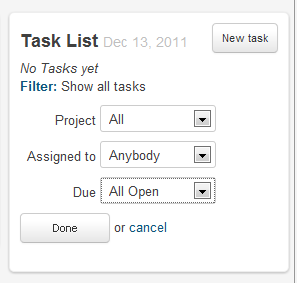 I like the clean, visual look of the dashboard as well as the quick and helpful filtering capabilities. If you are running multiple campaigns with multiple members involved then I think you'll quickly appreciate the way Buzzstream has structured their dashboard.
Link Prospecting
To begin your link prospecting search, you can go to the Websites link and jump right in.

Then click on the Prospects icon to start your research. Here, you will need to set up a profile and up to 20 keywords and keyphrases for the search. I usually name the search after the main keyword I'm looking for, so in this case we'll rock SEO Tools and I'll throw in a couple more specific keywords for the search function.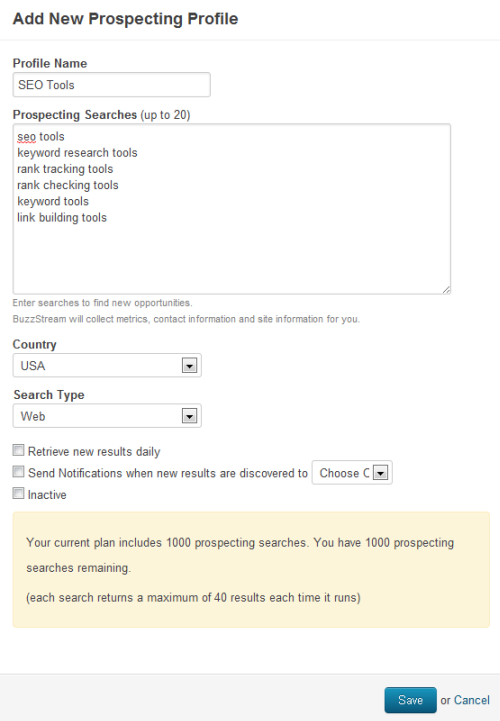 In addition to prospecting you can specifically search the following countries:
USA
Canada
France
Germany
Ireland
Israel
Japan
Mexico
Netherlands
South Africa
Sweden
Spain
UK
You also have your choice between website results, news results, and blog results under the Search Type option.
Also, you can have this auto-run daily for new results (which is a great feature!) as well as have notifications sent to a specific person (you or a team member or contractor) when new results arrive.
If you no longer wish to receive results but want to save the search for later, just click the inactive button and reactivate when needed.
Another cool feature here is the blacklist feature. Dump in sites you wish to exclude from your searches on a per project or account-level basis. This is extremely helpful for streamlining new prospecting searches across your entire account. Block out competitors, your other properties, sites you know you'll never get a link from, etc).
Working With Link Prospects
When you open the profile again you are presented with the results.
The results come with default columns but you can click the Columns icon to play with tons and tons of additional, useful options

Click on that and get all these column options:
Buzzstream Data
Website
Assigned To
About
Most Recent Activity
Primary Contact
Job Title
Tags
Relationship Stage
RSS Feed
Links
Type
Dates
Date Added
Date Added To Project
Last Modified (any project)
Last Modified (this project)
Last Viewed (any project)
Last Viewed (this project)
Last Communication Date
Metrics
Followers (twitter)
Following (twitter)
Updates (twitter)
PageRank
Compete (UV/mo)
Inbound Links - SeoMoz
MozRank
Juice Passing Links
Domain Age
Overall Rating
Domain Authority
Address
Address Type
Address Line1
Address Line2
City
State
Zip
Country
Social Networks
Facebook
Twitter
LinkedIn
Google Plus
Contact Info
Preferred Contact Method
Email
Phone
"Contact Us" URL
Suggested Profile Info
Prospecting Metrics (for keywords in your search)
Highest SERP Position
Average SERP Position
SERP Count - Top 10
SERP Count - Top 20
Buzzstream does a good job here of giving you control over so many different options. The other nice thing here is you can add a bunch of metrics or customize whatever you want, do a quick export, and set everything back to normal if you don't want or need all these metrics every time.
Here's a snippet of what the results look like with no filtering: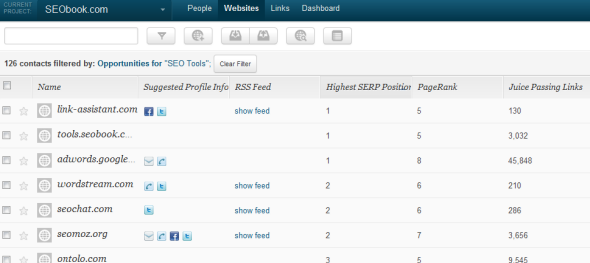 From here you can do all sorts of filtering with just about all of the options I outlined above. You can also click on a specific link and manage it at any point:

From here you can do just about anything:
Add a task, tag or note
Assign it to someone
Update the relationship stage
Rate the link
Put your own custom field in there
Copy or move it to another project (love this feature)
Remove it from the project
Check the WhoIS information
Approve it for the project
Add to your block list
Also, you can see the Twitter, FB, email, and phone icons next to each link. Buzzstream will pull those in when available. You can also add a site yourself but clicking the Add Site button where you can add as much or as little info as you have or want: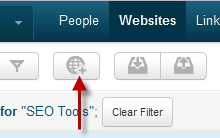 What I like to do is update the search with all the SEO related metrics and then filter (not looking for addresses or anything at this point, just SEO metrics).
Here are the filtering options: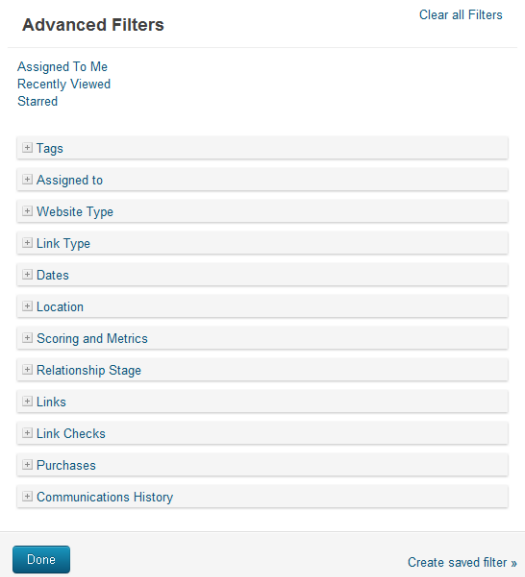 The options pretty much cover everything you can add as a metric to their prospect results page. You can also create a specific filter and save it for future use (a big time saver for ongoing prospect research).
Once you are done filtering out the junk you can begin to work the prospect list by:
Assigning it to an employee or contractor or yourself :)
Updating the contact history by adding notes about contact history
Update the relationship stage
Once the link is secured you can simply add it to the tracking and reporting component by clicking on the link and selecting "approve".
There are so many filtering options and editing options, as mentioned above, that I really encourage you to get in there and play around with it. You can customize it to fit your specific link building needs (big or small) which is a really nice feature to have (a tool that can scale up or down with you and your business).
Link Reporting and Tracking
I went ahead and approved the link-assistant.com domain as being a link I recently secured. To work with approved links you just need to move on over to the Links tab:

Again, you have a ton of filtering options here: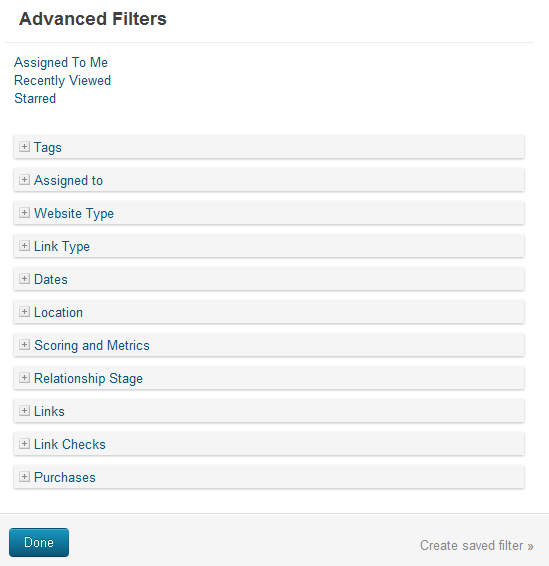 Buzzstream, via the Column tab, gives you lots of helpful data on a per link basis to help with overall link management and reporting:

You can also import all your links by clicking the import tab (Buzzstream gives you a template to use for this right from the import dialog box)

From here the next logical step is to set up link tracking to automatically notify you of any changes to links you are tracking.
Link Tracking
Buzzstream offers automated and manual link tracking. Buzzstream will let you track the following link data types via their automated backlink checker (this runs every 2 weeks) and manual link checker:
Newly verified links
Links that have changed (anchor text, no-follow, and so on)
Links that have been removed
Previous linking pages that are 404's
Cache Date
You can select who receives this report, and the manual report via email. Manual reports can be completed by going to the links tab and clicking on the Run Backlink Checker Icon:

The report is then delivered to the specified email address (can be changed in project settings) in short order (longer for bigger checks of course).
I would recommend targeting the more important links here. There is a lot of churn on the web and link tracking tools, that are cloud based, do have tracking limits (Buzzstream comes in at 500 links for the basic plan, 25,000 for their Plus, and 100,000 for their Premium Plan). They also have a solo plan for 1 user and up to 1,500 tracked links.
They offer custom plans as well.
Link Reporting
The link reporting is good and is one area where I think they can use some improvement (ability to spit out anchor text distribution reports, upload logos,
automated report emailing, etc).
To generate a report you click on the pie (mmmmm pie) icon on the Links page:

Once you click there you get 2 options:
Link Report - reporting on link opportunities and completed links
Spend Report - reporting on the cost of links that cost money
Here is the dialog box for the Links Report: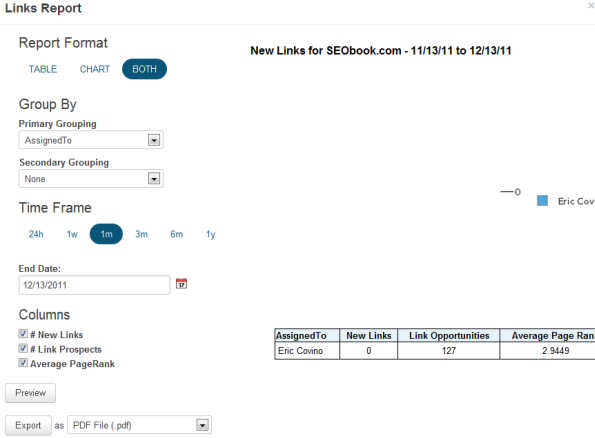 Export options are PDF, HTML, and XML for Word and Excel.
The Spend Report is clean and simple to read, here is the dialog box for that:

The reports are quick to generate and clean. I think if they add some more customization options it will be a homerun; it's still better than most reporting options out there.
Keeping Up with Contacts
You can store, add, and access key contacts and their contact information within the People tab

As with their other options there is a wide variety of filtering and column customization capability to help you slice, dice, and keep track of key contacts within a specific project (or through an entire account).
You can add in pertinent contact info like their name, numbers, associated websites, social network information, and so on. You can also keep a history of calls, notes, and emails (more on emails in a minute) right inside the contact's information center: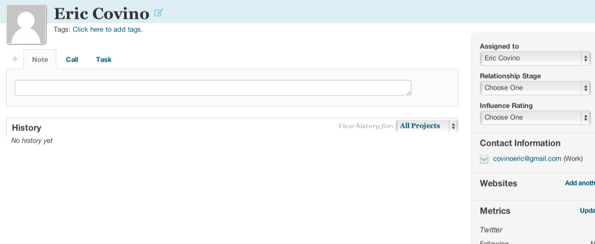 IMAP Email Integration for Conversation Tracking
This is one of my favorite features. You can configure Buzzstream to automatically populate contact history on your link outreach campaigns: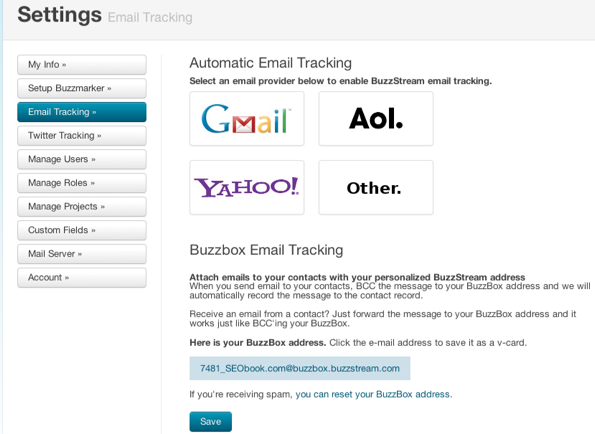 If you are managing a team, or just your own link campaign really, this is a great feature to have. In addition to the other contact management features I mentioned above, this feature adds another layer of helpful contact management. Having CRM functionality inside of a link building tool is quite helpful when we talk about things like scaling link building campaigns and managing teams
When you add your email account you can also send email from Buzzstream. You can select any number of "People" or contacts that you want and work through them one by one by creating an email template (see below) and quickly customizing it to the specific person you are targeting
Using canned responses in Gmail is similar but the difference here is the integration with Buzzstream and the ease of going right through a selected list of contacts (and having it saved in their contact history automatically).

Lots of people use BuzzStream as a database of all their prospects/partners and then slice and dice them for campaigns. So, for example, suppose you are trying to secure guest posts. You go to All Contacts (contacts for your whole account, not just one project) and select everything tagged "finance" that's a "guest post" type and that's linked to you in the past.
After that, you take those contacts of known finance guest post opportunities, copy them to a new project and then work that list. You cover a lot of this in your filter descriptions. Essentially, use the tagging and filtering system to build your own database for rinse and repeat solutions.
You can also track Twitter stuff (which can get out of hand quickly in terms of back and forth contact, real time) and works the same way as Buzzstream's IMAP integration.
For the Twitter tracking you can basically import a bunch of twitter lists into BuzzStream, start retweeting their content and then filter to find everyone you've retweeted three days ago (filter by: Communication History=tweet, contact modified=3 days ago).
Save this filter and you have a list of people to follow up with on a regular basis. You can then send a template-based email that refers to the retweet and use that as a quick in to perhaps securing a link opportunity.
The Buzzmarker
Buzzstreams' Buzzmarker gives you the ability to save a prospect's information from any browser. To set up the Buzzmarker you just go into your settings and drag the bookmarklet to your toolbar :D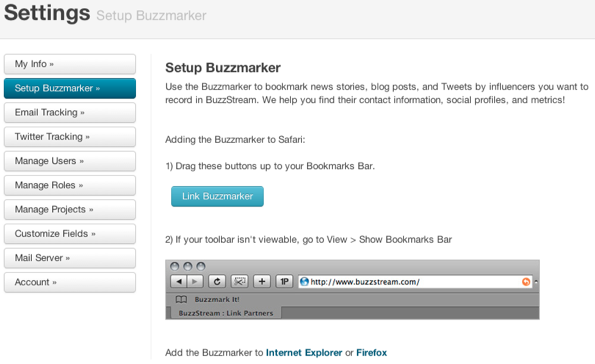 Here is a snippet of the Buzzmarker dialog box: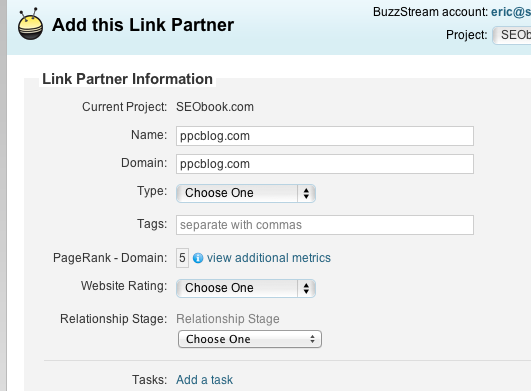 Anytime you come across news stories, blog posts, and Twitter feeds that you want to store for future work inside of Buzzstream all you do is click on the Buzzmarker
The Buzzmarker pulls in lots of information and gives you options to do a variety of things like:
Add a task for the clipping
The ability to gather and note link information like acquistion method and link type, also checks to see if the site is linking to you already
Add contact info and social media profiles
Links through to contact info search in Google, Pipl, as well as Twitter and Linkedin Profile search via Google, Twellow, and Linkedin
Give Buzzstream a Shot
If you are looking for a strong link building tool which incorporates any of the features below, you should give Buzzstream a try:
Built in Link Prospecting
CRM Functionality
Scalability
Ease of Use
Permission and Access Control for Teams
Link Tracking and Reporting
Buzzstream is a quality link building and link management tool that is certainly worth trying out if you are engaged in link building activity. The reporting is stronger than most other options out there but I think they can do even better with it after seeing what they've done on the inside. If you do try them out let us know what you think in the comments!
Take it for spin, they have free trials available over at Buzzstream.Com.
New to the site? Join for Free and get over $300 of free SEO software.



Once you set up your free account you can comment on our blog, and you are eligible to receive our search engine success SEO newsletter.
Already have an account? Login to share your opinions.