Update: Our extensions are now signed, so you should be able to download the most recent version of them & use them with the most recent version of Firefox without having to mess with the Firefox plugin option security settings.
Firefox recently updated to version 43 & with that, they automatically disabled all extensions which are not signed, even if they were previously installed by a user and used for years.
If you go to the add ons screen after the update (by typing about:addons in the address bar) you will see a screen like this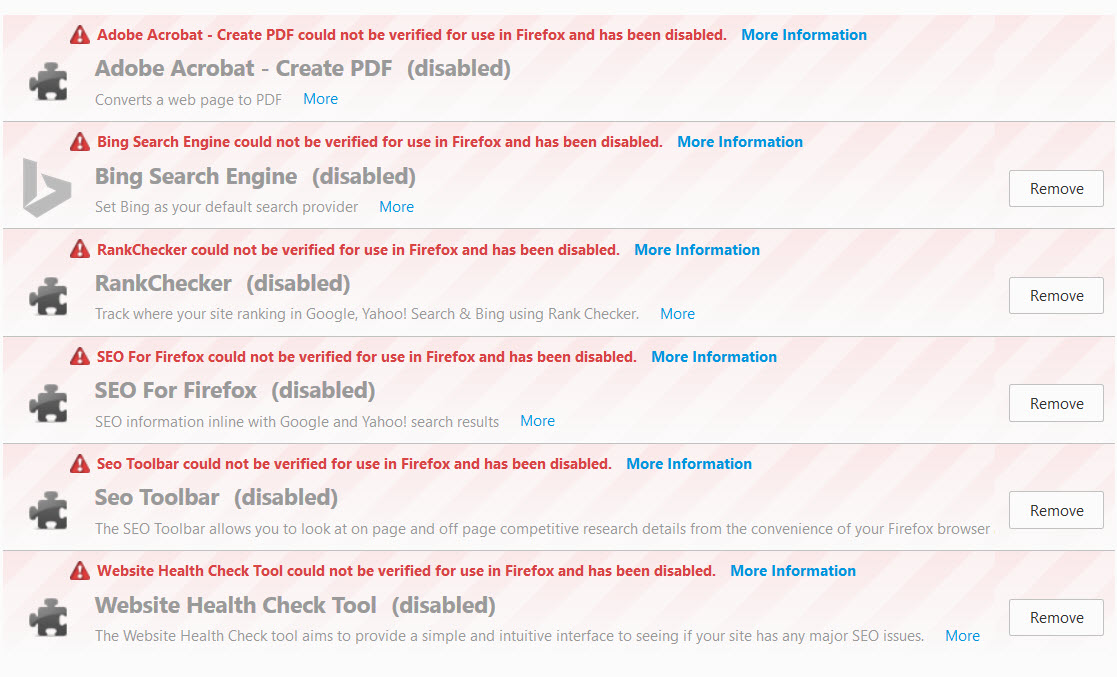 Extensions which are submitted to the Mozilla Firefox add ons directory are automatically signed when approved, but other extensions are not by default:
Only Mozilla can sign your add-on so that Firefox will install it by default. Add-ons are signed by submitting them to AMO or using the API and passing either an automated or manual code review. Note that you are not required to list or distribute your add-on through AMO. If you are distributing the add-on on your own, you can choose the Unlisted option and AMO will only serve as the way to get your package signed.
In a couple days we will do that submission to get the add ons signed, but if you recently had the extensions go away it is fairly easy to override this signing feature to get the extensions back working right away.
If you recently saw rank checker, SEO for Firefox or the SEO toolbar disabled after a recent Mozilla Firefox update, here is how to restore them...
Step 1: go to the Firefox settings configuration section
Type about:config into the address bar & hit enter. Once that page loads click on the "I'll be careful, I promise" button.
Step 2: edit the signing configuration
Once the configuration box loads you'll see a bunch of different listed variables in it & a search box at the top. In that search box, enter
xpinstall.signatures.required
By default xpinstall.signatures.required is set to TRUE to force add ons to be signed. Click on it until it goes to bold, which indicates that the TRUE setting is set to FALSE.
Step 3: restart Firefox
After changing the add on signature settings, restart Firefox to apply the setting & your Firefox extensions will be restored.
Installing These Extensions On a New Computer
If you are having trouble setting up your extensions on a new computer, start with the above 3 steps & then go here to download & install the extensions.