Advanced Web Ranking (AWR) is one of my favorite pieces of SEO software on the market today. It has been indispensable to me over the years. The software does it all and then some.
I reviewed it a few years ago; you can read that here, most of it is still relevant and I'll be updating it in the near future. In this post I want to highlight their Website Auditor tool.
Combining On and Off Page Factors
The beauty of this feature is the simple integration of on and off-page elements. There are other tools on the market that focus solely on the on-page stuff (and do a fantastic job of it) and AWR does as well.
The all-in-one nature of Advanced Web Ranking allows you to deftly move between the on and off (links, social, etc) page factors for a site (and its competition) inside of the Website Auditor feature. AWR has other tools built-in to go even deeper on competitive analysis as well.
A quick FYI on some general settings and features:
You can crawl up to 10,000 pages on-demand
All results are exportable
Audits are saved so you can look at historical data trends
Complete white-label reporting is available
Because it's software it's all you can eat :) (save for the page limit)
You can also set the tool to crawl only certain sections of a site as well as completely ignore certain sections or parameters so you can make the best use of your 10,000 page-crawl limit. This is a nice way to crawl a specific section of a site to find the most "social" content (limit the crawl to /blog as an example).
Interface Overview
Here's what the initial interface looks like: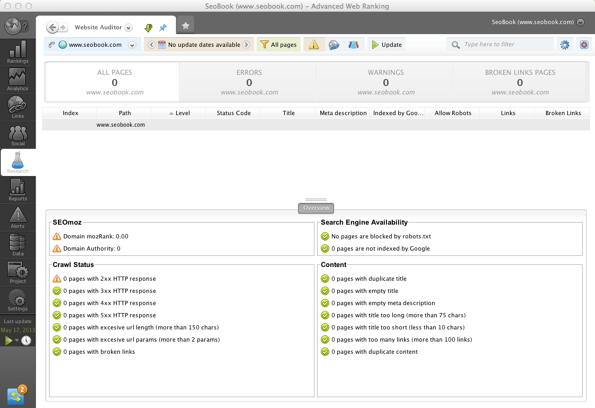 It's a thick tool for sure, on the whole, but just focus on the Auditor piece. It's fairly self-explanatory but the top toolbar (left to right) shows:
Current site being viewed
Update date history for historical comparison
Filtering options (all pages, only specific pages (200's, 404's, missing title tags, basically all the data points are available for slicing and dicing)
Button for on-page issues to show in the view area
Button for page-level external link data to show in the view area
Button for page-level social metrics (Twitter, Facebook, G+) to show in the view area
Update Project button (to update the Audit :D )
Text box where you can filter the results manually
Auditor settings (see below)
Link data source, Open Site Explorer for now (Majestic is available in other areas of AWR and I'm told it will be available in Website Auditor as another option on the next release, 9.6 (due out very soon)
The tool settings button allows to configure many areas of the Auditor tool to help get the exact data you want: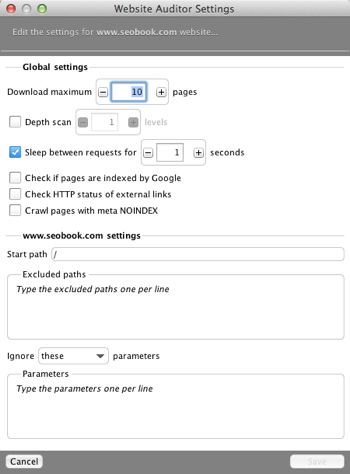 On-Page and Off-Page Data Points
The on-page overview gives you all of what is listed in the viewport shown previously and if you click on the Filter icon you'll be able to look at whatever piece of on-page data you'd like to: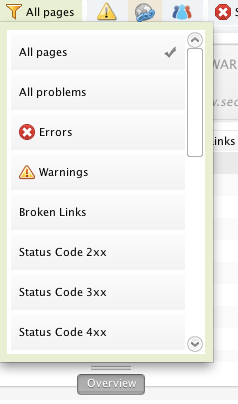 I did just a short crawl here in order to show you how your data will look inside the tool. The view of the initial on-page report shows your traditional items such as:
Title tag info
Meta descriptions
Duplicate content
Robots and indexing information
Broken link and external link counts
Levels deep from the root
HTTP Status Code
Each page can be clicked on to show specific information about that page:
Links from the page to other sites
Internal links to the page
Broken links
External links pointing into the page with anchor text data, Page Authority, and MozRank. Also whether the link is no-follow or an image will be shown as well
Broken link and external link counts
Levels deep from the root
HTTP Status Code
The on-page overview is also referred to as the Issues Layout: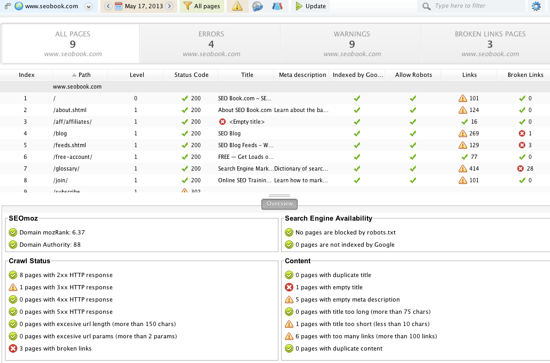 The other 2 views are more of a mix of on-page and off-page factors.
The Links Layout shows the following (for the root domain and for the sub-pages individually):
Levels deep from the homepage
Page Authority
MozRank
Linking Root Domains
Total Inbound Links
Outbound Links
No-follows
Inbound and Outbound Internal Links

In this view you can click on any of the crawled pages and see links to the page internally and externally as well as broken links.
The Social Layout shows the following information:
Facebook Shares, Twitter Shares, and Google +1's for a given URL
Internal and external links to the page
Indexed or not
HTTP Status
Meta information
Broken Links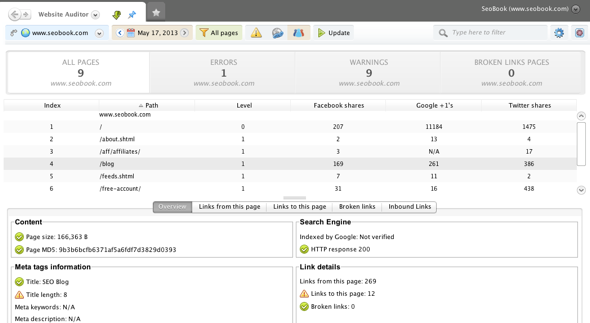 This data is helpful in finding content ideas, competitor's content/social strategy, and for finding possible influencers to target in a link building/social awareness campaign for your site.
Reporting and Scheduling
Currently you can provide white label PDF/interactive HTML reports for the following:
Issues Layout
Link Layout
Social Layout
You can also do a quick export from the viewport window inside the Website Auditor tab to get either an HTML/PDF/CSV export of the data you are looking at (list of link issues, social stats, on-page issues, and so on).
Reports can be scheduled to run automatically so long as the computer AWR resides on is on and functional. You could also remote in with a service like LogMeIn to run an update remotely or use the AWR server plan where you host the AWR application on one machine and remote client machines (staff as an example) can connect to the shared database and make an update or run a report if needed.
Advanced Web Ranking's Website Auditor is one of the most robust audit tools on the market and soon it will have integration with Majestic SEO (currently it ties into OpenSiteExplorer/Linkscape). It already pulls in social metrics from Twitter, Facebook, and G+ to give you a more comprehensive view of your site and your content.
If you conduct technical audits or do competitive analysis you should give AWR a try, I think you'll like it :)