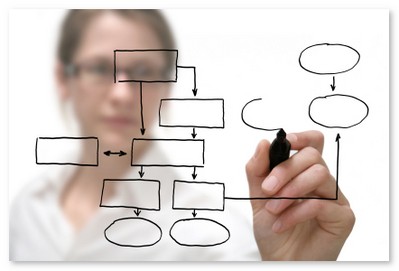 If you run an SEO business, or any service business, you'll know how hard it can be to scale up operations. There are many constraints that need to be overcome in order to progress.
We'll take a look at a way to remove barriers to growth and optimize service provision using the Theory Of Constraints. This approach proposes a method to identify the key constraints to performance which hinder growth and expansion.
The Theory Of Constraints has been long been used for optimizing manufacturing.....
We had no legs to stand on to maintain our current customer base let alone acquire and keep new business. This was not an ideal position to be in, particularly in a down economy when we couldn't afford to have sales reduce further
... but more recently, it's been applied to services, too.
The results were striking. The number of days to decide food stamp eligibility dropped from 15 to 11; phone wait times were reduced from 23 minutes to nine minutes. Budgetary savings have exceeded the $9 million originally cut
It's one way of thinking about how to improve performance by focusing on bottlenecks. If you're experiencing problems such as being overworked and not having enough time, it could offer a solution.
First we'll take a look at the theory, then apply it to an SEO agency. It can be applied to any type of business, of course.
Theory Of Constraints
Any manageable system as being limited in achieving more of its goals by a very small number of constraints. There is always at least one constraint, and TOC uses a focusing process to identify the constraint and restructure the rest of the organization around it
If there weren't constraints, you could grow your business as large and as fast as you wanted.
You can probably think of numerous constraints that prevent you from growing your business. However, the theory holds that most constraints are really side issues, and that organizations are constrained by only one constraint at any one time.
A constraint is characterized as the "weakest link".
The weakest link holds everything else up. Once this constraint has been eliminated or managed, another "weakest link" may well emerge, so the process is repeated until the business is optimized. Constraints can be people, procedures, supplies, management, and systems.
In Dr. Eli Goldratt's book, "The Goal", Golddratt identifies the five steps to identify and address the constraint:
Identify the constraint
Exploit the constraint
Subordinate everything else to the constraint
Elevate the constraint
Go back to step 1
1. Identify The Constraint
What is the biggest bottleneck that holds back company performance? What activity always seems to fall behind schedule, or take the most time? This activity might not be the main activity of the company. It could be administrative. It could be managerial.
If you're not sure, try the "Five Whys" technique to help determine the root cause:
By repeatedly asking the question "Why" (five is a good rule of thumb), you can peel away the layers of symptoms which can lead to the root cause of a problem. Very often the ostensible reason for a problem will lead you to another question. Although this technique is called "5 Whys," you may find that you will need to ask the question fewer or more times than five before you find the issue related to a problem
2. Exploit The Constraint
Once the constraint is identified, you then utilize the constraint to its fullest i.e. you try to make sure that constraint is working at maximum performance. What is preventing the constraint from working at maximum performance?
If the constraint is staff, you might look at ways for people to produce more work, perhaps by automating some of their workload, or allocating less-essential work to someone else. It could involve more training. It could involve adopting different processes.
3. Subordinate Everything Else To The Constraint
Identify all the non-constraints that may prevent the constraint from working at maximum performance. These might be activities or processes the constraint has to undertake but aren't directly related to the constraint.
For example, a staff member who is identified as a constraint might have a billing task that could either by automated or allocated to someone else.
The constraint should not be limited by anything outside their control. The constraint can't do any more than it possibly can i.e. if your constraint is time, you can't have someone work anymore than 24 hours in a day! More practically, 8 hours a day.
Avoid focusing on non-constraints. Optimizing non-constraints might feel good, but they won't do much to affect overall productivity.
4. Elevate The Constraint
Improve productivity of the constraint by lifting the performance of the constraint. Once you've identified the constraint, and what is limiting performance, then you typically find spare capacity emerges. You then increase the workload. The productivity of the entire company is now lifted. Only then would you hire an additional person, if necessary.
5. Repeat
The final step is to repeat the process.
The process is repeated because the weakest link may now move to another area of the business. For example, if more key workers have been hired to maximize throughput, then the constraint may have shifted to a management level, because the supervisory workload has increased.
If so, this new constraint gets addressed via the same process.
Applying The Theory Of Constraints To An SEO Agency
Imagine Acme SEO Inc.
Acme SEO are steadily growing their client base and have been meeting their clients demands. However, they've noticed projects are taking longer and longer to finish. They're reluctant to take on new work, as it appears they're operating at full capacity.
When they sit down to look at the business in terms of constraints, they find that they're getting the work, they're starting the work on time, but the projects slow down after that point. They frequently rush to meet deadlines, or miss them. SEO staff appear overworked. If the agency can't get through more projects, then they can't grow. Everything else in the business, from the reception to sales, depends on it. Do they just hire more people?
They apply the five steps to define the bottleneck and figure out ways to optimize performance.
Step One
Identify the constraint. What is the weakest link? What limits the SEO business doing more work? Is it the employees? Are they skilled enough? How about the systems they are using? Is there anything getting in the way of them completing their job?
Try asking the Five Whys to get to the root of the problem:
1. Why is this process taking so long? Because there is a lot of work involved.
2. Why is there a lot of work involved? Because it's complex.
3. Why is it complex? Because there is a lot of interaction with the client.
4. Why is there a lot of interaction with the client? Because they keep changing their minds.
5. Why do they keep changing their demands? Because they're not clear about what they want.
Step Two
Exploiting the constraint. How can the SEO work at maximum load?
If an SEO isn't doing as much as they could be, is it due to project management and training issues? Do people need more direct management? More detailed processes? More training?
It sounds a bit ruthless, especially when talking about people, but really it's about constructively dealing with the identified bottlenecks, as opposed to apportioning blame.
In our example, the SEOs have the skills necessary, and work hard, but the clients kept changing scope, which is leading to a lot of rework and administrative overhead.
Once that constraint had been identified, changes were made to project management, eliminating the potential for scope creep after the project had been signed off, thus helping maximize the throughput of the worker.
Step Three
Subordinate the constraint. So, the process has been identified as the cause of a constraint. By redesigning the process to control scope creep before the SEO starts, say at a sales level, they free up more time. When the SEO works on the project, they're not having to deal with administrative overhead that has a high time cost, therefore their utility is maximised.
The SEO is now delivering more forward momentum.
Step Four
Elevate the performance of the constraint. They monitor the performance of the SEO. Does the SEO now have spare capacity? Is the throughput increasing? Have they done everything possible to maximize the output? Are there any other processes holding up the SEO? Should the SEO be handling billing when someone else could be doing that work? Is the SEO engaged in pre-sales when that work could be handled by sales people?
Look for work being done that takes a long time, but doesn't contribute to output. Can these tasks be handed to someone else - someone who isn't a constraint?
If the worker is working at maximum utility, then adding another worker might solve the bottleneck. Once the bottleneck is removed, performance improves.
Adding bodies is the common way service based industry, like SEO, scales up. A consultancy bills hours, and the more bodies, the more hours they can ill. However, if the SEO role is optimized to start with, then they might find they have spare capacity opening up so don't need as many new hires.
Step Five
Repeat.
Goldratt stressed that using the Theory Of Constraints to optimize business is an on-going task. You identify the constraint - which may not necessarily be the most important aspect of the business i.e. it could be office space - which then likely shifts the weakest link to another point. You then optimize that point, and so on. Fixing the bottleneck is just the beginning of a process.
It's also about getting down to the root of the problem, which is why the Five Whys technique can be so useful. Eliminating a bottleneck sounds simple, and a quick fix, but the root of the problem might not be immediately obvious.
In our example, it appeared as though the staff are the problem, so the root cause could be misdiagnosed as "we need more staff". In reality, the root cause of the bottleneck was a process problem.
Likewise some problems aligned with an employee on a specific project might be tied to the specific client rather than anything internal to your company. Some people are never happy & will never be satisfied no matter what you do. Probably the best way to deal with people who are never satisfied is to end those engagements early before they have much of an impact on your business. The best way to avoid such relationships in the first place is to have some friction upfront so that those who contact you are serious about working with you. It can also be beneficial to have some of your own internal sites to fall back on, such that when consulting inquiries are light you do not chase revenue at the expense of lower margins from clients who are not a good fit. These internal projects also give you flexibility to deal with large updates by being able to push some of your sites off into the background while putting out any fires that emerge from the update. And those sorts of sites give you a testing platform to further inform your strategy with client sites.
How have you addressed business optimization problems? What techniques have you found useful, and how well did they work?
Further Resources:
I've skimmed across the surface, but there's a lot more to it. Here's some references used in the article, and further reading...
Published: May 31, 2013 by
A Reader
in
business