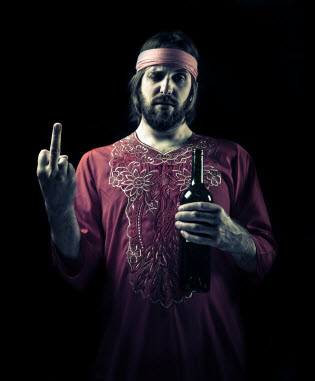 SEO was all about being clever. Still is, really. However, SEO used to reward the clever, too. The little guy could take on the big guys and munch their lunch by outsmarting them.
It was such an appealing idea.
The promise of the internet was that the old power structures would be swept aside, the playing field would be made level again, and those who played the smartest game would prosper.
Sadly, this promise didn't last long.
Power
The names may have changed, but traditional power structures were soon reasserted. The old gatekeepers were replaced with the new gatekeepers. The new gatekeepers, like Google, grew fat, rich and powerful. They controlled the game and the game was, once again, rigged in favor of those with the most power. That's not a Google-specific criticism, it's just the way commerce works. You get big, you move markets simply by being big and present. In search, we see the power imbalance as a side-effect, namely the way big players are treated in the SERPs compared to small players.
SEO for big, established companies, in terms of strategy, is simple. Make sure the site is crawlable. Run PR campaigns that frequently mention the name of the big, established company - which PR campaigns do anyway - and ensure those mentions include a back link. Talk to a lof of friendly reporters. Publish content, do so often, and make sure the important content is somewhere near the top.
That's it.
The market reputation of the entity does most of the grunt work when it comes to ranking. So long as their ship is pointed in the right direction, they're golden.
The main aim of the SEO who works for a big, established entity is to stop the big, established entity doing something stupid. So long as the SEO can prevent the entity doing stupid things - often a difficult task, granted - the big, established entity will likely dominate their niche simply by virtue of established market power.
That didn't used to be the case.
When SEO started, and for a number of years after, the little guy could dominate niches by being the most relevant. The little guy could become the most relevant by carefully deconstructing the algorithm and giving the search engine what the search engine wanted. If the search engines weren't careful, they were in very real danger of getting exactly what they asked for!
That temporary inversion of the traditional power structure made SEO a lot of fun. You did some clever stuff. You rose to the top. You collected the rewards. I think it's grown less fun now because being clever isn't enough. SEO works, but not quite as well as it used to for small players as the cost/reward equation favors big players.
Do A Lot Of Clever SEO Stuff, Get Nowhere
These days, a glass ceiling exists. SEOBook members can read a detailed post by Aaron outlining the glass ceiling here.
Here's how it often plays out...
About a 8 months ago we launched one of the most viral pieces of content that we have ever done (particulary for a small site that doesn't have a huge following) ... it was done so well that it was organically referenced/hardcoded into Wikipedia. In addition it was cited on news sites, dozens and dozens of blogs (likely north of 100), a number of colleges, etc. It got like a couple hundred unique linking domains....which effectively doubled the unique linking domains that linked into the parent site. What impact did that have on rankings? Nada.
For link building to work well, the right signals need to exist, too. There needs to have high levels of reach and engagement. Big companies tend to have high levels of reach and engagement due to their market position and wider PR and advertising campaigns. This creates search keyword volume, keyword associations, engagement, and frequent mentions in important places, and all this is difficult to compete with if you have a small budget. The exception appears to be in relatively new niches, and in the regions, where the underlying data concerning engagement, reach and interest is unlikely to be particularly deep and rich.
Yet.
So, the little guy is often fighting a losing battle when it comes to search. Even if they choose a new, fast growing niche, as soon as that niche becomes lucrative enough to attract big players, traditional power will reassert itself. The only long term option for the little guy is to become a big guy, or get bought up by one, or go work for one.
Slavery
Abraham Lincoln thought wage labour was a stage workers pass through, typically in their 20's or early 30s. Eventually, they become self-employed and keep all the profits of their labour.
Adam Smith maintained markets only work as intended if everyone had enough to participate. They also must have sufficient control over their own means of production. Adam Smith, father of modern capitalism, was not a big fan of corporate capitalism:
Merchants and master manufacturers are . . . the two classes of people who commonly employ the largest capitals, and who by their wealth draw to themselves the greatest share of the public consideration.
A side-effect of big players is they can distort markets. They have more purchasing power and that purchasing power sends a signal about what's important. To big companies. The result is less diversity.
It's self evident that power changes the search game. The search results become more about whoever is the most powerful. It seems ironic that Google started as an upstart outsider. The search results are difficult to conquer if you're an upstart outsider, but pretty easy to do if you're already a major player. Adwords, quality score being equal, favours those with deep pockets.
What's happening is the little guy is getting squeezed out of this landscape and many of them will become slaves.
Huh? "Slaves"? By Aristotle's and Lincoln's definition, quite possibly:
If we want to have markets, we have to give everybody an equal chance to get into them, or else they don't work as a means of social liberation; they operate as a means of enslavement.

Enslavement in the sense that the people with enough power, who can get the market to work on their behalf…

Right — bribing politicians to set up the system so that they accumulate more, and other people end up spending all their time working for them. The difference between selling yourself into slavery and renting yourself into slavery in the ancient world was basically none at all, you know. If Aristotle were here, he'd think most people in a country like England or America were slaves.
What's happening in search is a microcosm of what is happening elsewhere in society. Markets are dominated and distorted by corporations at the direct expense of the small players. Yes, it's nothing new, but it hasn't always been this way in search.
So what is my point?
My point is that if you're not getting the same business benefits from search as you used to, and the game seems that much harder, then it's not because you're not clever. It's because the game is rigged.
Of course, small companies can prosper. You'll find many examples of them in the SERPs. But their path to getting there via the search channel is now much longer and doesn't pay as well as it used to. This means fewer SEOs will be hired by small companies because the cost of effective SEO is rising fast whilst the rewards are shrinking. Meanwhile, the big companies are increasing their digital budgets.
Knowing all this, the small operator can change their approach. The small operator has one advantage. They can be nimble, flexible, and change direction quickly. So, looking forward over the not-too-distant horizon, we either need a plan to take advantage of fast emerging markets before the big guys enter them, or we need a plan to scale, or we need to fight differently, such as taking brand/USP centric approaches.
Or go work for one of the big guys.
As a "slave". Dude :) (Just kidding)
Published: June 5, 2014 by
A Reader
in
business