Advanced Web Ranking (further referenced as AWR) is a fairly robust website rank checking product which is recommended by lots and lots of people in our forums. There are many rank checking tools on the market, some worthy of mention and many not (although some of that is just do to feature overlap). AWR is one of the more full featured ones out there.

Overview of Advanced Web Ranking
AWR is a software based tool which can be purchased on its own or as a package with Advanced Link Manager (a powerful link tool worthy of it's own review in the near future). AWR has 4 product levels which you can choose from (the bundle prices are nice with Advanced Link Manager but we will focus on just the AWR prices here):
Standard
Professional
Enterprise
Server
Picking a Version
A good comparison can be found here.
Quite a few folks find the Standard version to be just fine. However, if you are into local search or if you want AWR to create printable reports for you, then you may want to drop the extra $100 to get the Pro Version which includes printable reports, reports by email, the ability to custom brand your reports, and a nice local search feature which we'll cover in a minute.
If you need more advanced features such as:
Managing multiple users
A more intuitive project manager
Triggers which will automatically alert you when certain things change, can be helpful if you run this remotely or if you run auto updates and only want to be notified if certain parameters change.
Ability to assign different proxy servers on a per project basis
They also offer a built in keyword suggestion tool with the standard and pro versions which hits up Google Suggest and Word Tracker: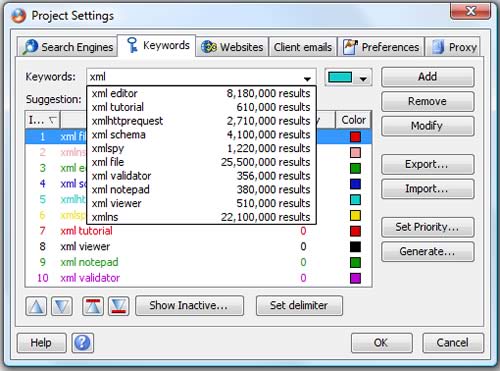 The one up in the Enterprise version is the built in Keyword Research Tool which gives you the Google AdWords KW Tool, Wordtracker if you have an API for them but I normally do keyword research outside of this tool so I don't pay much attention to this feature.
The enterprise version also offers a Google Preview tool where you can preview results in other Google search engines across the globe and in select regions/cities, which is helpful if you have clients all over the map.
Setting Up a Project in AWR
When you first start using AWR it can be pretty daunting, lots and lots of features. I find that focusing on what I bought the product for, a kick ass rank checking tool, helps me avoid some of the feature bloat I think it has (keyword tools and such). Although the way the segment the products removes most of the bloat in my opinion.
You start a project by selecting your search engines like so: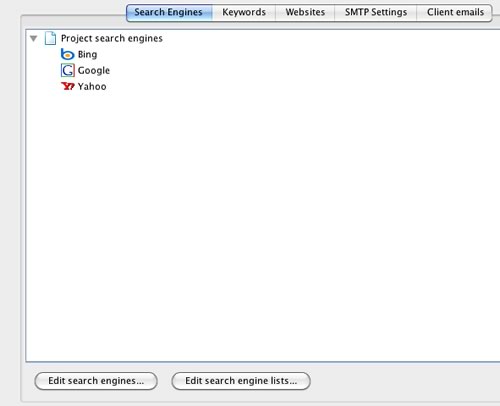 They have over 1,000 search engine options including Google Data Centers (and corresponding IP addresses) that you can plug into the tool as well as many country specific ones
Then you select your keywords, and you can color code them for easier charting and tracking.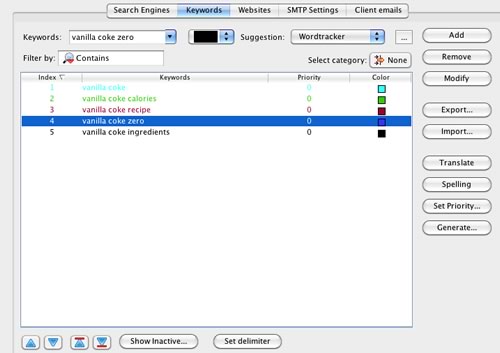 The next step is to add the websites you want to track, for this example I'll just throw one in but you can add more here or you can add some from the competing websites you find right in the Top Sites report provided by AWR: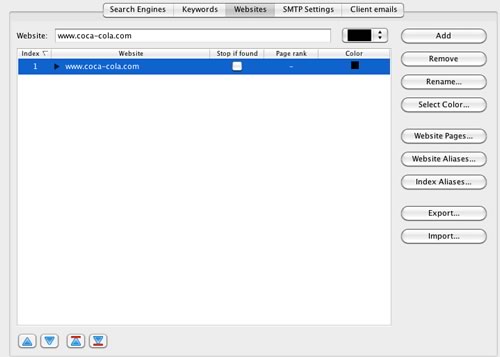 The next two tabs we'll skip but they are pretty self-explanatory.
So now you've got your keywords, the search engines you want to track, and the website you want to track so you're ready to rock.
Using AWR
The first screen you'll see is as follows, I ran an update when I set up the project so it's already been run through but that is usually the first step.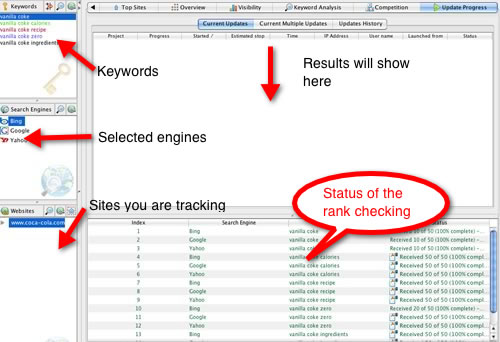 There are a slew of reports within AWR:
Current Rank
Keyword Rank
Search Engine Rank
Top Sites
Overview
Visibility
Keyword Analysis
Competition
It's important to note that when you add keywords to AWR it will automatically check sub-pages of your site for any keyword you enter and they associate www and non-www as default.
I originally started the example project with Coca-Cola products (mainly Vanilla Coke of course) but there wasn't much data there so I went with a different example.
I went with Geico.Com and the keywords car insurance, auto insurance, car insurance quotes, and motorcycle insurance quotes.
Current Rank Report
The Current Rank report will show you current rankings of your keywords within the search engines that you chose within the project set up screen. You can select the keyword, the search engine, and the site to get your current position, previous position, change since last update, the page you are on, and the best ranking you've achieved with those parameters.

You can choose "Expanded View" to see the rankings for all keywords within that specific engine if you want a broader view of things: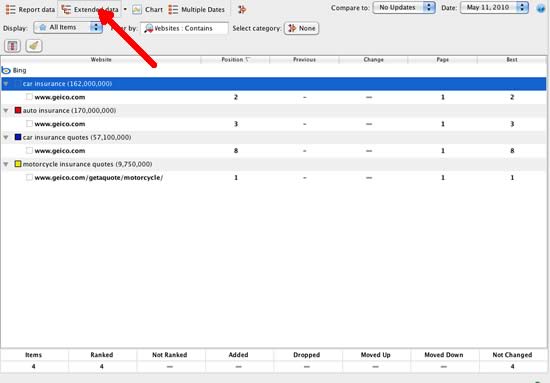 The chart feature shown here is from their example as I don't have historical data on this project but you can see where there are added competing sites in the lower left corner and they correspond with the chart's colored lines showing the ranking trends of those sites, and your's, for the highlighted keyword. This is extremely useful when looking at trends as well as trying to keep an eye on competitor strategies, what's working and what's not working, etc.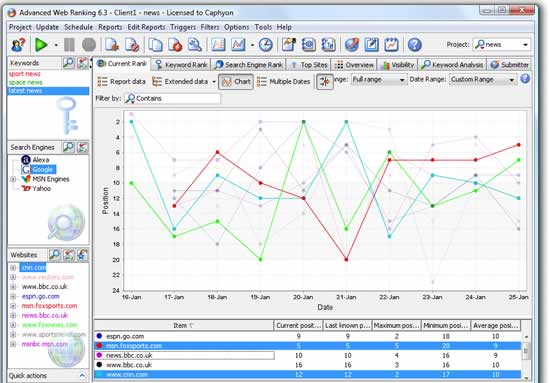 Some other options in the Current Rank report, in terms of viewing keyword reports, are the ability to only show keywords which are in the top 10/20/30/40/or 50, only show keywords that are ranking at all, check by multiple dates in addition to variables like keywords in the top "xyz" spots or ones that moved up or ones that moved down, and a few other tweaks as well all over multiple update dates.
Keyword Rank Report
The Keyword Rank report is kind of similar to the Extended Data view in the Current rank report where it groups keywords by search engine and website by selecting the website and engine from the left column (Google in this case, omitted in the interest of redundancy). Also note how you see the sub-page listed for one keyword and the main domain for the same keyword as Geico has two listings for that keyword in Google.

Shows similar data like position, previous position, change, page found on, and best rank.
If you have lots of keywords you can categorize them with the Category Data option (helpful for larger sites and grouping keywords which are aligned to specific pages or sections of your site) which is something not available in the Current Rank report.
It has a charting feature as well. It groups it by keyword and uses little icons to denote the different sites (if you are tracking multiple sites) so each colored line represents a keyword and you can click on a specific keyword to highlight the line (as the others are lighter to avoid a messy interface).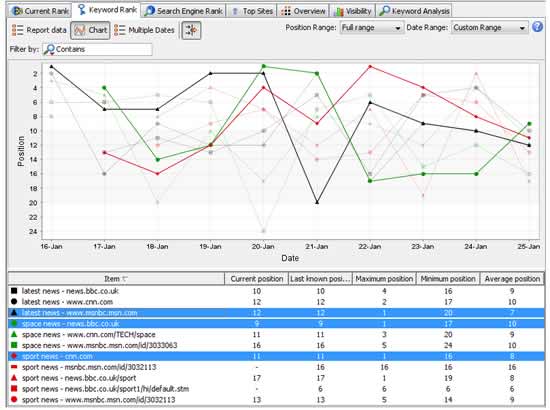 Search Engine Rank
The Search Engine Rank report groups the selected keyword with the search engines to quickly show you how you rank across the search engines for that particular keyword.

Again, another nice visual graph option which is kind of a staple of AWR (lots and lots of visual data points). The site is tied to a search engine via a line graph with the icons used in the Keyword Rank Report to denote different sites. These charts really become powerful if you are able to track things like your link building efforts or other marketing efforts and tie them into how each engine responds to those types of practices.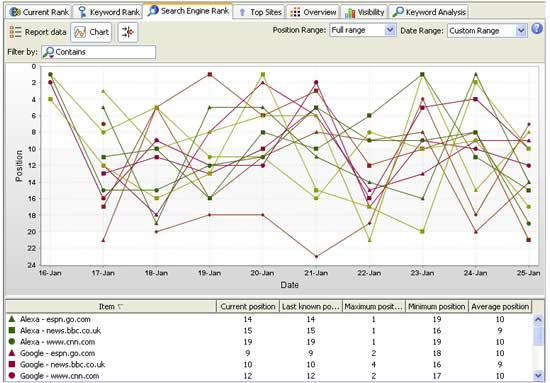 Similar to other reports, the multiple dates feature can help you compare trends across a variety of timelines defined by you within the program.
Top Sites
The top sites report shows the top (10 in this case) sites that are ranking for the highlighted keyword in the highlighted search engine. The cool thing here is you can add sites from the top sites report right to the websites you are tracking. Adding those competing sites will help you keep an eye on the competition and hopefully spot some trends that you can capitalize on sooner rather than later.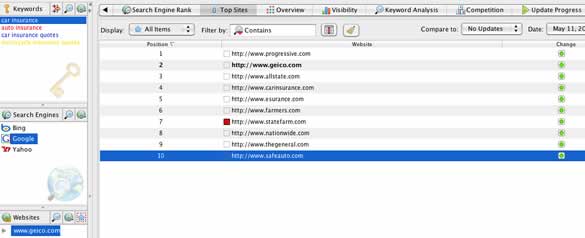 This is also a cool report to find sites that are consistently ranking for core and longer-tail keywords across your SERP's. Most of the core keywords might be similar but identifying competitors that are winning the core keyword AND long tail keyword battle could give you a nice headstart into figuring out what they are doing, how they are doing, and so on so you can go ahead and improve on those strategies and start to move past them in key areas.
Overview Report
The Overview tab kind of puts a lot of stuff into one spot for you, which is nice for reporting and such. Below is a screenshot of the basic overview with the options panel open.

So here you have three options in the upper left corner, Search Engines/Keywords/Websites. Whichever one you choose the remaining two are used as data points for that selection. Examples are as follows:
Websites - Keywords grouped by Search Engine
Websites - Search Engines grouped by Keywords
Search Engines - Keywords grouped by Website
Search Engines - Websites grouped by keywords
Keywords - Search engines grouped by websites
Keywords - Websites grouped by search engines
A good example of this in practice can be found here. If you are looking for a higher level of how things are going, quickly, then this is probably the report you want to be looking at. It will show you movement in each area for each data point (what's going up, what's going down, etc) which you can then investigate further in the specific reports we discussed before.
Visibility Report
The visibility offers the same input/output relationship as the Overview report (choose websites, keywords, or search engines as input and the other 2 will be the data points you can play with). A screenshot is probably helpful here.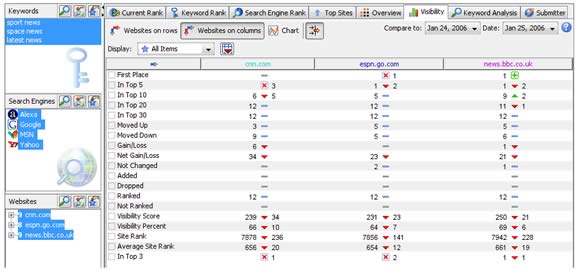 Here you can see all sorts of juicy information about the sites you are following, the keywords you and they are targeting, and the coverage for all the sites in the search engines you care to follow. We've charted you to death here, suffice to say there is a chart for this as well (another great reporting feature). They have some custom stuff at the bottom like Visibility Score, Visibility Percent, Site Rank, Average Site Rank. These formulas are explained by them here. I personally find that quickly browsing the results gives me the same idea of coverage and site strength as these custom metrics do but we all know some people love custom, special metrics.
Keyword Analysis Report
This is a report that I personally don't use as I do not feel keyword density is something worth looking at as a ranking metric, other than to plug in a competitor's site to see what keywords appear most often on the page. This report shows a ton of words and phrases for each site/page, the density of the word or phrase, and total occurrences of that word or phrase. It shows some other basic info like total words on the page, whether the page employes global no-follow links, size of the page, meta information, and page rank. Also, it shows the page title, link text, and image alt tags.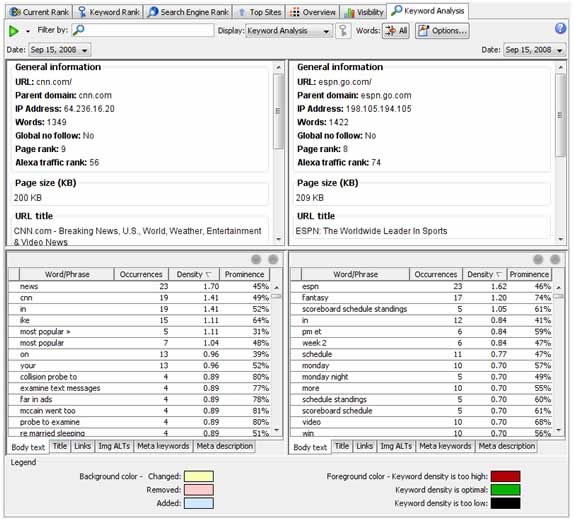 It can be kind of useful when comparing two sites and their on-page text occurrences and you can view changes over time as well. It has a basic original content filter as well but I much prefer SeoBook's Duplicate Content Checker for that type of stuff.
The Competition Report
This report shows total competing pages in the various engines for your keywords. Not incredibly useful for me, I just want to know how strong the top ranking sites are, the amount of competition is irrelevant if most of it is suboptimal. Conversely, I don't care if the total number of pages are really low if the ranking sites are really strong :-) .

Additional Reporting Options
As we mentioned earlier, AWR has fantastic reporting options in their Professional plan and most of the reports mentioned above (Current Rank, Keyword Rank, Overview Report, Top Sites, and Search Engine Rank) can be printed out for your own use and more importantly for your use with client work. All reports are can be customized and can be branded as well.
They have a great user guide and the section on printable reports can be found here.
Local Search Engines
In addition to the Google Preview Tool (Enterprise Edition) which lets you define engines by location AWR allows you to check Google Maps and Yahoo Local for Rankings, which is a terrific feature if you are involved with local stuff. It comes preset with many of the larger cities in the US and capitals of foreign countries.
Here is where you add it (you can customize by long/lat but I just chose Pittsburgh here).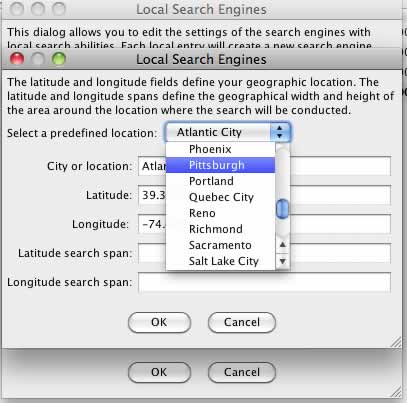 Then you go back to project settings and add it to your engines

Update the project, then check out the top sites report where you can right click on a listing and view it in the search results and view the local 10 pack right there, cool stuff!....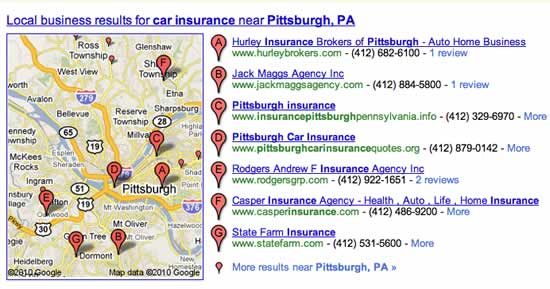 Additional Links
AWR comes with a downloadable and HTML version of their detailed user guide here.
Pricing options here, and feature overview here.
Final Thoughts
AWR is a top notch rank checking product used by many of the members here at SeoBook and is even better when combined with Advanced Link Manager (which we'll cover in another post). It is one of the most feature-rich products on the market and does not attempt to upsell you at every corner either. For a full-featured product, it's at the top of my list.
The support is solid as well. They actively monitor their forums, have 2 phone numbers to call, and have a live chat feature for your convenience.
At the end of 12 months you'll have to purchase a maintenance plan which is really inexpensive when you consider what you get with the software.
It can be slow at times (due to human emulation settings and the overall feature set) if you are running large query sets and find your updates taking awhile some tips are to get a second machine to run the checks or rent a dedicated box somewhere for cheap dollars, remote in and run it like a remote desktop (a great tip shared by a member here).
Hope this will give you some insight into how useful AWR can be. They have many, many sorting settings as well (which are common to most reports) so you really can get a lot out of this tool if you understand most of the capabilities from the start. Their user guide can be a bit overwhelming so hopefully this will give you kind of a basic look on what it's core strengths are.