Ahrefs is the newest entry into the link research tool space. They use their own bot and their own index (which they state is based on information from a trillion website connections).
They claim their index is updated every 30 minutes and the fresh data is available to their users within 30 minutes of the actual index refresh.
Ahrefs also has a ranking database of roughly 45 million keywords from 9 different countries (US GB FR RU DE ES IT AU BR). The tools within their membership are:
Site Explorer
SERPs Analysis
Reports
Labs/Tools
Their pricing is very straight-forward and only increases or decreases based on volume of data you have access to. You can check out the easy to understand pricing on their pricing page (and they offer SEO Book readers a 50% discount on the first month).
Site Explorer
Ahref's Site Explorer functions in a similar way to Majestic's Site Explorer and SeoMoz's Site Explorer. You can choose a specific URL, the domain without subdomains, or domain with all its subdomains: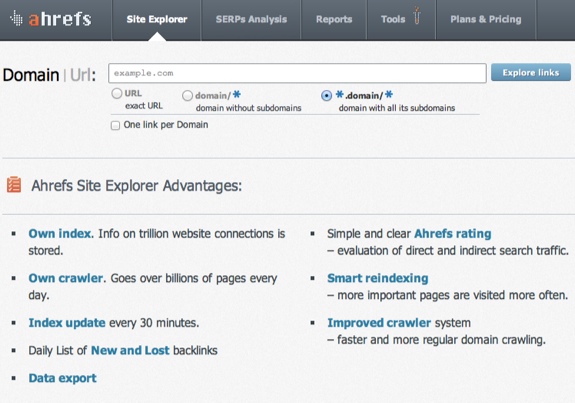 If we look at the Site Explorer results, you'll see an overview of the last 45 days or so from Ahref's crawl history: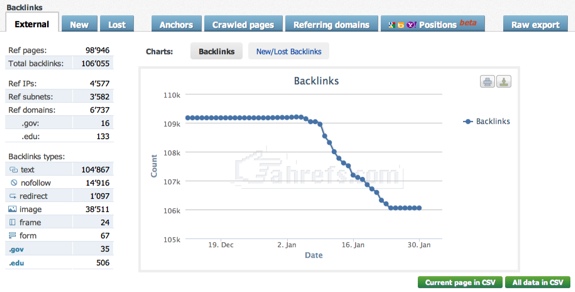 On the left you can see some interesting stats like the total number of backlinks, different referring IP's and subnets (class c blocks and such), unique domains, and the types of backlinks the site has (text, image, redirects, and so on).
In addition to the overview report, you have other research options to chose from:
New Links
Lost Links (great opportunity for you to swoop in and alert the linker + sell them on linking to you and your resources)
Anchor Text Profile
Pages Crawled on the Site
Referring Domain Breakdown
SERP Positions (organic ranking report)
Raw Export of the Data (up to your limits based on your pricing plan)
New Links
In the New Link tab you can go back to a previous month, or work inside the current month, and find newly discovered links by the day. Here is what that looks like:

Click on whatever day you want and you'll get a list of linking urls, the target link page, and the anchor text used for the link:

This report can help you reverse engineer, down to the day, a link building campaign that your competitor is running (always good to be out in front of a big link push by a competitor) and can also help you evaluate your own link campaign or even help you spot a link growth issue that may have resulted in some kind of penalty or over-optimization filter.
Now keep in mind that, based on their stated crawling guidelines, the stronger links from stronger sites tend to get crawled more frequently so the spammiest of the spammy link approaches might not get picked up on. For that level of deep research a historical report from Majestic SEO and a link status checker, like Advanced Link Manager, is likely a better bet.
You can export this report to Excel or .CSV format.
Lost Links
The Lost Links tab has the same interface as the New Links report does. For your own domain you might want to consider tracking your own links in something like Raven or Buzzstream but this tool does report dropped links down to the day. Combine that with their crawling preferences (better links = quicker attention) and you can spot drops of substance quickly.
You can use this report to find links that a competitor has lost, off of which you can contact the webmaster and see if you can't promote your site or similar content to earn the link your competitor was previously getting.
You can export this report to Excel or .CSV format.
Anchor Text
The anchor text report is exactly what you expect it to be. It lists the anchor texts of external links, the number of occurrences, as well as an expandable dropdown menu to see the pages being linked from and the pages being linked to on the site you are researching.

You can export to Excel or .CSV and choose to export everything, up to your limit, or just the current page.
Crawled Pages
This report will show you all the pages crawled by Ahrefs with the following stats:
Page URL and Title
Crawl Date
Page Size
Internal Links
External Links

I would likely use this report (on competitors) for checking some of their more popular internally linked-to pages as well as checking out how they structure their site. You can also jump right to a site explorer report for any of the URL's listed on that report as well as check the SERP positions for any of them.
Referring Domains
One thing I like about Ahrefs is that it's straight and to the point. It's very easy to get in, get your data, and get out. Each report does pretty much what you expect it to. This report shows the referring domains + number links coming from that domain. You can access the links from each domain by clicking the Expand button next to the referring domain:

SERP Positioning
Similar to SemRush, Ahref's provides estimated ranking data for keyword sets on both Google and Bing/Yahoo in multiple countries (US, UK, AU, DE, FR, ES, IT, BR, RU). The tool shows the:
Position
Keyword
CPC
Estimated cost
Ranking url
Global search volume
Advertiser competition
Last date checked
Rating (estimated visitors per month based on assumed traffic distribution)

The other cool thing about this report is that it will tell you the change from the last time they checked the ranking.
SERPs Analysis
This is similar to the SERP positioning report. Essentially, you enter a URL and you get the Google + Bing & Yahoo ranking data with those same metrics as stated above:
Position
Keyword
CPC
Estimated cost
Ranking url
Global search volume
Advertiser competition
Last date checked
Rating (estimated visitors per month based on assumed traffic distribution)
In addition to that, you also have the following reports:
Daily Stats
History of Changes
Ads Analysis
Daily Stats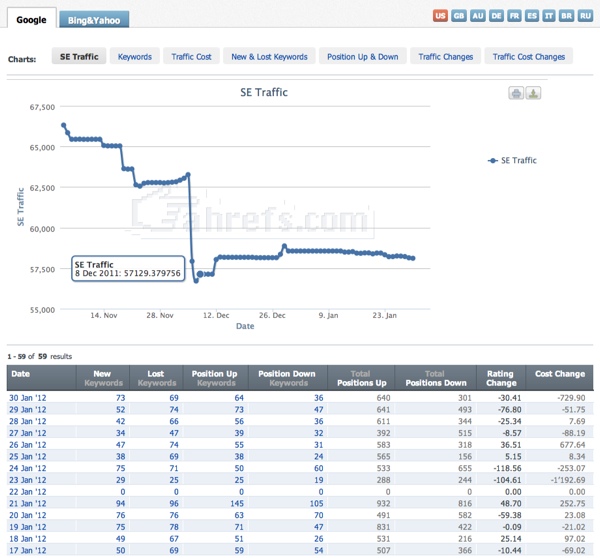 This report shows you, on a daily basis, the following data points:
New Keywords
Lost Keywords
Total Keywords that moved up
Total Keywords that moved down
Total Positions up
Total Positions down
Rating Change (estimated percentage of traffic gained or lost)
Cost Change (rating change * CPC)
There are graphical charts for:
Search Engine Traffic (shown above)
Keyword Trend (total keywords ranking)
Traffic Cost
Bar Graph for New and Lost Keywords
Estimated Traffic Changes
Estimated Traffic Cost Changes
History of Changes
This report breaks down the keyword changes by day and how much the specific keyword moved up/down (and the corresponding page that is ranking).
You can look at a daily report, a 7 day report, 30 days, or a custom range.

Ads Analysis
Ahrefs also incorporates Google (and Bing/Yahoo but I had a hard time getting figures for Bing/Yahoo) PPC data. You can pull in the ranking of the ad, the ad text, volume & CPC data, as well as last updated date & competition levels.

You can look at just the keyword/ranking data or choose from their other 2 reports; keywords/ranking + ad text (Table + Ads) or just the PPC ad text itself (Ads Preview).
Reports
You can create reports for your own domain for free or a any other site as a part of your subscription. Each domain counts as a separate report, so you can enter as many as you are entitled to in this interface but they do count against your monthly allowance.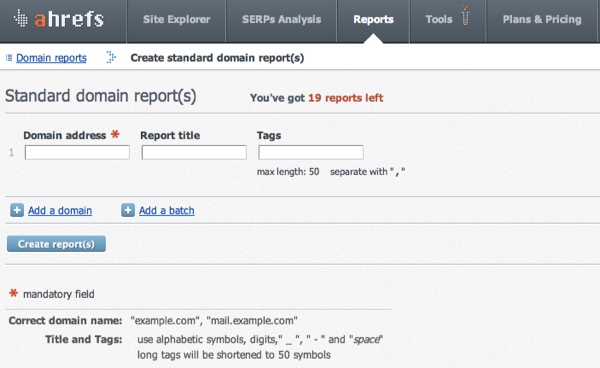 The report overview looks like this:

Each tab represents a data point you can review. In any tab you can choose to export the visible page or the entire report.
There are quite a few filtering options here, as you can see below:

Your filtering options, report-wide, are:
URLs from - you can include or exclude based on user-defined data (exclude by word(s), domain extension, and so on)
Backlinks Type - you can choose to show, specifically, different backlink types (nofollow, image, frame, redirect, form, deleted)
Pages - show links only to a specific page
Subdomain - show links only to a specific subdomain
Countries - show links from specific countries
Anchors - show or exclude specific anchor text links
Referring Domains - show links from a specific domain, or set of domains only
IP - show links from a specific IP or range of IP's only
Subnets - show backlinks only from specific subnets
TLD - show links from specific TLD's only
Date - show links based on specific crawl period
The cool thing here is that you can layer on the filters as you wish. The following screenshot shows all filters selected and available: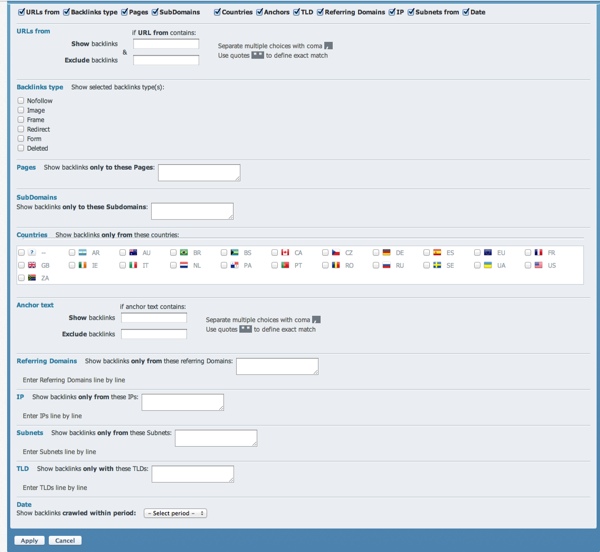 The reporting is really quite powerful and provides numerous ways to quickly filter out junk links so you can focus on the good stuff.
Labs
There are 3 additional tools in their Labs section.
Ahrefs Top - Top 1 million domains by number of backlinks, completely searchable
Domain Comparison - compare up to 5 domains for different link metrics (see below)
Batch Domains - (see below) dump in a bunch of URLs and get a total count of backlinks, referring domains, and IP's. Unsure of the limit here but I did about 25 with no problem.
Here is a screenshot of the domain comparison feature: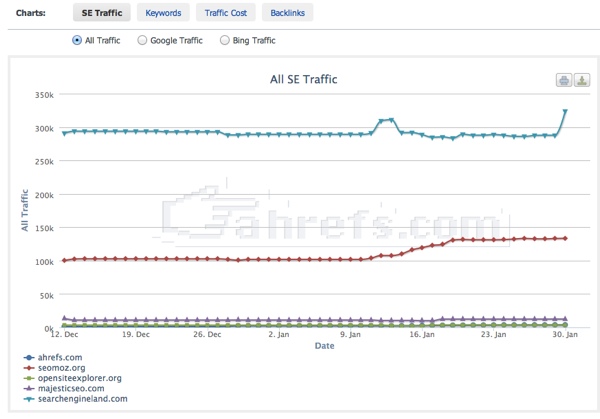 The Batch Domains feature looks like this (and is completely exportable!):

Ahrefs is Worth a Spin
I was impressed with the speed of this tool, the exportability of the data, and the report filtering capabilities. It hardly hurts to have another link database to pull from, especially one that is updated every 30 minutes.
The tool is quite easy to use and it does pretty much what you expect it to. If you are into link research you should give this tool a try. The database appears to be a fairly good size for a new database and the ability to slice and dice that data from right within the web interface is a solid feature. If you do try it out, let us know what you think! We are also adding their link data to SEO for Firefox & the SEO Toolbar today.