A common practice in the marketing space is for people to diminish what you do, state that it is below them, help rebrand your stuff in a negative light, and then at some point in the future basically clone the idea (maybe with a few new features, maybe not) and then push their clone job aggressively as though it is revolutionary.
Another shady practice is when you ask people for advice and they say "no don't do that" and then as soon as they hang up the phone they send off emails to their workers telling them to do that which they told you was a bad idea.
I don't think that the average person or the average marketer is inherently sleazy. But I think when you look at the people who are the most successful certainly a larger than average percent of them engaged in shady behavior at some point.
To keep building yield and returns at some point short cuts start to look appealing. And so you get
None of the above is a cynical take or an opinion at this point. That was simply a list of 3 stated facts.
Create a large enough organization with enough people and you can always make something shady seem like it was due to the efforts of a rogue individual, rather than as company policy. A key to doing this effectively within a large organization is to publish public thoughts that are the exact opposite of your internal business practices.
The word "propaganda" was a bad word, as that is what the Germans were using, so Edward Bernays had to give it another name - public relations.
Recently the Google public policy blog published a post titled Celebrating Copyright. Around the same time Viacom leaked the following internal Google document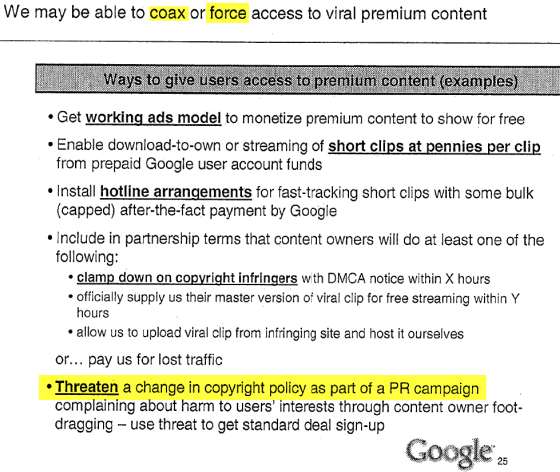 You can't get any clearer than that!
In the past when I claimed Google operated as-per the above I was accused of being cynical or having sour grapes. But when you tie together a lot of experiences and observations others lack and you are not conflicted by corporate business interests you have the ability to speak truth. You are not always going to be right, but the lack of needing to cater to advertiser interests and filter means you will typically catch a lot of the emerging trends before they show up in the media - whatever that is worth.
If you're ever confused as to the value of newspaper editors, look at the blog world. That's all you need to see. - Eric Schmdit
Speaking of the media, have you heard about the Middle American Information Bureau
The Century of Self is an amazing documentary, well worth buying