The coronavirus issue is likely to linger for some time.
GERMANY PUBLIC HEALTH AGENCY PRESIDENT SAYS OUR ASSUMPTION IS THAT IT WILL TAKE ABOUT TWO YEARS FOR THIS PANDEMIC TO RUN ITS COURSE— Quantitative Trading (@fiquant) March 17, 2020
Up to 70% of Germany could become infected & some countries like the UK are even considering herd immunity as a strategy:
"I'm an epidemiologist. When I heard about Britain's 'herd immunity' coronavirus plan, I thought it was satire"
- William Hanage
What if their models are broken?
Many companies like WeWork or Oyo have been fast and loose chasing growth while slower growing companies have been levering up to fund share buybacks. Airlines spent 96% of free cash flow on share buybacks. The airlines seek a $50 billion bailout package.
There are knock-on effects from Boeing to TripAdvisor to Google all the way down to travel affiliate blogger, local restaurants closing, the over-levered bus company going through bankruptcy & bondholders eating a loss on the debt.
Companies are going to let a lot of skeletons out of the closet as literally anything and everything bad gets attributed to coronavirus. Layoffs, renegotiating contracts, pausing ad budgets, renegotiating debts, requesting bailouts, etc. The Philippine stock market was recently trading at 2012 levels & closed indefinitely.
Brad Geddes mentioned advertisers have been aggressively pulling PPC budgets over the past week: "If you have to leave the house to engage in the service, it just seems like it's not converting right now."
During the prior recession Google repriced employee options to retain talent.
In spite of consumers being glued to the news, tier one news publishers are anticipating large ad revenue declines:
Some of the largest advertisers, including Procter & Gamble Unilever, Apple, Microsoft, Danone, AB InBev, Burberry and Aston Martin, made cuts to sales forecasts for the year. With the outlook for the spread of the virus changing by day, many companies are caught in a spiral of uncertainty. That tends to gum up decisions, and ad spending is an easy expenditure to put on pause. The New York Times has warned that it expects advertising revenue to decline "in the mid-teens" in the current quarter as a result of coronavirus.
More time online might mean search engines & social networks capture a greater share of overall ad spend, but if large swaths of the economy do not convert & how people live changes for an extended period of time it will take time for the new categories to create the economic engines replacing the old out-of-favor categories.
[IMPORTANT: insert affiliate ad for cruise vacations here]
As Google sees advertisers pause ad budgets Google will get more aggressive with keeping users on their site & displacing organic click flows with additional ad clicks on the remaining advertisers.
When Google or Facebook see a 5% or 10% pullback other industry players might see a 30% to 50% decline as the industry pulls back broadly, focuses more resources on the core, and the big attention merchants offset their losses by clamping down on other players.
At its peak TripAdvisor was valued at about $14 billion & it is now valued at about $2 billion.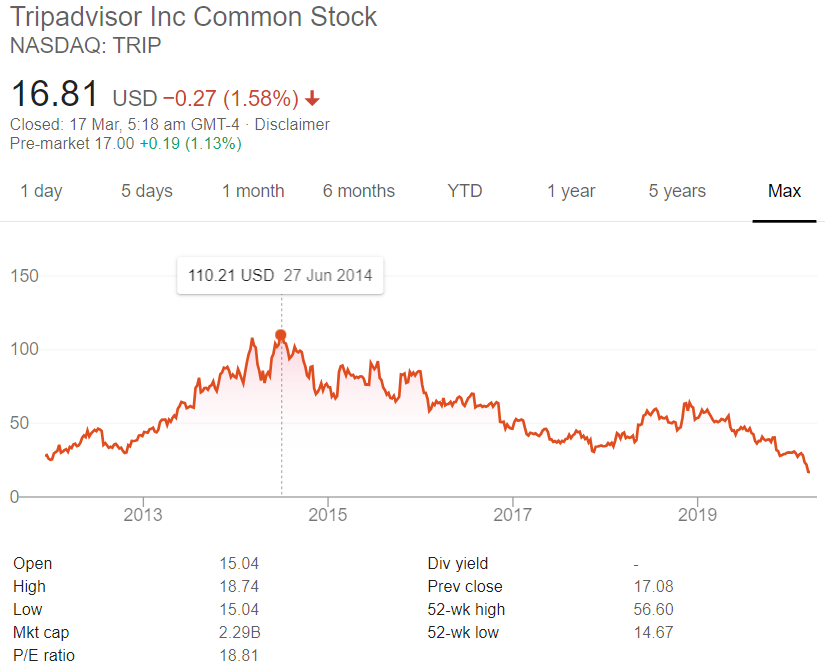 TripAdvisor announced layoffs. As did Expedia. As did Booking.com. As did many hotels. And airlines. etc. etc. etc.
I am not suggesting people should be fearful or dominated by negative emotions. Rather one should live as though many other will be living that way.
In times of elevated uncertainty, in business it is best to not be led by emotions unless they are positive ones. Spend a bit more time playing if you can afford to & work more on things you love.
Right now we might be living through the flu pandemic of 1918 and the Great Depression of 1929 while having constant access to social media updates. And that's awful.
Consume less but deeper. Less Twitter, less news, fewer big decisions, read more books.
It is better to be more pragmatic & logic-based in determining opportunity cost & the best strategy to use than to be led by extreme fear.
If you have sustainable high-margin revenue treasure it.
If you have low-margin revenue it might quickly turn into negative margin revenues unless something changes quickly.
If you have low-margin revenue which is sustainable but under-performed less stable high-margin revenues you might want to put a bit more effort into those sorts of projects as they are more likely to endure.
On a positive note, we might soon get a huge wave of innovation...
"Take the Great Depression. Economist Alexander Field writes that "the years 1929–1941 were, in the aggregate, the most technologically progressive of any comparable period in U.S. economic history." Productivity growth was twice as fast in the 1930s as it was in the decade prior. The 1920s were the era of leisure because people could afford to relax. The 1930s were the era of frantic problem solving because people had no other choice. The Great Depression brought unimaginable financial pain. It also brought us supermarkets, microwaves, sunscreen, jets, rockets, electron microscopes, magnetic recording, nylon, photocopying, teflon, helicopters, color TV, plexiglass, commercial aviation, most forms of plastic, synthetic rubber, laundromats, and countless other discoveries."
The prior recession led to trends like Groupon. The McJobs recovery led to services like Uber & DoorDash. Food delivery has been trending south recently, though perhaps the stay-at-home economy will give it a boost.
I have been amazed at how fast affiliates moved with pushing N95 face masks online over the past couple months. Seeing how fast that stuff spun up really increases the perceived value of any sustainable high-margin businesses.
Amazon.com is hiring another 100,000 warehouse workers as people shop from home. Amazon banned new face masks and hand sanitizer listings. One guy had to donate around 18,000 cleaning products he couldn't sell.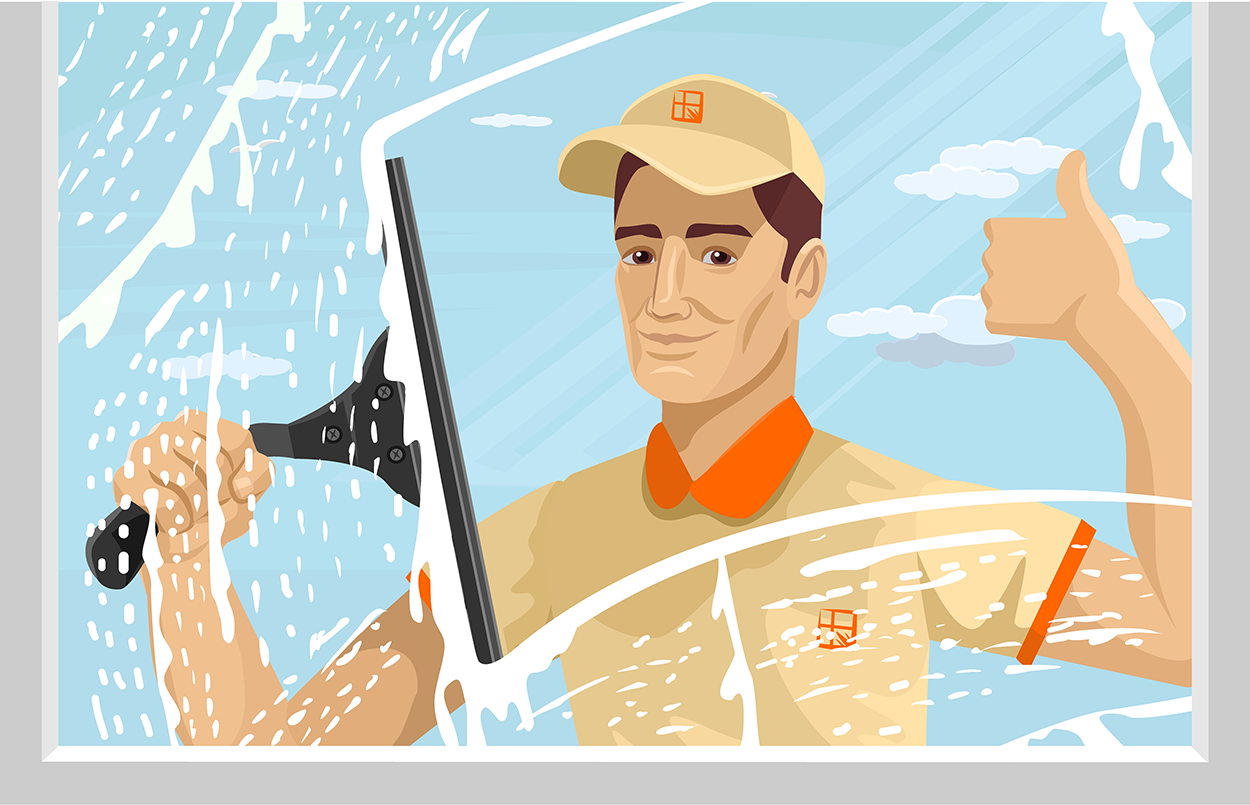 I could see online education becoming far more popular as people aim to retrain while stuck at home.
What sorts of new industries will current & new technologies lead to as more people spend time working from home?
New to the site? Join for Free and get over $300 of free SEO software.



Once you set up your free account you can comment on our blog, and you are eligible to receive our search engine success SEO newsletter.
Already have an account? Login to share your opinions.