I just read a WSJ article about how some hotel chains are trying to woo people leaving negative remarks publicly about their brand.
'I Hate My Room,' The Traveler Tweeted. Ka-Boom! An Upgrade!
Generally speaking, the idea is crap.
In essence they are spending resources trying to make the most unsatisfied segment of their market happy, and rewarding people for trashing their brands with free upgrades & other perks. And so it teaches more people to complain & to find arbitrary things to complain about. Hence the friendly article offering the tip on how to get free room upgrades, with tips like: "Have a lot of online friends or followers. Hotels will pay more attention to your requests."
Hey Ritz-Carlton & Shangri La ... we have 10,000's of readers and you suck! Please save my complimentary upgrades for the next time I am in town. :D
Does anybody think those leading brands got to where they are by tracking complaints on Twitter? The customers who have complaints actually worth listening to will probably give it to you directly rather than Tweeting it.
The people who are unhappy are often the type of people who shop by price and have 0 brand loyalty. And no matter what you do it is never enough. About two days after opening up our membership site (nearly 2 years ago) I got a phone call while on the road by someone who couldn't figure out how to log in. I pointed out where it was. That wasn't good enough. I spent about 6 hours digging through the PHP to try to make the login even more intuitive for them. The next day they asked for a refund because I didn't provide 24/7 phone support. The login wasn't the problem. It was just a handy excuse. The problem was that they were cheap and nothing was going to be good enough for them. And just to put a bit more salt in the wounds, about a week later someone else complained about how the login was changed. FAIL! :D
Since then we have increased our price 200% (as we have added more tools, more staff, and the value of my time keeps going up every day) and we still have many people who are happy as longterm customers at a higher price point. In fact when some people accidentally cancel their account I can get 3 to 5 emails in an 8 hour period when I sleep because they miss the site that much.
But there is the opposite end of the spectrum as well: potential "customers" who demand a free trial, beg for aggressive discounts, or have 50 "one more question" questions before joining. They probably are not sold enough on the solution to be worth the effort of selling to. No matter what you offer them its probably not going to be enough. Their lack of internal value is reflected into their perception of the works of others, and if they buy from you without being sold on you they will probably ask for a refund, or find a way to be abusive to make you want to can them.
In our support suite many non-paying non-customers mark their messages as critical. Whereas the people who are paying customers use a less extreme level, like normal. The levels that people can select are almost a filtering mechanism. Have you spent $0 with us & you mark your issue as critical & you use caps lock & rude slurs? Shift-delete.
I didn't intentionally plan it, but our old programmer even built another filter into our business model. The people who join and then cancel right away get locked out right away. We then send them refunds, but this level of filtering filters out a major type of potentially abusive customer. The type who generally won't read or research but will ask 5 different questions 8 different ways each every single day until they have annoyed your members so much that you are forced to boot them to lessen the noise. The person who makes over 100 posts in their first 2 days isn't taking any time to read or listen or implement, so they would just harm your community without getting any value out of it.
This leads to my theory of filtering: if a person needs lots of support becoming a customer (or before they become a customer) then they probably are not going to become a good customer. And if you take them on as a customer (or spend any money pushing in that direction) you will probably lose money.
The person who sends me an enraged email about "why should I install Firefox" just wasted 5 seconds of my life & will never spend a penny with me. And that is fine.
Many of the best companies aim to be polarizing. They pick their spots and define what they do, and work hard to make that market segment happy. That is how Steve Jobs views flash, and it is how Marc Andreessen likes to invest.
Find out what people smarter than you are doing and find a way to incorporate those themes into your business strategy. The smaller you are the more polarizing you can be, because you don't have to create something that feeds thousands of employees to be profitable.
You could spend every day trying to make any unhappy person happy with your offering.
... OR ...
What if you took those same resources that were spent trying to appease the angry and spent them on making those who are happy that much happier? Does the free upgrade go further when it is given to an enraged steroid addicted customer, or does it go further when given to someone who has stayed with your hotel multiple times in the past? Where are they on this circle?
The concept to think about here is that if someone is already fairly loyal it doesn't take much more marketing or attention to make them *super* loyal. And then they spread the word.
There is a concept of fairness which is preached in school, but you should overweight your business toward your best customers.
The person who has been a paying subscriber for years is worth thousands to tens of thousands of Dollars to our future business interests.
And for clarity purposes, I agree with Chris that their can be great value in being a guide & helping people out. But angry high-maintenance people are rarely where sustainable profit margins come from (unless, of course, you are a divorce lawyer OR a PR firm who gets paid to give hotels bad advice).
From the above WSJ article's comment section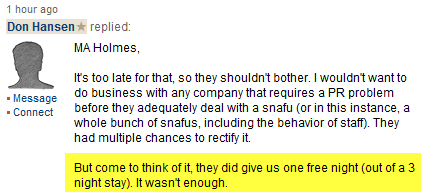 It wasn't enough. It never is. :D