May 10th
One of my biggest business flaws was perhaps starting off with a fairly low self-esteem. Because of that, I catered toward people who were whiny, wanted free stuff, and never had any intent of buying anything. Being naive, and wanting to be liked too much, I catered to such worthless people, and probably cut my income short over the years by millions of dollars. Over the course of the last year I decided that I was going to change directions on that front, and I have never had a problem with being blunt.
Entitlement: People do Not Respect Free
A couple days ago I got this gem.
The data provided by this tool makes it useless. I had over 10k DMOZ entries, over 35k delicious bookmarks, over 300k .edu bookmarks, etc. if this was true, Google would ban me and my first three children plus 100 yrs, and i would be slapped so hard, my cousins would feel it. why provide this tool when it gives insanely data that makes it useless?
I told the person how to update the extension, and yet they were too stupid to read, and kept spamming up my site with progressively nastier comments until I banned them. The software they were complaining about getting for free is better than lots of stuff that sells for $100 or more, but free means dealing with idiots from time to time.
Twitter is soooo Cool
The latest style of cool is Twitter. Where you can look hip by complaining about something being garbage, even if it is something you have personally gained value from. I get blowback every week or 2 on Twitter about someone who feels embarassed to Tweet a link to our great content because this site has a pop up on it.


But if someone really believes in this site (and what we offer) then they wouldn't feel embarassed about an advertisement offering a free introductory course to SEO. If they respected our opinion they would be recommending our work.
The moment of clarity which inspired this post was this tweet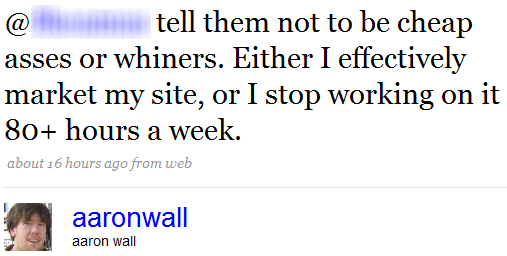 It was quickly countered with


But those people are not non-customers who could be converted to customers. Why? If they are turned off by giving away free information and would rather bitch about it on Twitter than click the "don't show again" link then they were never going to become a customer, and frankly I would not want them as a customer.


If they are too lazy to click the "don't show again" link then they are too lazy to participate in the site or business in a more meaningful way.
The Sales Process
As Peter highlighted, the people who are non-customers that can be converted to customers are people who are typically concerned that the topic is too complex or confusing. And those ***are*** the type of people who would subscribe to our autoresponder, get a lot of value for free, and then decide to...gasp...become paying customers.
Perry Marshall understands the sales process much better than I do, and explains it much more susinctly than I can:
Sales and marketing is a sequential process. Which means that everything that happens between the introduction and the sale is 100% important. Anything that interrupts this process can be fatal to your business.

Sales and marketing are the most hazardous parts of a business to outsource. Things like payroll and bookkeeping and manufacturing, easy to outsource. Your voice and your identity, almost impossible.

Therefore….

Sales and marketing is worthy of your passion, devotion and dedication. It is typically the highest leverage activity in any business. And despite the fact that many "academic types" sneer at it, it's still true: Nothing happens until somebody sells something.
You MUST master two things: ONE way of getting traffic, and ONE way of converting it. If you achieve mastery, it will be perfectly OK to be merely "competent" at the other things and your business will still flourish.
The autoresponder (and the pop up that promotes it) are part of that sequential sales process. Remove them and something like 50% of the non-customers that can be converted to customers never convert. It's not worth throwing away half your sales because some whiner on Twitter bitches about free not being good enough for their tastes, and they are too lazy to click the "don't show" link.
Popularity Does Not = Sales
Cater to those who want free free free and suffer a life of misery. Just ask the guy who spent 1,000 hours of work building dofollow blog lists:
We have put in over 1000 hours of work on the project. Is it too much to ask you to leave a useful comment? I am also tired of marketing gurus that sell products that direct their users to our lists. They have made lots of money and they claim to support leaving useful comments. However, the response from these visitors. Is about only about .3%. Yes, that less than 1%. I will rejoice when these niche products never send anymore traffic here. I regret that our efforts caused others blogs to switch back to No Follow. I truly regret what this good idea became.
And then you feel embarassed for all the comment spammers that comment spam nofollowed links (and even links that are not seen by Google). Check out Google's cache of this Work.com page and then look at how many SEOs there are who are too stupid or too lazy to view the source code or Google cache before comment spamming a page about SEO, and looking like an embarassement in front of their peers.
Catering primarily to the crowd with a $0 budget is rarely a business building strategy for a media business built on selling. Yes the people who waste hours daily chatting on social sites all day can help shift the perception of your product, but those same people who are out there bad mouthing your site were not going to give you very good word-of-mouth-marketing...it certainly would not lead to many sales. To that class of people everything is overpriced (except whatever they sell).
Focusing on Real Customers
Plenty of people enjoy our site, and profit from our advice. We have many subscribers who have been with us ever since we started our business model...hundreds that have been subscribers for over a year. Their opinions matter, but the feedback from the free whiners is worth less than nothing. Why? If I listened to them I would promote my site less aggressively and less effectively, while ignoring the fact that the complaining "me first" free-loaders are the type of people who complain about carpet stains while they take a shit in my virtual livingroom.
That same email course is being recommended by people across the web. In the forums Anita Campbell told me she was talking to a friend who out of the blue mentioned our autoresponder and that they thought it was the best autoresponder sequence they ever subscribed to. And Deseriee Sanchez, the single kind Twitter user, liked it as well ;)


Not that all Twitter users are bad...just the ones that whine about a marketing site using effective, honest, and wholesome marketing techniques.
That same pop up that is offensive to the non-customer who is too cheap to ever be a customer is getting free media exposure and word of mouth marketing by people who ***are*** using the advice to build their businesses. Just last week I got this via email:
Hi Aaron. I am a reporter at the New York Daily News. I plan to mention seobook.com in an article running on Monday re SEO for small business owners.

A source I spoke to recommended seobook.com as a good resource for business owners who might want to do seo themselves and are on a limited budget. I wanted to confirm that you offer a free email course. Is that correct?
Chasing Popularity Distracts You from Profit
Worse yet, while I spent years catering to this guy...
DON'T BUY ANYTHING, just visit his site and bitch about all the years of hard work he has done and the millions of dollars worth of information and software he shares for free.
...others were re-wrapping my work in hype and aggressive marketing, outselling me on my own work 5:1 and 10:1 because they sold that same info in a way that was obvious. Aggressive hyped up launch with super-basic how to videos. Clean formatting, limited information, rarely updated, and a linear prescriptive layout.
Focusing on Profit
Some of those guys (who became multi-millionaires from being good at sales and repackaging) lifted lines out of my ebook and went so far as asking for free updates to my ebook to help base their next competing product off of.
I have seen the other side of many of the $1,997 guru online membership websites. Sometimes they don't protect their member areas, and then when they launch they link to our site. So that tool the guy was whining about in my comment section is the same one other internet marketers tell you to go use after you give them a couple thousand dollars.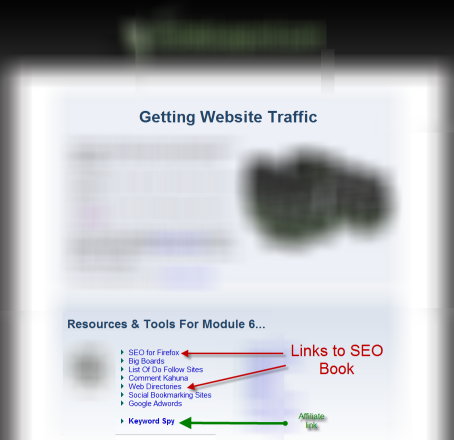 Many of those guys offer 0 interaction when you buy their stuff, and they plan for a high refund rate...hoping that the initial price point and hyped launch (built off of affiliate marketing) are still enough to make it worthwhile. Based on their clickthroughs to this site, some of these guys make a decent number of sales.
We don't do bad, but we offer a more interactive learning environment at a compelling price-point and we shouldn't cede customers to other sites reselling access to free parts of our site so we can cater to penny-less Twitter users - who are unhappy getting for free what others gladly pay hundreds or thousands of dollars for. If that makes me less popular I guess that is the way it is going to be.
Published: May 10, 2009
New to the site? Join for Free and get over $300 of free SEO software.



Once you set up your free account you can comment on our blog, and you are eligible to receive our search engine success SEO newsletter.
Already have an account? Login to share your opinions.
New to the site? Join for Free and get over $300 of free SEO software.



Once you set up your free account you can comment on our blog, and you are eligible to receive our search engine success SEO newsletter.
Already have an account? Login to share your opinions.
Over 100 training modules, covering topics like: keyword research, link building, site architecture, website monetization, pay per click ads, tracking results, and more.
An exclusive interactive community forum
Members only videos and tools
Additional bonuses - like data spreadsheets, and money saving tips