Day 1: The Power of Keywords
Why is Google so Valuable?
Have you ever wondered why Google is worth over a hundred billion Dollars? Or why a single click from Google can go for as high as $50? The reason is the precise targeting offered by search engine marketing.
How Most Advertising is Broken
Most ads try to club you over the head and beat you into submission. Look how ugly the first online banner ad was

From there, things only got worse...
Banners which bounce around in a jarring fashion, banners which play audio, banners which try to get you to "punch the monkey" ... anything for attention. ANYTHING.
It got so bad that people had competitions to see who could make the most annoying banner ad. (Don't click this link if you have epilepsy!)
With the ads being so irrelevant and annoying, people have been trained to ignore banners, developing banner blindness. Marketers responded to low engagement by making banners even more annoying...
...thus creating a tragedy of the commons where online banner ads look like the following picture. They may as well be hidden behind a tree.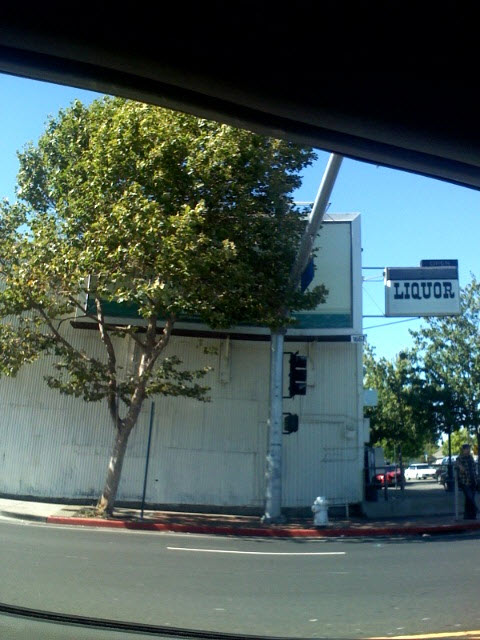 And, as if banners were not bad enough, online advertising continued to (d)evolve...
Given the above behavior, it should be no surprise then that AdBlock Plus is *the* most popular Firefox extension, with over 96,022,319 downloads. Even large ad agencies (like Ogilvey) advocate installing it! :)
The early web was dominated by web portals like AOL, MSN & Yahoo!. Anything to keep people on site for one more pageview was a chance to show more banner ads.
Search is Different
Contrast all that annoying stuff with the relevant ads that earn Google over $50,000,000,000 a year!
Search engine marketing is a completely different form of advertising because rather than trying to distract & annoy users, searchers request to see results relevant to their interests.
Advertisers only bid to show up where they are relevant - when they are irrelevant. If they bid for irrelevant keywords they lose money on every click. It is a self-correcting ecosystem where relevancy is rewarded with further distribution.
If a search is non-commercial Google may not show any ads, or may only display them in a less prominent position. Their commitment to relevancy builds the user's trust in the search results.
The user sees the ads and clicks them because they are relevant to their wants, needs, and goals.

Consequently, the user focuses heavily right on the top of the search results, as shown in eye tracking studies.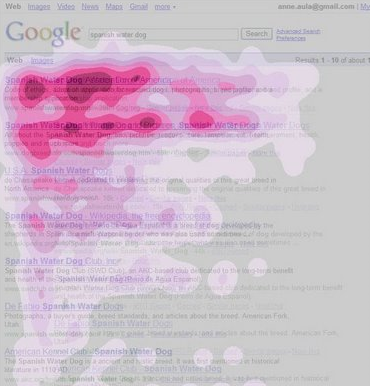 The higher your website ranks the more relevant search traffic you get.
2 Approaches to Marketing
Ads on websites with no targeting can have little to no value. Search traffic, which is laser targeted, is worth over 30x as much. [1]
For display advertising, Credit Suisse estimated that in 2009 the average CPM will be $2.39, down from $2.46 in 2008.
...
As for paid search, JPMorgan projected that for every 1,000 searches, $75.33 would be generated from ads in 2009.
Would you rather hunt for customers, or make yourself available to customers hunting for you? SEO allows you to tap the value of search, with your customers finding your business when they need your products & services!
Research the Market Value of Any Keyword
The cool thing about search engine marketing is not only is it so targeted, but it benefits search engines to share valuable keywords with prospective advertisers. This means you get to spy on the relative search volumes of different keywords, and how much your competitors are willing to pay for keywords.
---
Disclaimer: In August of 2013, Google disabled the below referenced traffic estimator tool & keyword tool in favor of a new keyword planner tool which is both harder to use & has fewer features than the old tools. The old tool is still mentioned below for conceptually describing the process.
While Google has worked hard to add obfuscation to their ecosystem, Bing has pushed to offer advertisers and SEOs greater transparency with their search marketplace data.
There are plenty of other keyword research tools available though, including our free keyword tool & Bing Ad Intelligence (which plugs in to Excel). To use the excellent Bing Ad Intelligence plugin you need to have a Bing ads account. Here are some free coupons for setting up a Bing ads account

---
Using the Traffic Estimator fuction of the Google AdWords keyword tool you can view how much Google's estimate the value of keyword. For example, here is the estimated value for credit card and credit cards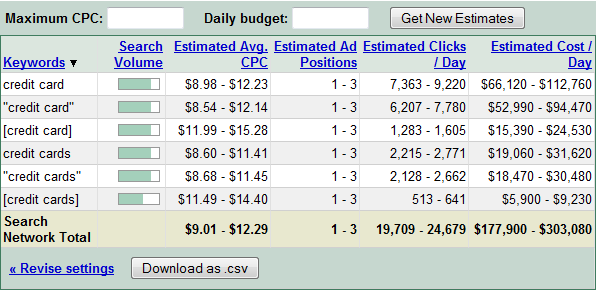 Notice how there are 3 different listings for each keyword. They are based on Google's AdWords ad match types, and can be used to help you know the relative search volumes between different types of searches.
[credit card] represents searchers who searched specifically for the keyword credit card with no other modifiers in it.
"credit card" represents all searchers in the above group, and searchers who searched for a keyword that contained credit card in it, including people who search for keywords like best credit card.
credit card represents all searchers in the above group, and searchers who searched for any keyword that contained the words credit and card somewhere in their search string, including people who search for obscure keywords like payment card without any credit.
Enter some of your keywords here and see what Google thinks they are worth. Please note these values are rough estimates, but they are a good starting point.

list down 5 important keywords to your business
enter in all 3 match types for your keyword
pick your language & markets
do not enter a bid price (this way Google assumes you are willing to pay the market rate)
hit enter & get your results
The above tool estimates the value of traffic to a single paid Google AdWords ad, but most searchers click on the free search results, so the keyword value to your business may even be higher than estimated by the above tool.
Over time Google has put more of their features behind a login to try to block scrapers. The above tool is free to use, but you might have to spend $5 creating an AdWords account & login to that account to be able to see all the features like click price. While you are setting up an AdWords account, you can make that $5 deposit go further by getting a free $75 AdWords coupon here (or here or here or here or here or here or here) ... many options linked because some of their coupon offers expire over time & we update this page periodically
Tomorrow we cover other useful keyword tools as well as the keyword research and discovery process.
Cheers,
Aaron Wall
PS: This free article offers more background on why search is such a powerful marketing channel.
Free SEO Glossary

One of the ways new industries and trade bodies try to separate insiders from outsiders is through creating an industry-specific vernacular that is hard for outsiders to understand. The search engine marketing field is no different, so rather than have you struggle through trying to learn what all the confusing lingo is, we created a free SEO glossary that aims to define common terms and give them some context for you.
If you want to learn what all the lingo means you will want to bookmark the glossary for future reference http://www.seobook.com/glossary/
Have feedback on the glossary, or have a suggestion for us to define another word? Please leave comments here.
Is SEO Manipulative? Isn't All SEO Spam?
Some entities (particularly the mainstream media which have historically relied on regional monopolies & hate new competetion; as well as those who compete for budget that has shifted away from web design toward search marketing) decry that any form of active effort to SEO beyond code optimization is somehow manipulative & thus "SPAM."
That idealized worldview works so long as...
it is shared by all market competitors
search engines do not compete against other publishers
the primary drivers of awareness and exposure are from other "pure" media channels
... however all those assumptions are false.
If anything, SEO is generally cleaner than many/most other forms of advertising & marketing. The high return built in from search targeting means that companies do not need to layer in hidden costs or other manipulative practices in order to have their returns back out.
We created the following infographic to highlight how other media channels undergo constant manipulation.

Want to Join the #1 Ranked SEO Training Program?

Join Today
Subscribe today to gain immediate access.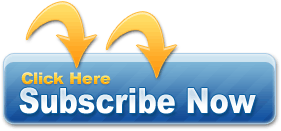 What You Get When You Join
You are only 1 step away from having access to all kinds of SEO goodies, including:
the top ranked online SEO training program, which includes over 100 training modules, has been well referenced around the world, & is currently being used as course material for accredited college courses in internet marketing.
the leading SEO community forums where you can interact directly with some of the sharpest minds in search & get your questions answered.
many high-quality exclusive SEO tools including our Website Health Check Tool, Competitive Research Tool, Duplicate Content Checker, Hub Finder, and the LocalRank tool
Join a True Community of SEO Experts

I've been a paying member since day one. It's been the best $2000 I've ever spent on SEO, SEM, Social Media and general business information.

Community members have very meaningful online success in difficult niches. These personalities combine to produce quite frankly a vital resource for all serious online businesses. - Liam Delahunty
Killer SEO Tools!

Join Today
Subscribe today to gain immediate access.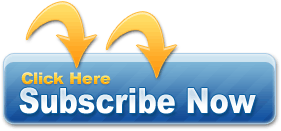 Need More Information?
Want to learn more? Check out the member tour. We also made the following 3 modules freely available so you can see a sample of the quality of the materials you will gain access to.
Gain a Competitive Advantage Today
Your top competitors have been investing into their marketing strategy for years.
Now you can know exactly where they rank, pick off their best keywords, and track new opportunities as they emerge.
Explore the ranking profile of your competitors in Google and Bing today using SEMrush.
Enter a competing URL below to quickly gain access to their organic & paid search performance history - for free.
See where they rank & beat them!