Day 4: On-Page SEO Tips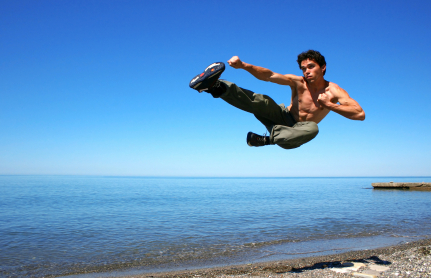 A Ranking Dropkick From Google, From #1 to #1,000 :(
In November of 2003 Google did a major update to their search relevancy algorithms, which was known in the SEO community as the Florida update. That update marked the day that SEO became hard. Prior to that point in time, on-page optimization tips from many SEOs would have sounded something like this "use your keywords heavily everywhere." But that update changed how on-page-optimization works.
"Over Optimized" = Spammy
Keyword density is an ineffective measure of relevancy, so excessive repetition is not an effective SEO strategy. Many (formerly top ranked) pages and sites that use keywords too aggressively end up getting completely filtered out of the search results.
In 2012 Google rolled out another on-page keyword classifier when they did the Penguin update. That made keyword dense pages even more likely to get filtered out of the search results. In the post about it, Google shared the following image as an example of a problem page (you can click on the image to see a larger sized font).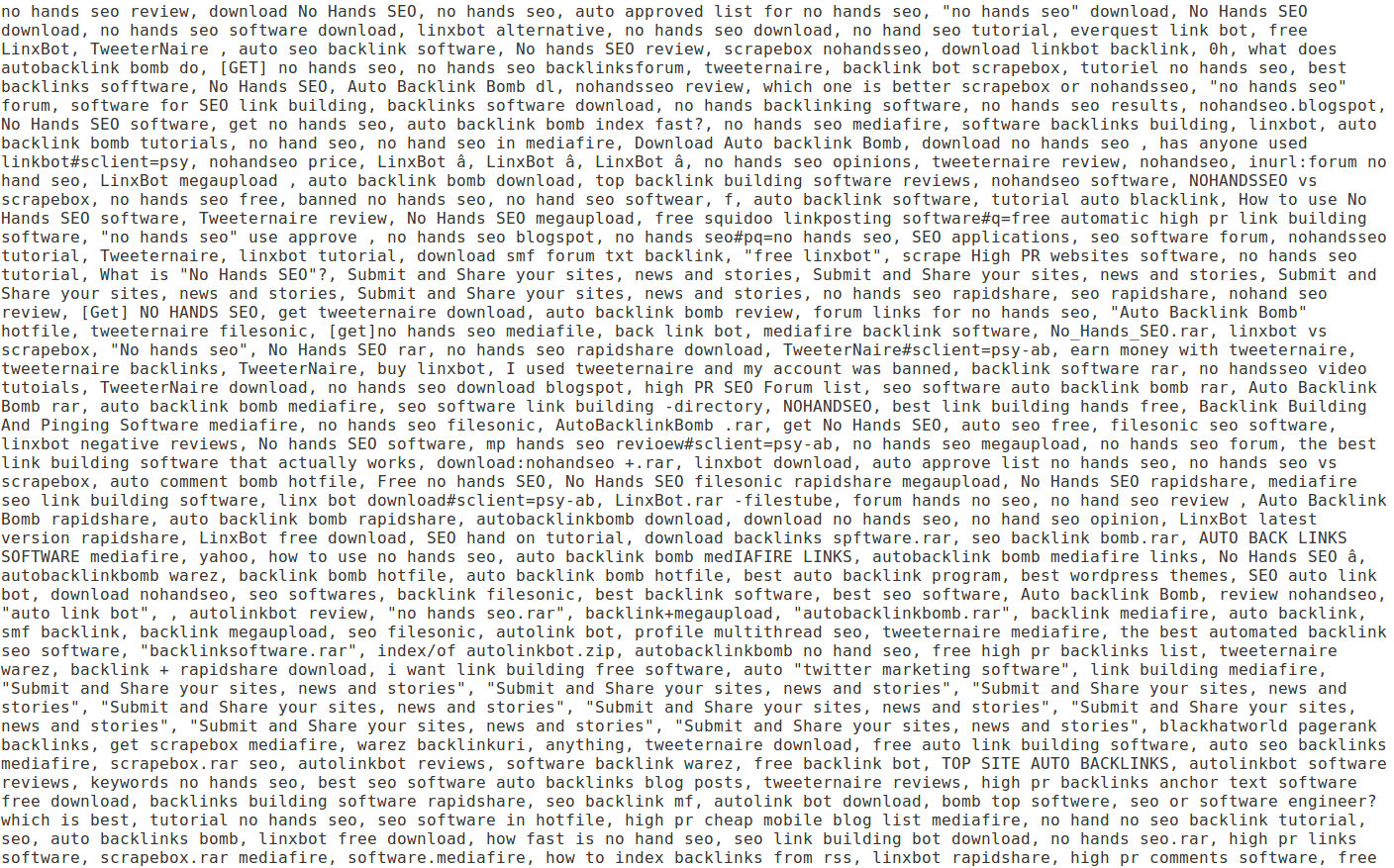 Google's Matt Cutts described the type of pages that disappeared in this video
Mix Up Your Keyword Usage
Your on page SEO strategy should use semantically related phrases and mix up your keyword usage. If your page title is "Chicago Dentist & Dental Care : Business Name" then your on page heading tag should be something like "Your Friendly Dentists in Chicago".
If you are already a subscriber, this spreadsheet in our member's area offers examples of how you might want to mix up your keyword usage
http://training.seobook.com/site-architecture-internal-linking

4 Ways to Include Variation in Your On-Page SEO Strategy
Singular vs plural forms of a keyword
Use synonyms
Add in relevant keyword modifiers
Change word order
In many ways, the difference between good longterm sustainable SEO & the crash-n-burn variety is subtlety. This is why keyword variation is a much better strategy than keyword repetition.
We created an infographic that aims to illustrate this, modeled after Goldilocks. ;)

Dealing With Problem Words
While a keyword density analysis tool can highlight overt issues, another way to get a feel for keyword density is to type the beginning (or stem) of common phrases into our SEO Toolbar's highlight function.
So for our site we would type something like SEO train tool (for SEO training & tools) & then hit highlight.
That will visually highlight each occurance of the word, which in turn will make it easier to highlight keyword dense problem areas (for many sites, these are often things like navigation & auto-generated repetitive portions of pages).
In some cases there are fairly natural synonyms that can take the place of a problem word (you can get some ideas for substitutions by reading copy on competing sites, reading related blog posts & forum discussions, & by going to sites like Thesaurus.com).
In some cases there isn't an easy replacement & in those cases it is best to try to craft sentences in a way that you can either use more distant but related words or simply drop the word from the sentence.
Visualizing a Keyword Map
A (now defunct) cool tool named Quintura helps you visualize related phrases. For instance, if you search for cookies they might return a cloud likeso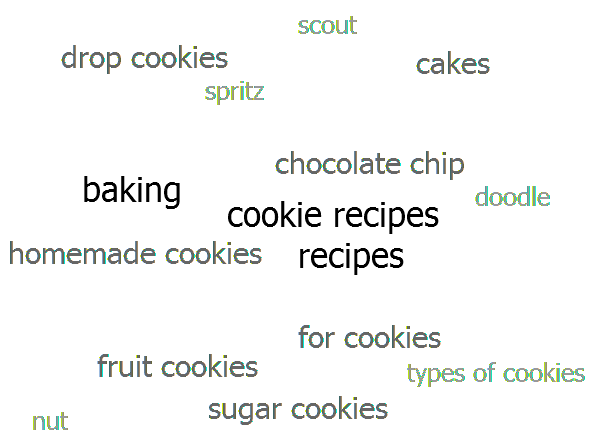 While their tool has since went offline, you can still get related terms via a number of other options.
You can also put the content of a page in a tool called Wordle and it will return a word cloud.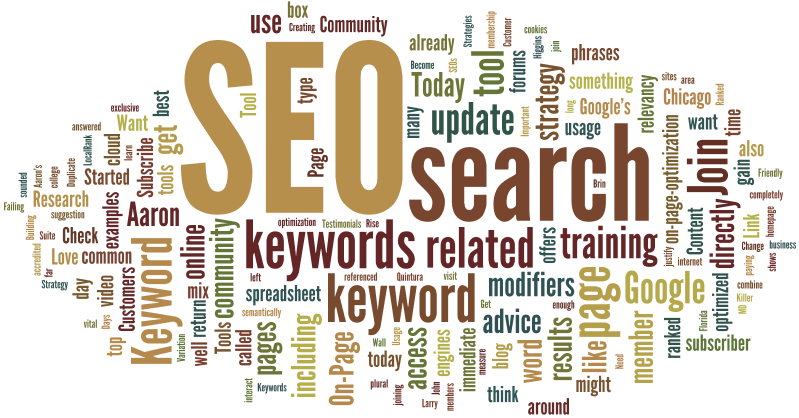 Google offers related searches at the bottom of their search result pages, and Microsoft's Bing shows common related keywords directly in the upper right of their search results. In addition, most search engines offer a search suggestion / search autocompletion feature (on their homepage, on search results, on search toolbars, and in the browser search box) which recommends popular related keywords directly in the search box.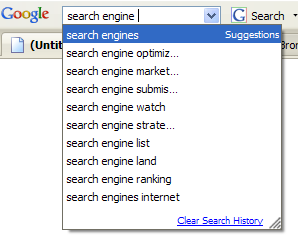 Our keyword density tool is probably the best tool offering a quick glance at seeing a page's on-page content the way a search engine does. It lists the most frequent terms & phrases appearing on a page and how many times they appear.
First you can enter a number of competing page URLs or some arbitrary text to see what terms appear frequently.
Then you can enter your own page's URL or a draft article and see if there are important terms you are missing.
Once you have your core themes and topics in place, some other keyword tools like Answer the Public and KeywordTool.io can be great resources for topical theme expansion ideas.
Tomorrow, we cover how search engines like Google decide which site to show in the Number One position
Cheers,
Aaron Wall
Become an On-Page SEO Jedi Today
If you are already a subscriber you want to check out our on-page SEO training module. It contains:
a video about on-page-optimization
a spreadsheet of common keyword modifiers
examples of poorly optimized and well optimized pages
Want to Join the #1 Ranked SEO Training Program?

Join Today
Subscribe today to gain immediate access.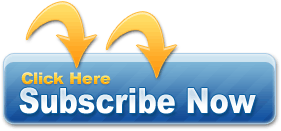 What You Get When You Join
You are only 1 step away from having access to all kinds of SEO goodies, including:
the top ranked online SEO training program, which includes over 100 training modules, has been well referenced around the world, & is currently being used as course material for accredited college courses in internet marketing.
the leading SEO community forums where you can interact directly with some of the sharpest minds in search & get your questions answered.
many high-quality exclusive SEO tools including our Website Health Check Tool, Competitive Research Tool, Duplicate Content Checker, Hub Finder, and the LocalRank tool
Join a True Community of SEO Experts

I've been a paying member since day one. It's been the best $2000 I've ever spent on SEO, SEM, Social Media and general business information.

Community members have very meaningful online success in difficult niches. These personalities combine to produce quite frankly a vital resource for all serious online businesses. - Liam Delahunty
Killer SEO Tools!

Join Today
Subscribe today to gain immediate access.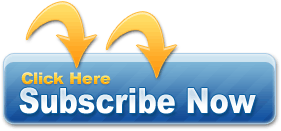 Need More Information?
Want to learn more? Check out the member tour.
Gain a Competitive Advantage Today
Your top competitors have been investing into their marketing strategy for years.
Now you can know exactly where they rank, pick off their best keywords, and track new opportunities as they emerge.
Explore the ranking profile of your competitors in Google and Bing today using SEMrush.
Enter a competing URL below to quickly gain access to their organic & paid search performance history - for free.
See where they rank & beat them!