Day 8: Putting it all together
Do You Learn Visually?
A lot of people who sell stuff in the search space tend to over-simplify SEO. To boil it down to a single number.
But search is *amazingly* complex.
Each keyword and each market has its own unique characteristics.
If you learn visually and want to get a look under the hood, check out this infographic on how Google works. You may want to save a copy of it to your hard drive (right click on the image and "save as"). As you learn more about search it will help you fill in the pieces a bit quicker.
Below we also embedded a YouTube video from Matt Cutts about how Google works.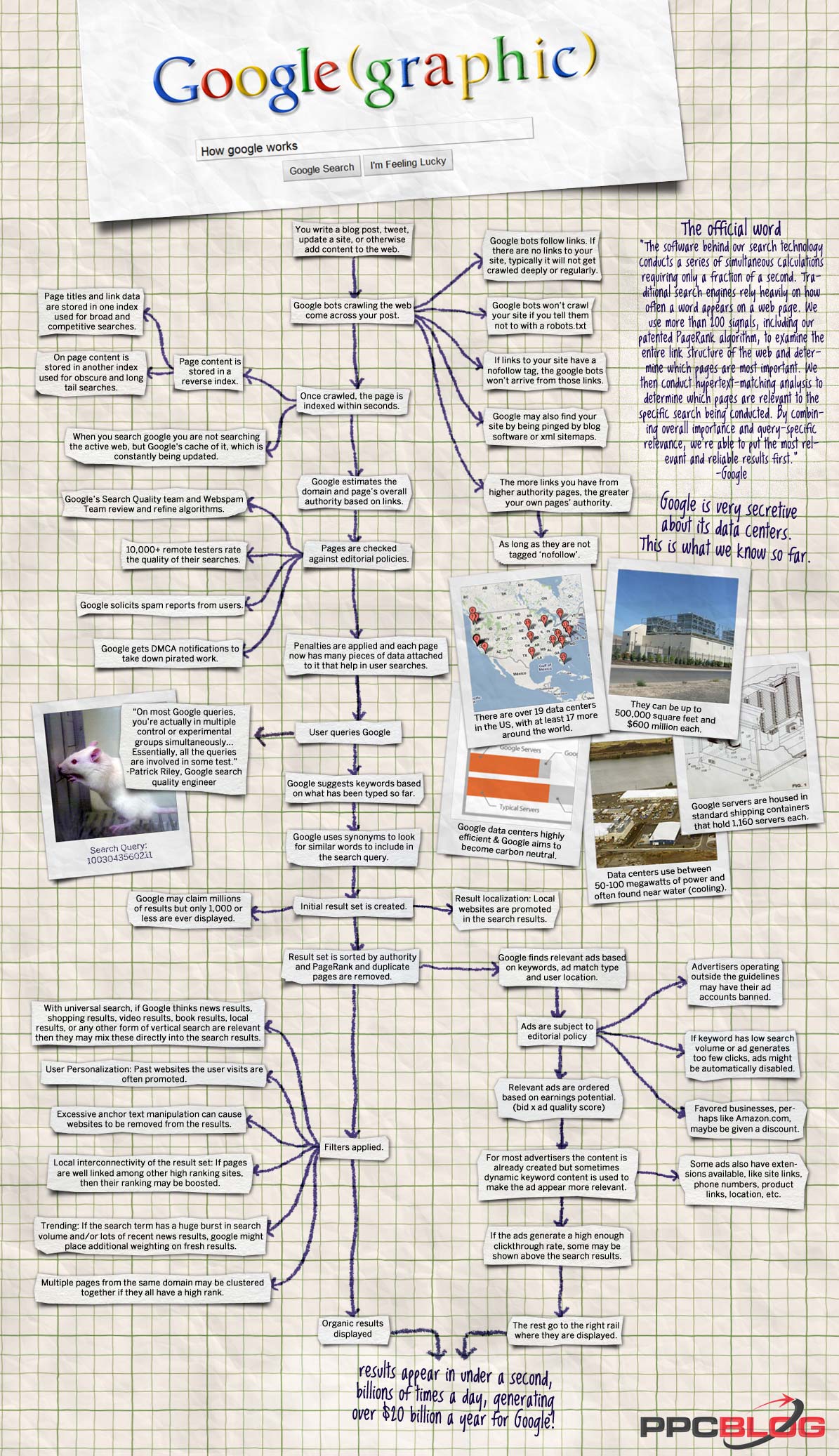 We created the above infographic to promote our sister site on paid search: PPC Blog. If you have been getting good value out of these emails & learning a lot from them then you may also want to check out their free tutorial for AdWords beginners. They also offer a flowchart for understanding how Google AdWords works.
Matt Cutts provided a brief introduction to search in the following video.
Here are a couple additional resources to check out:
Internet marketing mindmap - a visual overview of the online marketing landscape
Jeff Dean video - Stanford guest lecture on the evolution of Google's complex search infrastructure.

In the above video Jeff mentions how some of the most popular search queries are done on cache servers to lower load on the infrastructure. We did not include a caching server in the above graphic, but if we did, it would be a parallel box to "initial result set is created."
Since creating this graphic Google did their famous Panda update that hit content farms & other sites with similar profiles. It is a sitewide factor that is computed offline & if we update this image to include that, it would go in the "pages checked against editorial policies" section.
In our above graphic we also make a distinction between page titles & anchor text potentially being included in a different index than page content.

These could be in one merged index, however in the past Google did had a supplemental index for lower quality documents (and/or documents that they trust less & rank lower).
In May of 2012 Google made reference to using multiple index tiers based on content classification, with more important documents going in an index that is refreshed more often than other indecies:

"Increase base index size by 15%. [project codename "Indexing"] The base search index is our main index for serving search results and every query that comes into Google is matched against this index. This change increases the number of documents served by that index by 15%. *Note: We're constantly tuning the size of our different indexes and changes may not always appear in these blog posts.
New index tier. [launch codename "cantina", project codename "Indexing"] We keep our index in "tiers" where different documents are indexed at different rates depending on how relevant they are likely to be to users. This month we introduced an additional indexing tier to support continued comprehensiveness in search results."
The above infographic was created many years ago. In 2013 Google created another great infographic about search, which they published here.
We also decided to launch an updated version of the above infographich, highlighting the impact of the rise of mobile & how Google has shifted from a "content-first" approach to search to a "user-first" approach to search, which often comes at the expense of squeezing out publishers.

In 2016 Google ranking engineer Paul Haahr also gave a speech on how Google works today.
Cheers,
Aaron Wall