Changes in Search
In recent years personalization, localization, universal search, search suggestion, and specialized algorithms like query deserves freshness have altered the landscape of search. But even outside of these add-ons, Google's core relevancy algorithms are (at least to some degree) query dependent.
Competitive Keywords
When there are many matching search results for a given search query, Google places a lot of weight on core domain age & authority and on external signals of quality like link quality, link diversity, link anchor text and perhaps other signals of quality like usage data and a LocalRank boost. For competitive queries where there are many matches on page optimization is not given as much weight.
Long Tail Low Competition Keywords
For search relevancy algorithms where there are fewer matches and fewer external signals of quality available, Google must put more weight on the content of individual pages. Where there is no community to rely upon Google must trust publishers. And while each longtail ranking might have little value the nickels and quarters add up. Their limited search volume and value leads many competitors to skip over them as they do not appear in most keyword research tools.
In a recent blog post the Google AdWords team asked "Did you know that 20% of the queries Google receives each day are ones we haven't seen in at least 90 days, if at all?"
The same post highlighted that "broad match currently accounts for over 1/3 of all clicks and conversions for advertisers, worldwide" and that Google "recently improved the search query report to provide more granular detail on which queries are triggering ads for your broad match keywords."
A Comparison
This graphic makes no attempt to be 100% correct for any given query, but was made to show an illustrative difference between competitive keywords and non-competitive keywords.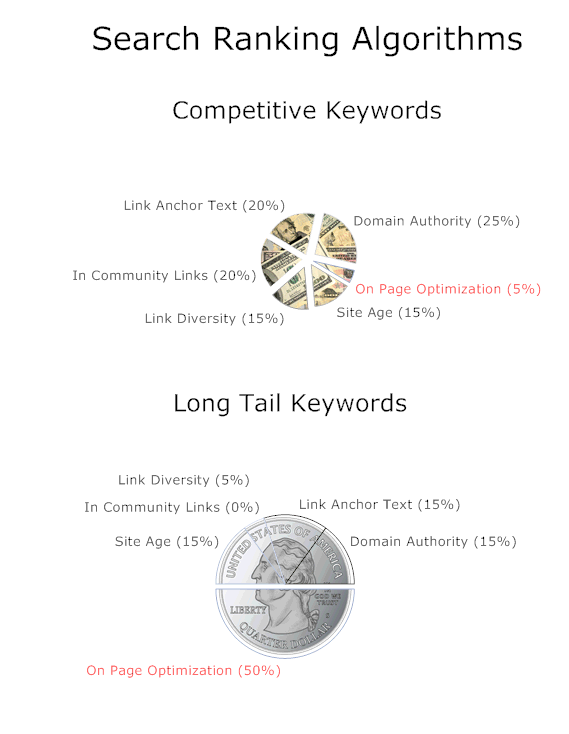 If you are starting a new site and have built little to no offsite signals of quality you can expect to rank for longtail phrases first. As your site builds authority you can compete for some of the head keywords.