Nov 15th
As an SEO professional it is easy to over-estimate the value of top search engine rankings. After all, we sell traffic and rankings. In some cases (thin affiliate sites, for instance) good SEO is the difference between a website worth $34 dollars and $34 million dollars, but for many service based businesses top rankings have little to no value.
Top Rankings for the Wrong Keywords Can Harm Businesses
One of my clients who sold expensive physical products with high shipping costs saw that there was a lot of search volume for their keywords using words like discount and cheap as modifiers. We ranked that site for those keywords, but we regretted doing so.
That client's business almost got destroyed through the combination of...
having more leads than they could possible handle (causing customer service quality to drop and them to miss some good leads)
Chargebacks from sleazy customers that would steal the product and then claim they never got it. (As it turns out, some leads are worth less than nothing).
When you service clients shopping on price you often end up with a negative profit margin. Unfortunately, unlike during the late 90's, you can't make up for losses through high growth by selling your company's stock to suckers. :)
Rankings Do Not Sell Intangible Items or High End Services
It is a bit of a paradox, but is something that should be discussed and explained more often than it is. About 3 years ago this site stopped ranking in Google for "seo book" because Google filtered out many sites that were aggressive with anchor text. Given that this site is linked to by SEO savvy people, the odds of it getting lots of focused anchor text aligned with the brand keywords are quite high.
In spite of this site selling a how SEO ebook, sales during the month when the site was not even ranking for its own brand name were (at that time) 85% of the all time peak in sales. Imagine seeing a site selling SEO information not even ranking for its own name, and then buying SEO information from that site...that is exactly what hundreds of people did, thanks to word of mouth marketing.
If Google banned this site we would still get lots of sales because so many people talk about us and recommend us.
Brands Sell High End Services
Branded keywords convert to sales at a much higher rate than non-branded keywords.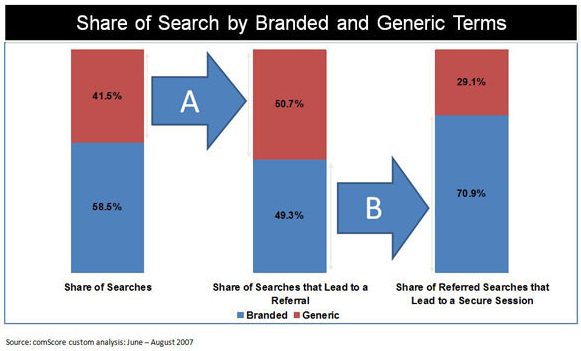 Many of the most valuable and frequently searched keywords are branded searches. When someone searches for a brand they show they are (typically) trusting of that brand, and highly interested in related offers.
This site has over 1,000,000 inbound links and ranks for keywords like SEO. And yet if you look at our top referring keywords, most of them are brand related.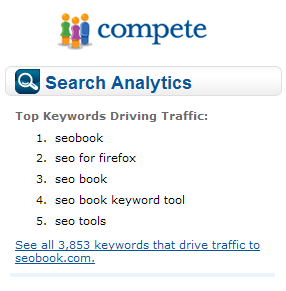 Yes Google sends us that traffic, but that demand was created through branding and word of mouth marketing. Even if Google did not exist, most of those searchers would still find their way to this website. And those are the type of people who have a high conversion rate and are loyal customers.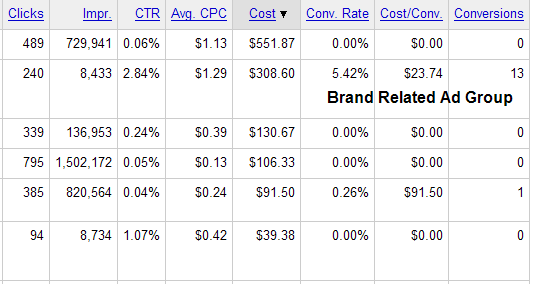 Word of Mouth Sells
On a few occasions this site has been recommended on top marketing blogs like Copyblogger and Seth Godin's blog. On such occasions this site usually earns far more from that mention than it does from THOUSANDS of searchers visiting the site.
Who do You Trust?
I spoke with guys like Seth Godin, Brian Clark, and Jakob Nielsen at a multi-billion dollar hedge fund's conference about a month ago. The reason they wanted to pay me to speak (and put us up in the Ritz-Carlton hotel) is because some of the companies they invested in asked them to have me come speak. During lunch at the conference I sat next to the external legal team from the hedge fund. I said to the lawyer next to me "I bet all of your business comes from word of mouth" he replied "yes. In fact our marketing budget is $0."
Compare the value of a recommendation of a company you are invested in or partnered with to what Google recommends. Google has no problem recommending search engine submission scams and in some cases even malware. They recommend...
whatever is popular
whatever is controversial
whatever pays them the most per click
Google can spend a lot cleaning up their marketplace, but there will always be offers that are below radar, just within the law, just outside of the law, and ones that are only legal because the law has not yet caught up with the market.
People often want to buy scams (lose 60 pounds in a month, guaranteed!!!), and Google gives them what they want.
High End SEOs Do Not Attract Ideal Clients From Ranking
Be careful who you work for! I spoke with numerous friends who run service based SEO businesses, and they all agreed that less than 1% of the people who contact them are actually worth working for.
When a client asks for an RFP they typically are not worth working with, because they are not yet sold on you and your services and are uncertain what they want. The type of person who finds your marketing company via a search engine ranking is still a shopper, not a committed buyer. They will likely buy cheap, get scammed, and then go from there.
How to Get High Value SEO Leads Actually Worth Servicing
If 99% of leads are crap, how do you access the 1% that have value? Easy...
Speak at conferences - I can't tell you how many clients have said they saw me speak at a conference...but almost all of the big spenders did. The people who attend these are spending thousands of dollars on learning already...it is a much bigger jump to go from $0 to $2,000 than it is to go from $2,000 to $20,000.
Work for companies worth promoting & provide great service - this is a no-brainer, but as Charlie Munger says "The best source of new legal work is the work on your desk." Many of our clients have either recommended other companies hire us, or had staff move on to roles at new companies and want to hire us again.
Some SEOs speak at 20 or 30 conferences a year...existing primarily in the role of traveling salesman. They generate leads, while underwaged and underskilled people "service" the clients. Rarely do the people who know what they are doing work on the accounts, but the steady speaking engagements bring in new clients.
Search Isn't All Bad
Search rankings help build awareness, invite low risk interactions (comments, reviews, etc.) that help show social proof of value, and can be a low cost lead source. But you still have to develop a relationship and build trust to sell.
It is not that search is a poor lead channel...it is just that we trust humans more than machines, and that will probably remain true long after you and I die.
Published: November 15, 2008
New to the site? Join for Free and get over $300 of free SEO software.



Once you set up your free account you can comment on our blog, and you are eligible to receive our search engine success SEO newsletter.
Already have an account? Login to share your opinions.
New to the site? Join for Free and get over $300 of free SEO software.



Once you set up your free account you can comment on our blog, and you are eligible to receive our search engine success SEO newsletter.
Already have an account? Login to share your opinions.
Over 100 training modules, covering topics like: keyword research, link building, site architecture, website monetization, pay per click ads, tracking results, and more.
An exclusive interactive community forum
Members only videos and tools
Additional bonuses - like data spreadsheets, and money saving tips