Another Google Glitch
I nuked a recent post about sites potentially getting filtered because it become somewhat irrelevant and speculative considering Matt Cutts stated the following in a Webmaster World thread today:
I don't consider those rankings indicative of anything coming in the future. Some data went into the index without all of our quality signals incorporated, and it should be mostly back to normal and continuing to get back to normal over the course of the day.
Google glitches often reveal engineer intent, and based on that, http://216.239.59.104/ is a !!! fascinating data center right now.
The Index That Never Was
That data set does look a bit incomplete, with...
some sites not ranking for their own brands (or other phrases that were aggressively used in anchor text)
lots of internal tag pages ranking from authority sites like Wordpress.com or Amazon
a bunch of international sites ranking in the global search results (no noticeable local bias)
authority sites like media sites and listing sites like Craigslist or Indeed.com ranking for core industry phrases with a simple internal page job listing
sites with a lot of usage data (possibly through brand awareness and related searches driven by advertising and/or affiliate traffic?) getting a bit more of a ranking boost than they would not have seen based on the PageRank model.
Universal Search Gets Big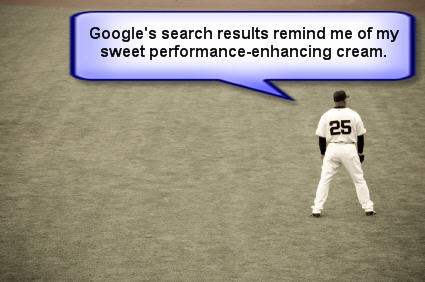 Probably even more important than that ranking reshuffle is the appearance of universal search...everywhere, with the volume at #11 (or maybe 12?)! Just take a look at this search for credit cards...if you are not an AdWords advertiser, are not in universal search verticals (like news and video), and are not wikipedia, then you don't have many organic search results that you can rank for on the first page.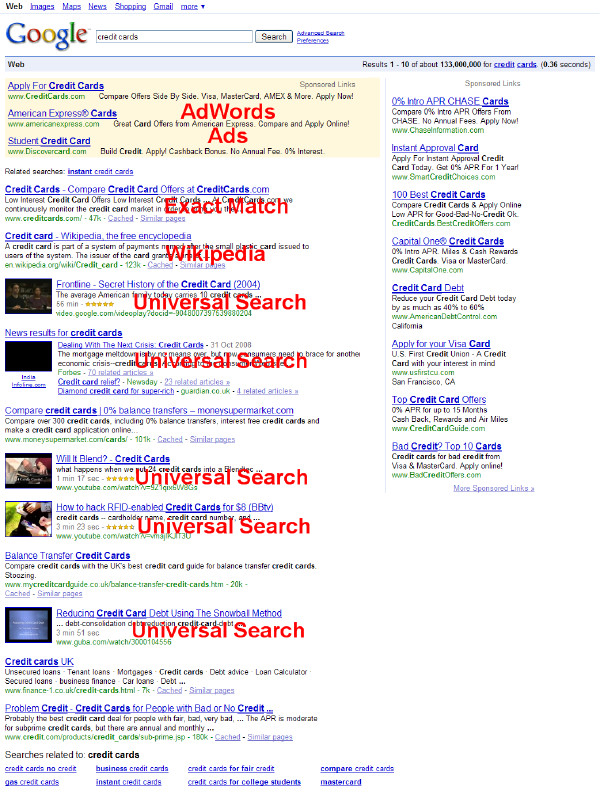 Other search results I looked at had a similar bias toward universal search - with heavy promotion of Google shopping results, Google books, videos, etc.
Having seen the above search results, consider that as time passes and we learn to trust search more we generally tend to click on the top few results, and then look at these click distribution stats from the AOL data from a couple years ago:
Overall Percent of Clicks

Relative Click Volume

42.13%, 2,075,765 clicks
11.90%, 586,100 clicks
8.50%, 418,643 clicks
6.06%, 298,532 clicks
4.92%, 242,169 clicks
4.05%, 199,541 clicks
3.41%, 168,080 clicks
3.01%, 148,489 clicks
2.85%, 140,356 clicks
2.99%, 147,551 clicks

3.5x less
4.9x less
6.9x less
8.5x less
10.4x less
12.3x less
14.0x less
14.8x less
14.1x less

1st page totals: 89.82%, 4,425,226 clicks
2nd page totals: 10.18%, 501,397 clicks

Will a #1 Google ranking still be worth a lot of money? Absolutely, but the gap between winners and losers will grow much larger. If you were planning on getting a bit of traffic by ranking #5 or #6 in the organic results, that listing may end up on page 2 of the search results...yielding virtually no traffic.
The Business of Search Result Page Changes
Why would Google consider making such a large shift?
they keep making the web more interactive hoping to eventually replace (or at least heavily augment) offline media distribution via television and other outlets (their real competition is not so much Microsoft or Yahoo!, but other information dissemination devices)
if they send traffic to editorial partners they help subsidize those businesses, and get the businesses addicted to Google traffic...thus yielding significant control over to Google
if they chop up traffic streams they make spamming less profitable and kill the incentive to spam
if they promote verticals where they host information (books, video, local/maps, Google shopping) they get a second chance to monetize searchers who did not click on AdWords ads
Searchers Get Trained, Publishers (Frogs) Slowly Get Boiled
Universal search is a relevancy strategy, but it is also a business and profit strategy. There will be a role back on the above search results, but in time the search results will start looking more and more like the above. The shift will happen slowly, such that the publishers don't realize they are being boiled. *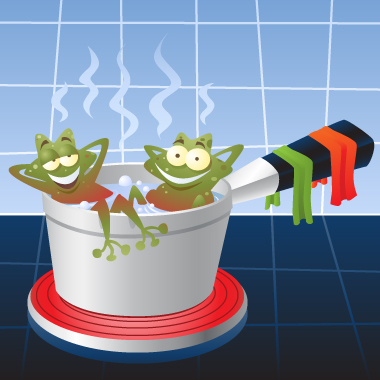 * While the frog analogy has been debunked, it is still a memorable analogy, which is easy to use to describe gradual change.
New Ad Units & AdWords Expansion
As Giovanna noted on PPC blog, Google Checkout is spreading, and AdWords is becoming richer and more interactive. Some of the other universal search products (particularly local search, book search, music search, and shopping search) will present Google with more revenue options.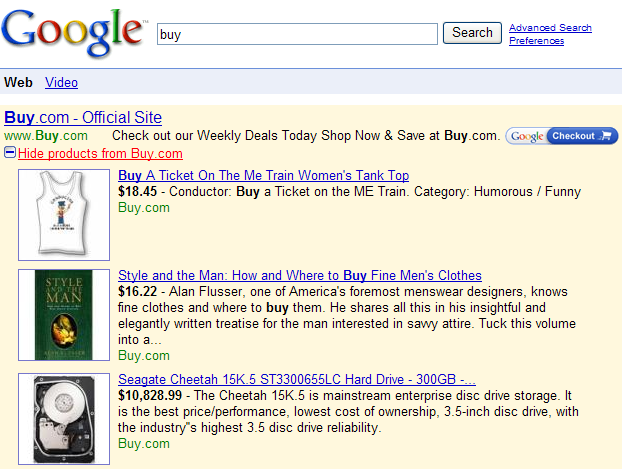 Strategies to Prepare for Universal Search on Steroids
If your site is fairly close to what it takes to be considered in some of Google's verticals - like Google news, then consider upping your game a bit and submitting an inclusion request.
Try to make some video content. Not good for everyone, but most sites could use some, and the competitive bar with video is much lower than it is with text - though I wouldn't expect it to stay that way for more than a couple years.
If you have some top rankings that are bouncing around consider focusing on promoting that content again - when stratification occurs you are going to be better off focusing on owning a few ideas rather than being average to slightly above average at many. Top ranked sites also benefit from self-reinforcing rankings. Read up on cumulative advantage if you have not yet done so.
Usage data (and/or brand searches) may become a big part of future algorithms. Get ready for that by reading about BrowseRank then invest in advertising, branding, and user experience.