Wikia recently announced that their search service was finally almost worth using. It is easy to rate and vote sites up to the top of the search results. When they have limited marketshare they will not get much spam. As they start building marketshare will they be able to get enough people engaged in the project to fight off spam? And who defines what is spam anyhow?
You can comment about the results, rate a result, spotlight it, and add images to it. With over 100 edits so far today, SEO has to be one of the most frequently edited pages. I am not sure if voting is cumulative, but please vote for SEOBook just in case. :)
Here is an image of a couple results for SEO. Notice how I put my logo in the SERPs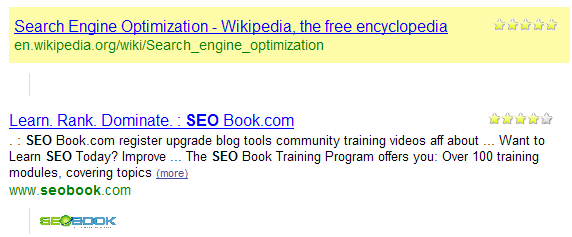 If this project gains any momentum and they provide a list of most frequently edited search results you can expect that to be a nice list of commercial keywords, much like Mahalo!
Wikia Search also offers a nice keyword suggestion tool in their Bloom tool, which shows related search queries based on an input query.