Firefox 4 was just released. It is much smoother & faster than prior versions of the browser. And the persistent memory leaking issue seems to have been tamed, even with many extensions installed. Overall an awesome upgrade. I can see this once again becoming my main web browser while also remaining my primary SEO research browser.
With the upgrade I only had 2 major issues
In time we will likely think about moving the icons for Rank Checker and SEO for Firefox out of the status bar & into the upper menu, as it is not great for us to create extensions that are reliant on another extension which is then reliant on a browser that changes too ... too many moving parts.
But for now stuff works well enough again if you download the Status 4 Evar plug-in, something over 10,000 people a day are doing!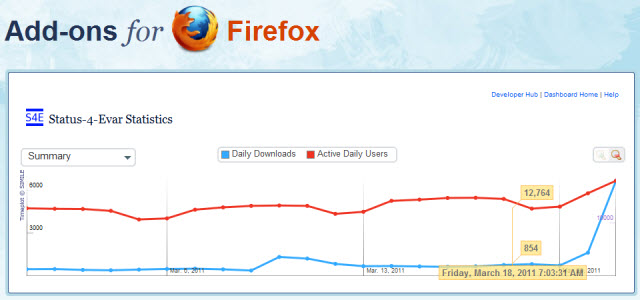 We also just updated the documentation on the plug-in download & upgrade pages for our extensions such that those who do not read our blog still know what they need to do in order to keep everything going smoothly. It also prevents us from having to read too many support tickets like these gems a crazy gave us today, which helps us maintain at least a bit of hope for humanity. :)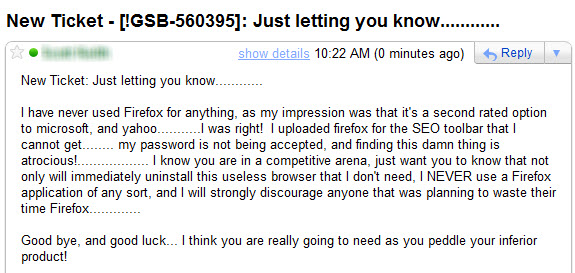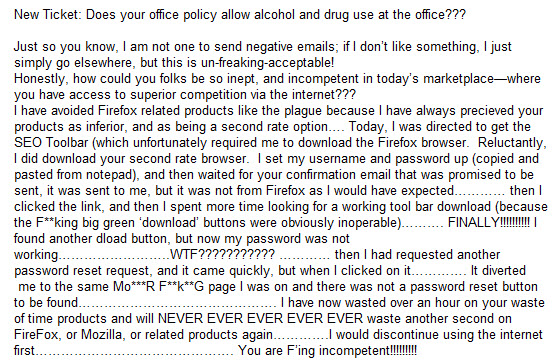 In moderation such messages are humorous...but you just hope that the person isn't crazy enough to hunt you down and shoot you because they think Yahoo! is a superior browser to Firefox. Not for the least of reasons because Yahoo! isn't a web browser! :D