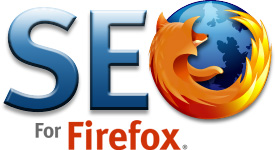 Our CMS only shows 300 comments per page. I am sure there is a way to enhance that, but for ease of publishing and following the conversations I decided to close the last SEO for Firefox thread and start a new one. If you have any questions about SEO for Firefox this is the place to ask them. :)
The two unanswered questions from the old thread were
I've used this plug in for awhile and I love it, but the number of links in Yahoo won't display now.

I have the plug in set so that it doesn't automatically query, but when I click on any of the link items, it says that there are no links.

I'm using Firefox 2.0.14 and uninstalled and then reinstalled the plug in, and it is still the same thing.
and
I've noticed that Y! is requiring API Keys for all of the automated lookup tools now. Any word on when support will be out for SEO for Firefox?
The answer to each of these are
Is that issue occuring for all sites? Have you tried putting the tool on automatic and seeing if it will pull data in for you?
SEO for Firefox already contains an API key. I used it this morning and it worked fine for me.