Google collects a lot of information on individuals & can have some level of confidence if the person is a real person or not based on things like their history of email usage, if they have a credit card on file, how they interact with other high confidence real accounts, how many people are friends with them on Google+, usage of an Android cell phone, their search history, etc.
Google doesn't need all those signals on any individual, just some blend of them.
From there they can create a lot of usage-based brand signals.
Query Volume + Click Distribution
For any keyword Google can see the search volume & the click distribution on the search results.
If a lot of people click on the top result & very few people click on the second or third result there is a strong chance the keyword is a brand. If the click distribution is spread more evenly across the search results then it is less likely to be a brand keyword.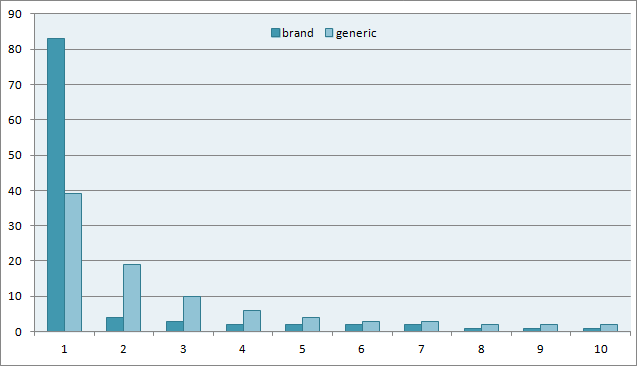 The above was a hypothetical example, but the following image shows how lower volume branded navigational keywords can drive far more traffic than broader industry keywords. We get twice as much traffic for seobook & seo book as we do for seo.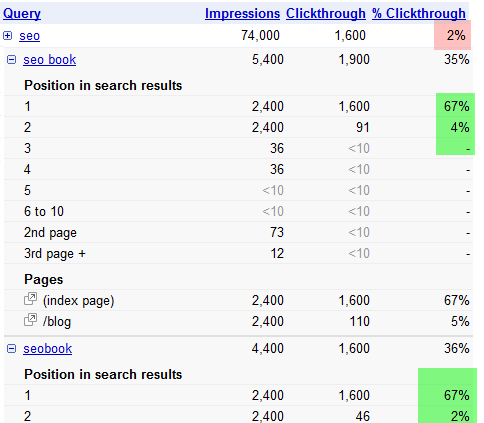 Query Chains
When people search for a generic keyword they may (immediately or later) modify their search query to search for related keywords. In the past Microsoft offered a search funnels tool that would show common searches before & after a keyword. If someone searched for credit cards they might soon search for visa or mastercard.

Shortly after Google's Vince update, a Googler described the algorithmic change as being attributed to query chains.
High User Acceptance
Of course getting the user to click is just the first step. From there you must satisfy them. ;)
If you visit a page quickly & then jump right back to the search results Google asks users for an explicit vote against that site.



And if you visit a page for a significant period of time Google asks users for an explicit vote for that site.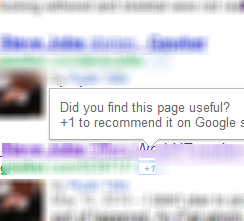 That Google is measuring the time until return the search results to determine which explicit vote to request also implies that they can use the same aggregate data to create an implicit signal.
Where this measurement can get a bit fuzzy is that Panda can create a self-reinforcing impact (good or bad).
Some examples...
Self-Reinforcing Positive Impacts
Let's say your site got a ranking boost by Panda. It will rank higher across broader industry keywords, to where people may enter your site at the category level (say shoes or Nike shoes) and then surf around your site quite a bit. This equates to a longer time on site & a better user experience.
2 more factors on this front are branded navigation & familiarity.
On some search results Google shows branded search options.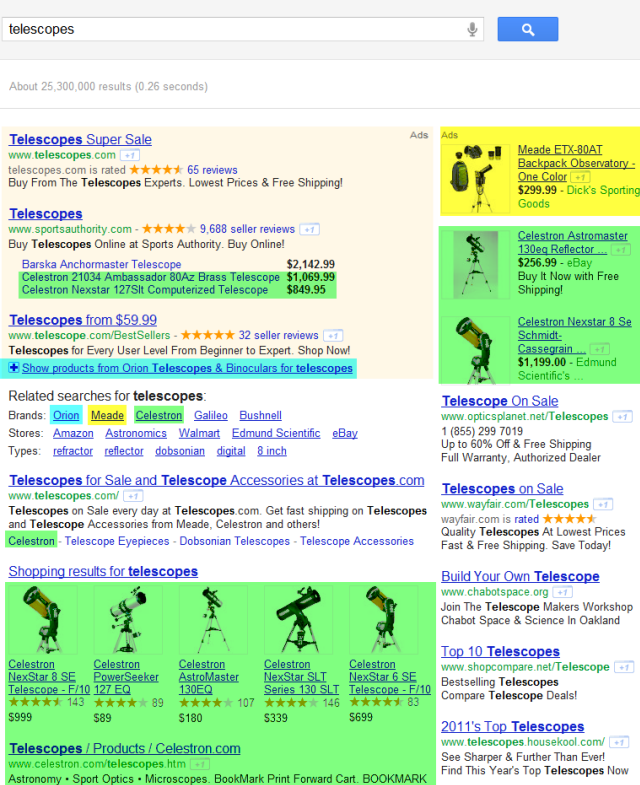 If clicking those brand & store links feeds into the Vince relevancy signal, then any brand featured there has a huge wind at their back, building further brand signals. Eventually such suggestions can work their way into Google Instant keyword suggestions as well. Even if people do not click on those particular options, the various highlights in the search results act as advertisements for the brands, which drive incremental demand and search volume for those brands.
Amazon.com is responsible for roughly 1/3 of ecommerce spend in the United States (outside of travel), so many people might go and research product options generally & then conclude those search sessions by seeing if they can buy it off Amazon.com (due to getting free shipping & the high level of user trust Amazon has). As this becomes part of search relevancy algorithms this is the online equivalent of going to your local Borders store to find something to buy & then buying it on Amazon. In the short run you save a few Dollars, but in the long run stores like Borders go out of business.
Self-Reinforcing Negative Impacts
There are 2 bad ways a business can be impacted by Panda. One is missing out on the above promotional options that a large competitor may enjoy, which over time build more brand signals for them & leave your site stranded in no man's land until it is finally clipped by Panda for lacking "quality."
A second issue is a self-reinforcing issue with Panda. On WMW a user nicknamed Walkman described it as the "size 13 shoe problem." After you have been hit by Panda you are not likely to rank for broader category level searches. However you might still rank for some really obscure longtail keyword that is uneconomic to address directly (and thus only have a glancing mention of the user's intent). Your page might say we do not carry size 13 or size 13 out of stock and your Panda-hit site ranks for "Nike Carmelo Anthony size 13." Thus the user bounces, creating a self-reinforcing negative user experience signal.
A third (non-Panda) issue that can cause poor user experience metrics is when Google mutates the search query in a way that makes the organic results irrelevant.
More on User Votes
Google has long used reviews in their ranking algorithms & even made a tweak to demote businesses with negative reviews.
The above examples of +1 votes and blocks can be used (along with the time on site & repeat visits) to gauge user satisfaction, however if they can't get enough engagement then it will be very easy for big brands to buy that signal for pennies on the Dollar, as some social signals are easily bought by brands.
Not only does Amazon directly integrate promoting your wishlist on social media ...



... but they also have done interesting promotions like a "Tweet & get" ...


Imagine if/when a new local Wal-Mart store launches offering a free $10 coupon to everyone who Tweets their savings at the checkout counter!
One big issue I have with the +1 votes & blocks is that they apply across the board. I may dislike some craptastic videos hosted on YouTube, but there is also a lot of great content there. I love eBay for vintage video games, but it does not mean I love them for books.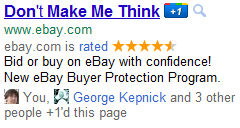 Likewise some of the friend of friend stuff can be a bit off.

At some point Google should make +1 votes & blocks more granular.
Near the end of this article I will also further discuss some issues with ad votes.
Repeat Visits
Does Google measure repeat visitors? Yes.
They use that user interaction to ask for an explicit vote...



...and they can use it as an implicit vote as well.
They not only track how many times you visit a page or site, but also when you last visited it.


User Location
Once it is obvious Google is counting certain types of user metrics (just like they count links) there will be a race to the bottom to provide those said signals. That race to the bottom will lead to such signals being sold by accounts that either have sketchy trust metrics associated with them (if done through automation) and/or in markets with lower living costs.
In addition to AdSense & Google Analytics, Google has huge search market share, a widely distributed toolbar and their Chrome web browser. They can track where language is used in certain ways and where a site is popular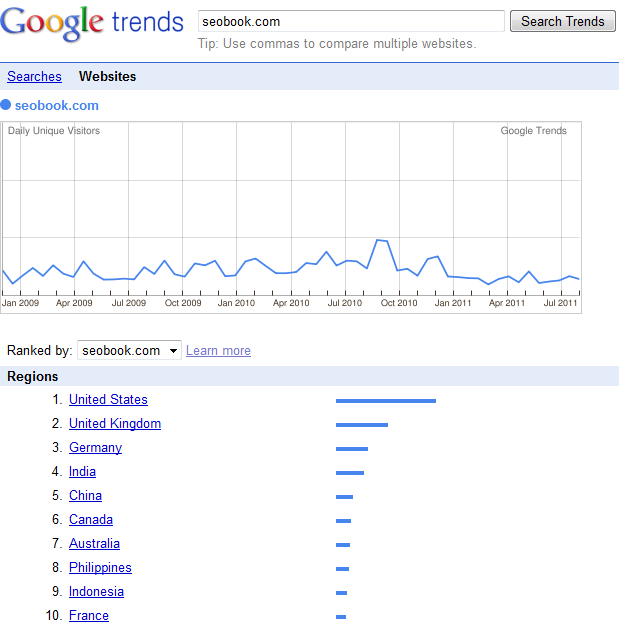 And they can also track where the votes come from.

Domain Name
If your domain name matches your keyword that may be a brand signal. However, Google may also look at some other signals (like user engagement, repeat visits, relative CTR, etc.) as confirmation signals on this front.
URL Links
Sometimes when a spammer builds links they trap themselves by using the same anchor text too much. Whereas when a branded website pulls in organic citations the anchor text tends to be mixed up, like...
http://www.paypal.com
www.paypal.com
Pay pal.com
paypal.com
pay pal
Paypal
paypal payments
etc.
Diversity in any sense (anchor text, linking sources, pages being linked to, links built across time, etc.) is generally considered a good thing.
Other types of links might also be seen as potential brand signals. For instance, frequent exposure in trusted news sites, other trusted seed sites, or other known brand sites could pass additional karma. Some link spikes that are also associated with strong direct traffic spikes, strong referral traffic from the links, and strong brand searches might also boost the weight given to links.
Non-search Brand Data Sources
Google has suggested they could use user direction look up as a relevancy signal.
In local search Google has long used the sites they displaced in the organic results as citations (even if they were in some cases unlinked).
In addition to offering branded filters in their internal navigation, many merchants submitting their products to Google product search may also be giving Google signals about which brands matter.
Google will be able to lean into Zagat ratings for business & other data sources (Google Wallet, Google Offers, etc.) will provide additional signals to Google.
Advertising
Any type of non-search distribution you have (RSS subscribers, email newsletters, mobile applications, physical stores, membership loyalty programs, etc.) makes it easier to influence search engines.
If advertising with Google had a negative impact on search relevancy you can be sure that the relevancy algorithms would change. Whereas if there is a convenient positive spill over then Google won't complain. In fact, they will even go out of their way to advertise that spill over. Any sort of advertising you do increases brand awareness. And that leads to additional incremental brand searches (and thus brand signal)


More exposure also leads to more user experiences, which in turn leads to more opportunities for people to leave signals behind (be it links, social mentions, additional brand searches, and/or repeat visits). Here is State Farm buying *irrelevant* brand signal for pennies on the Dollar.

And of course there are all sorts of corporate advocacy ads as well.



On YouTube Google counts some ad views as organic views (thus undermining relevancy) and more recently Google has implemented the controversial policy of putting +1 buttons in display ads.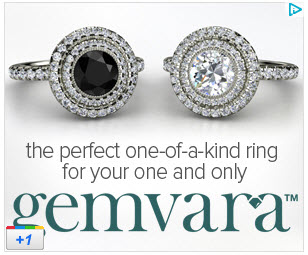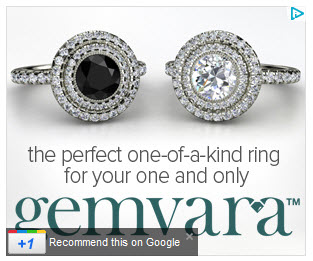 Even if those votes don't influence rank directly, they still influence user perception. And what is so bad about that is that users are only voting of the content of the ad. This basically is the equivalent of cloaking.
If the landing page doesn't match the ad (free iPad anyone???) then people are going to see their friends vouching for scams & get duped by Google.
That is worse that a press release being advertised as though it was news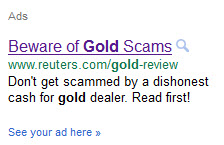 You can also be certain that some clever spammers are integrating +1 buttons in display ads on other ad networks in ways that may automatically collect user clicks & so on, or have users pay for viewing their next porn video by clicking a +1 button (much like some old school email spammers used porn viewers as manual captcha breakers).
Google does offer the ability to vote against an ad as well, but if an ad looks great upfront & its the landing page that scams you then how exactly do you vote against it if you don't see the site until after you click the ad?