Before Google's Panda update an effective SEO strategy was to "make a page for everything." If you are Wikipedia that strategy may still work, but for most websites that approach is a high risk & low return approach. Clustering like keywords together and using that to help set up your site's information architecture is a lower risk and higher return strategy.
Given Google's new approach to search (where dead weight can harm your good pages) organization is more important than ever.

Let's say you have a big list of keywords which is not well organized & you want a quick and dirty way to organize it. Here are a dozen different tips and tools to help you organize your keywords.
Ad Group Filter
We created an ad group organizer tool which aims to create a footprint for keywords by putting muti-word keywords in alphabetical order & stemming the keywords. The output is TSV, so you can copy it and paste it into a spreadsheet for further analysis. It also allows you to use stop words to filter the list. This can not only be used for organizing keywords for paid search, but also to help organize them for your SEO efforts down to a per-page level.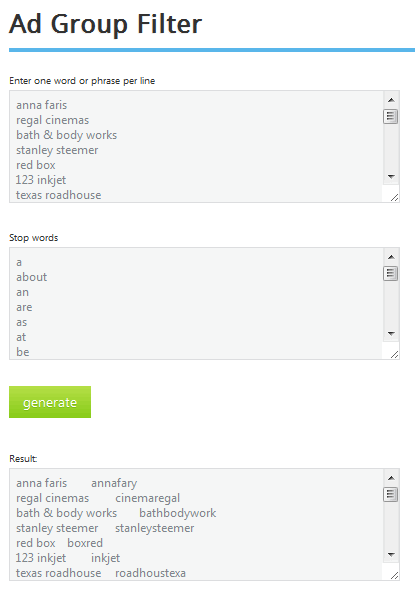 RKG Duck
RKG Duck is a Perl clipboard extension which was the inspiration for our above tool. This tool works well in spreadsheets, but it takes some level of programming sophistication to get working.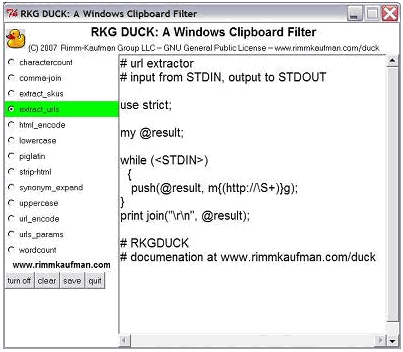 Wordstream Keyword Grouper
Wordstream's keyword grouper allows you to see niche keyword groups at a fairly granular level, with them emailing the results to you.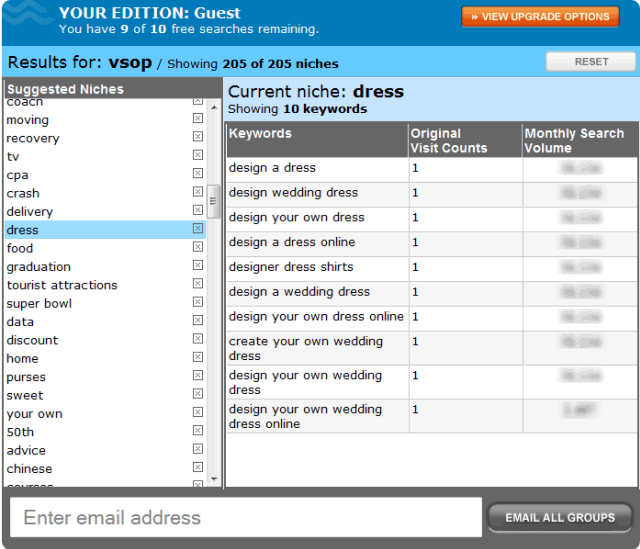 SpyFu Keyword Groupie
Spyfu's Keyword Groupie allows you to look up a competing site's keywords & see them organized by root word. In addition to listing keywords by root word, they also give you the option of viewing the top 100, 500, or 1000 keywords for a site.
The big benefit with SpyFu is that you can view data on a competing site & use their performance as a bit of a filter for you, but the downside is that at times it can be a bit slower than the above tools. That is to be expected though, because it is searching through a database of records related to sites, rather than just applying a filter or returning results.
They allow you to browse keywords to drill down in areas of interest. Another nice feature is that they show you keywords they feel you are missing out on by putting them in bold, so this tool is great both for looking up competing sites & for looking up your own site to see what you missed.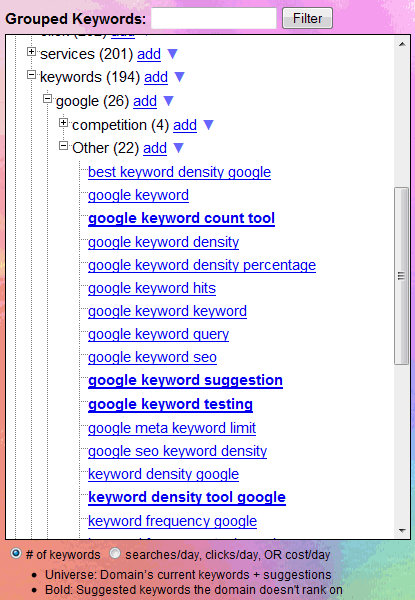 Google AdWords Desktop
There are a couple different ways to use the Google AdWords editor to group keywords. Here is a semi-automated way (where you still have a bit of human editorial in the process to manually filter to find themes & create groups)
You could do similar to the above with Microsoft Excel's table filters. And if you are combining multiple data sources / tables in Excel this AbleBits merge tool is handy.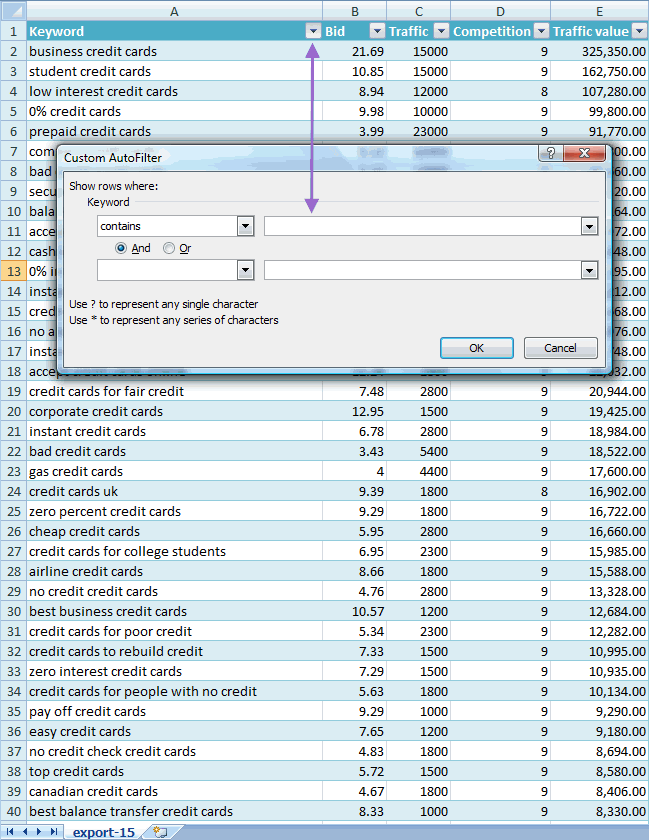 Google also offers an automated option inside Google AdWords editor to help organize keywords into fairly tight groups.
First create a new ad campaign (and its settings can be a bit arbitrary off the start as you are mainly using this to help automate data sorting). You only need to create 1 ad group in that ad campaign and then bulk upload a group of keywords into it.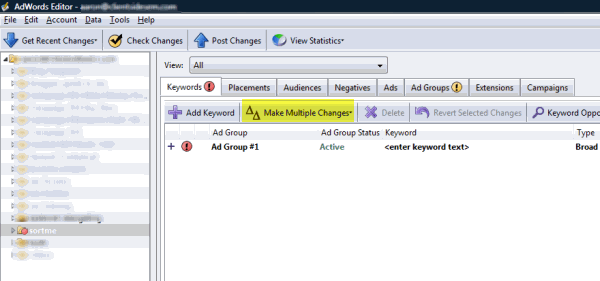 Next use the keyword grouper tool, as shown here.

In the keyword grouper you can use the "generate common terms" option to automatically create keyword groupings. Note that in the right box you can add stop words & other words that you don't want them to cluster keyword groupings around.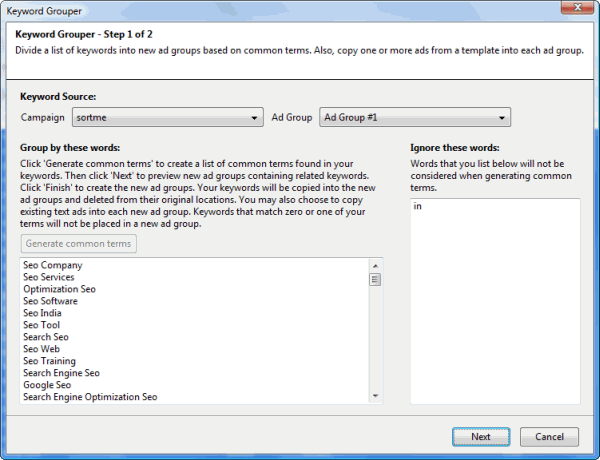 Google then spits out a result set you can use, with the keywords clustered into tight groups. Note that sometimes they footprint geo-local keywords similarly even if they are for multiple different areas, but outside of that it is a pretty nice tool considering the amount of work it does in what amounts to a 2-minute process.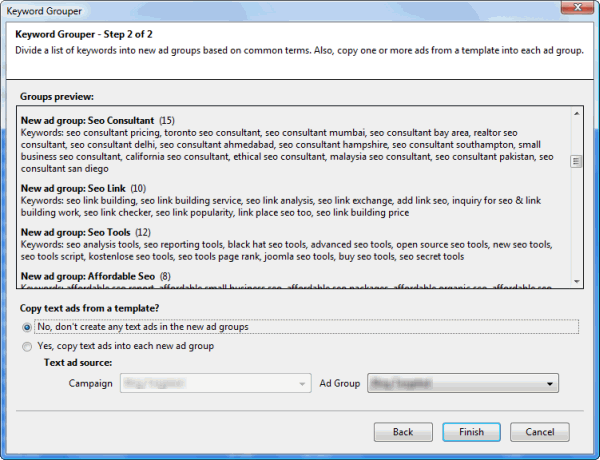 Rank Checker
Put your site in rank checker and see how you rank for your target keyword list. If your site is nowhere to be found for a keyword then that may indicate a need to create more content pages around those new topics. If your pages already rank well then see how well they are optimized. A small amount of link building & on-page SEO can go a long way if you were already ranking for a keyword that you were not intentionally targeting.

If your site is brand new & has no authority (or you are researching a new market) you can search for the rankings of a popular website in your niche and see where they rank. Export the ranking data and you can sort the Excel spreadsheet by URL, which should help you cluster your keywords around a similar strategy that top ranked websites are using.
You can pull data on competing sites from competitive research tools like SEM Rush, Compete.com, Keyword Spy, SpyFu, and Alexa to help get an overview of some of the top keywords competing sites are ranking for.
Crawl Their Site
Do you have a well optimized competitor? You can crawl their site using tools like Xenu Link Sleuth or Screaming Frog & then export the data to a spreadsheet, using that as a baseline to start your information architecture strategy from. Xenu is free & Screaming Frog's SEO Spider is free for up to a 500 URL site.

Keyword List Cleaner
If you have a big and dirty keyword list where some of the words have multiple meanings you can try to filter the list down by using negative keywords on a keyword list cleaner.
Google Related Searches
Whenever you search on Google not only does their search box recommend tightly related keywords (which are good for late state optimization of on-page content), but in the left column they have a link to "related searches" which organizes related keywords. Within these lists of keywords you can click further into to drill down deeper.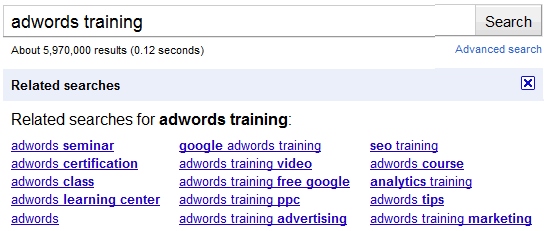 Some folks scrape that data in bulk as well, but if you do that then you are back to having to organize it again. ;)
Google AdWords Keyword Tool
Many paid keyword tools like Wordtracker have advanced filtering & organization options, but I mainly wanted to show free options in the post. Google AdWords keyword tool has multiple helpful ways to organize data.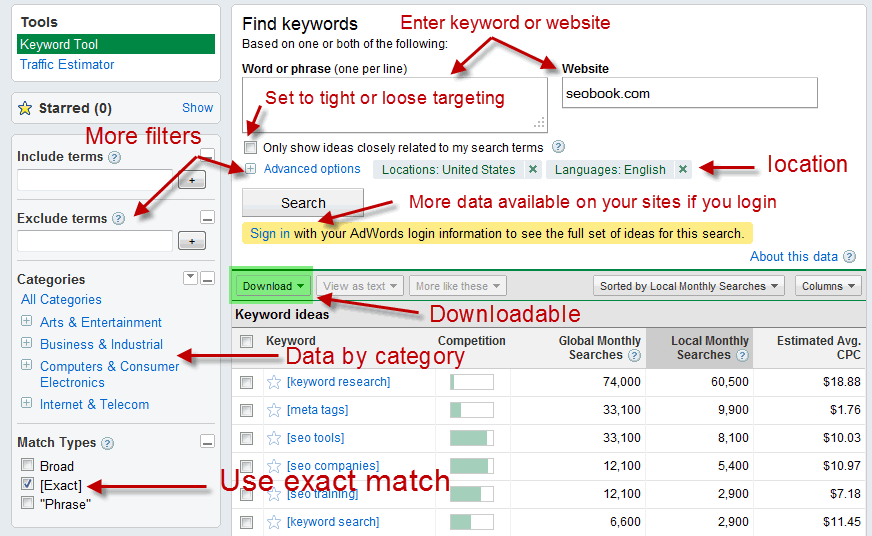 I tried to highlight key areas & options in the above image, but it sorta feels like I highlighted everything, as there are so many amazing options baked into it. You can get keyword data based on selecting a category, a site, or entering a root keyword. They allow further filtering by match type, tight or loose keyword groupings, location, and so on. Sometimes the data can be a bit inaccurate, but nonetheless it is a great starting point as it really is an amazing feature-rich tool.
Microsoft adCenter Plug-in for Excel
Earlier I mentioned how Excel tables have a bunch of handy filters in them. Taking that to the next level, try the adCenter Excel plug in (review here), offering you quick access to Microsoft's keyword data by root keyword, general topical category, ad campaign association, and so on.


Your Web Analytics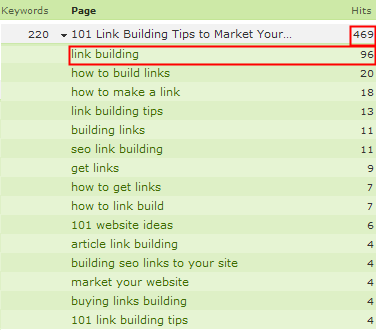 There are at least 4 amazing benefits to using your site's keyword data
This is the stuff that actually applies directly to your site. Rather than being some sort of academic exercise or a bunch of "what if" sort of stuff where there is a big margin for error, you have the data related to the actual business impact of these keywords.
Since your site is already ranking for these keywords you already have momentum behind them. Pushing a #5 to #2 is typically far easier than going from nowhere to #5. And it is not only easier, but it is also more profitable.
This data is organized by page already, and (since you know your site) you should be able to quickly tell if pages that are ranking should be further optimized for a keyword or if the user intent for that keyword is different and it deserves a different page.
If you have been tracking your site for an extended period of time you should know not only what pages are ranking, but also why. Sure Google aims to make this a bit more complex, but that is precisely why looking at data on your own site is so helpful: you already know so much about it.
The same types of benefits can be had by using a (phrase matched, broad matched, or modified broad match / with negative keywords) AdWords ad campaign to do keyword research. You are not only testing the search volume of the keywords, but also how your site performs for them.
Visualize It
WordTracker's Strategizer (review here) is a premium SEO-oriented extension of web analytics data, which helps make the data relationships easier to visualize. Concentrate is another paid application built on data wrangling & visualization front.
Free keyword cloud tools like Wordle & tools like Many Eyes can also be valuable for helping you see word relationships for a page and convey concepts to management. You can probably guess which page the following analytics-driven word cloud is for without even visiting it. ;)

You could also put a URL in a keyword density tool, a page comparison tool, or a word cloud tool to view a page's on-page content that way. If it isn't too self-referential, ...