When you get to *really* competitive keywords the results typically tend to be fairly stable because the cost of entry into the game is so high & many of the top players keep building additional signals of quality. You might get minor fluctuations from time to time, but large fluctuations on highly competitive keywords are fairly rare.
Over the last day or 2 Google has done yet another algorithm change (the 3rd or 4th noticeable one in 2 weeks), where on some searches they are ranking an internal page over the homepage. It is almost as if the best mental model for the algorithm that is doing this is...
find the top SITES that deserve to rank well & rank them based on that criteria
however, rather than ranking THOSE PAGES, instead do internal site searches & back in other relevancy factors to look for other popular & relevant pages on those sites
test to see how well searchers respond to them
Here is a pretty overt example, where Google changed 2 of the listings for "SEO" to internal pages.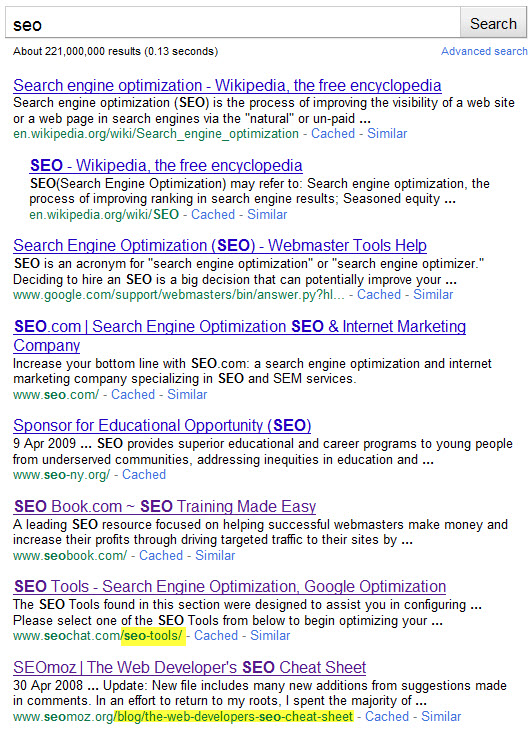 I have seen other examples, some where Google also highlighted a new information-less blog post with only a couple automated backlinks pointing at it. I don't want to "out" that site though, but this is the type of image Google was showing beneath that entry


Google could conceivably use this sort of process to further adjust the search results based on demographics, searcher location, recent searches, searcher interests, and so on. Add in the ability to send searchers down a known path optimized for profitability, the ability to select vertical databases on the fly and change the titles on the fly and it allows whoever has the most search market share to keep refining the results to make them more appealing to users at an ever increasing level of granularity & greater profitability.
I have no problems keeping up with the increasing complexity of search, but Google is setting up some serious barriers to entry for new players. It is hard to explain in a straightforward manner that page A might be ranking due to relevancy signals pointing into page B, but these are the SERPs through which we make a living. And it is only going to keep growing more complex. ;)
Depending on how far Google pushes with this, it can have major implications in terms of rank tracking, SEO strategy, site architecture & conversion optimization. More on that stuff in the community forums.