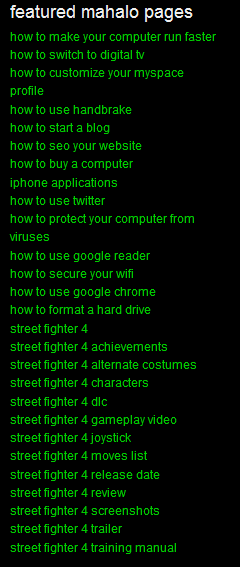 Jason "SEO is dead" Calacanas, founder of Mahalo, used "SEO is dead" as a publicity stunt to help launch his made for AdSense scraper website. In the past we have noted how he was caught ranking pages without any original content - in clear violation of Google's guidelines. And now he has taken his spam strategy one step further, by creating a widget that bloggers can embed on their blogs.
The following link list looks like something you would find on an autogenerated spam website, but was actually on Hack A Day, a well respected technology blog with lots of PageRank.
Note that the links are not delivered in Javascript and do not use nofollow.
The links are repetitive and spammy.
The links have no contextual relevance.
This activity is in stark contrast to Google's webmaster guidelines:
Your site's ranking in Google search results is partly based on analysis of those sites that link to you. The quantity, quality, and relevance of links count towards your rating. The sites that link to you can provide context about the subject matter of your site, and can indicate its quality and popularity. However, some webmasters engage in link exchange schemes and build partner pages exclusively for the sake of cross-linking, disregarding the quality of the links, the sources, and the long-term impact it will have on their sites. This is in violation of Google's webmaster guidelines and can negatively impact your site's ranking in search results. Examples of link schemes can include:

Links intended to manipulate PageRank
Links to web spammers or bad neighborhoods on the web
Excessive reciprocal links or excessive link exchanging ("Link to me and I'll link to you.")
Buying or selling links that pass PageRank


The above links not only appear on hackaday, but Mahalo is actually creating a "Mahalo Blog Network" that cross links to other Mahalo promoting blogs and exists for the purpose of flowing PageRank into high paying Mahalo pages.
Back around the last time Jason was calling SEO spam, he was promoting Weblogs Inc., and his blog revenues relied heavily on selling PageRank from his blogs to casino websites.
Do the venture capitalists that invested in Mahalo support such Google gaming and PageRank selling strategies? When will Google act on this blatant violation of their guidelines? Jason has a clear history of operating outside the spirit of their guidelines, and if Google lets this slide then many other people are going to start spamming them too. Google has an obligation to protect searchers from such devious behavior, lest they let it slide and promote the creation of more spam.
Update: This Looks Worse Than I Originally Thought!
While leveraging blog sidebars to pump PageRank and anchor text is pretty bad, at least it was not in the editorial content of blog posts. But it looks like many Mahalo employees not only put links in their sidebars, but they publish posts that consist of little but a link laundry list pointing at various seasonally hot parts of the Mahalo site.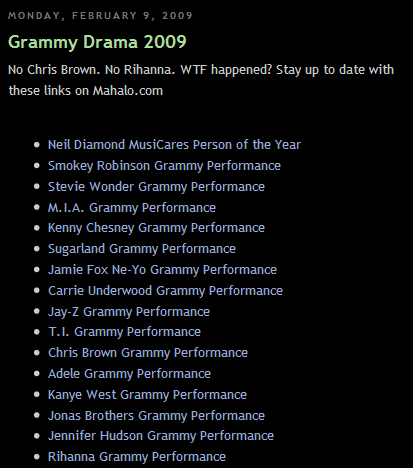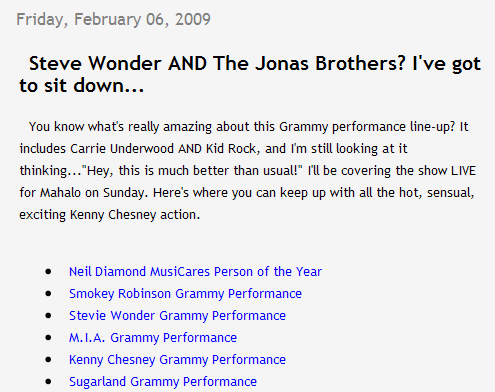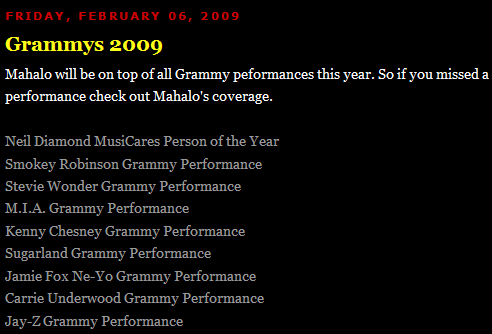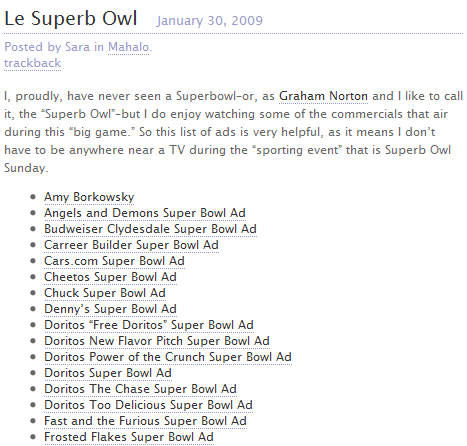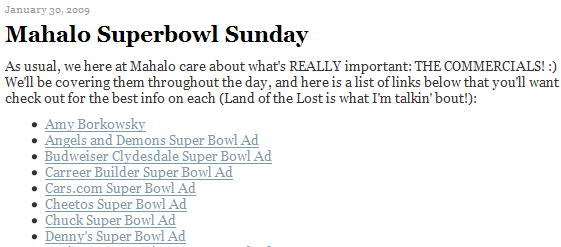 The above is just a small sample of such posts promoting Mahalo. There are probably hundreds or thousands of suchs posts floating around the web. What makes that strategy any better than the "evil" Pay Per Post strategy that Jason Calacanis was allegedly against? I guess it is only bad when someone else is profiting from it.