About a month ago I was chatting with Rand via email. He explained that he thought that the perception that SEO is manipulative was harming the industry, in part to justify his outing strategy. I explained that I thought the goal of most media was manipulation (with attention sold to the highest bidder) and promised him that I would write a post along those lines.
It is not going to be an easy post to write. It will eat thousands of dollars of my time. And I most likely will not make any sales from it, but it is a nice introduction to how media works for anyone who has not yet seen or read Noam Chomsky's Manufacturing Consent.
Self-survival is the First Goal of Any Organization
Parking meters are needed to add cost to a finite good (parking places) to decrease demand. Recently in Oakland they went from $1.25/hr to $1.50/hr. The meter man explained inflation to me, right before I read a bunch of news about the potential horrors of pending deflation. Why was I talking to the parking meter guy? I talked to the parking meter guy long enough that the person he was going to write a ticket for got away. I had done my good deed for the day. :)
The payment gateway for that particular area was broken. I pointed that out to him and he said "oh yeah I will call it in" with a matter-of-fact tone. So he knew the meters were broke, but didn't get them fixed because he knew he would be able to write more parking tickets that way.
About a week later, parking in a nearby area, I put a quarter in a regular pay meter and went in to pick up food that I had ordered. When I came back to the car the meter showed a minute left, but there was already a parking ticket on my window. Probably the same corner cutting public servant hooked me up on that deal.
Fraud can happen at the individual level, but as an organization grows bigger it...
requires more capital to be sustained
has more stakeholders (employees, partners, investors, & customers - each having unique goals and interests)
finds additional incremental growth opportunities are harder to come by
Bob Massa mentioned being at a business meeting where the CEO was told all our KPIs point south...to which the CEO replied "sounds like we need some new KPIs."
Which leads us to the inverse law of business ethics: the larger a business grows the more hypocritical it must be to sustain its growth and please its stakeholders.
The Media Sells What is Hot
Best. Bubble. Ever.
The US society is largely based on instant gratification, consumption, and debt. To keep growing we need to build bubbles (and promote them via the media), hoping to make each bubble larger than the last. Mortgage fraud replaced the tech bubble. And the next bubble will likely be related to green energy.
Media Pandering
"If it bleeds it leads." The press is always pandering the story of the day to make it seem more important than it is in an attempt to capture attention
The media lemmings, the same ones that encouraged you to get a second mortgage, buy a McMansion and spend, spend, spend are now falling all over themselves to out-mourn the others. They are telling everyone to batten down, to cut back, to freeze and panic. They're looking for stories about this, advice about this, hooks about this.
Or as a commenter named Mike, on one of my favorite investing blogs, wrote:
Some idiot on Bloomberg is talking about how irrational consumers had been and how they are now getting rational. Judging someone's rationality depends on what they knew at the time. And, Joe the Plumber was bombarded for years with propaganda about how your house was your best investment, stocks always go up, we are the kings of the world, etc. They did what you would expect.

Now, if those of us who look behind the curtain had bought into the hype, that would be irrational.
Media is usually selling you up the river to some advertiser interest.
Advertiser Interests Come First
In The Anatomy of a Large-Scale Hypertextual Web Search Engine, Google's founders explained:
Currently, the predominant business model for commercial search engines is advertising. The goals of the advertising business model do not always correspond to providing quality search to users. For example, in our prototype search engine one of the top results for cellular phone is "The Effect of Cellular Phone Use Upon Driver Attention", a study which explains in great detail the distractions and risk associated with conversing on a cell phone while driving. This search result came up first because of its high importance as judged by the PageRank algorithm, an approximation of citation importance on the web [Page, 98]. It is clear that a search engine which was taking money for showing cellular phone ads would have difficulty justifying the page that our system returned to its paying advertisers. For this type of reason and historical experience with other media [Bagdikian 83], we expect that advertising funded search engines will be inherently biased towards the advertisers and away from the needs of the consumers.
Years later, after Google became the world's largest ad network by scraping that content and wrapping it in ads, how did their view of that same web change? Eric Schmidt explained:
The internet is fast becoming a "cesspool" where false information thrives, Google CEO Eric Schmidt said yesterday. Speaking with an audience of magazine executives visiting the Google campus here as part of their annual industry conference, he said their brands were increasingly important signals that content can be trusted.

"Brands are the solution, not the problem," Mr. Schmidt said. "Brands are how you sort out the cesspool."

"Brand affinity is clearly hard wired," he said. "It is so fundamental to human existence that it's not going away. It must have a genetic component."
In less than a decade branding moved from "the enemy" to "how you sort out the cesspool." Makes sense if your business model is to educate consumers by cashing in on other's branding efforts one click at a time.
But Google has obscene profit margins and market leverage and does try hard to strike some level of balance. No other large media company has similar profit margins or market leverage, and thus they tend to be more controlled by advertiser interest.
Consider Fox News, which fired some of its reporters for wanting to report the potential link between rBGH and cancer. Why were the reporters fired? They refused to be silent about the research they had done, and as an advertiser pushing rBGH onto ignorant consumers, Monsanto was going to cut their ad spend if the truth about their product came out. Killing people with cancer for a dollar...that is how low some media standards are.
Shill media is so commonplace that not being a shill is actually remarkable.
Conduits for Misinformation
Public Relations vs Reality
Many companies live by telling multiple stories simultaneously. When Google was promoting PageRank they talked about how it leveraged the "unique democratic structure" of the web. But when the Department of Justice sued Google for search data, Google's response stated that "Google only attempts to crawl the "best of the Web" to create a useful repository of Web pages." And when they feared GoogleBombing potentially causing negative blowback during the 2008 election cycle, Google tried to defuse the practice.
Sensationalism
Sensationalism works. Write something that is factual and nobody cares. Twist is just a bit and it is press worthy. That is why guys like Jason Calacanas are so fond of writing lines like "What you do in the next 30 days will probably make or break your company."
Distortions
Just about everyone knows that magazine cover and billboard photos are edited.
But did you know that when Fox News producers are angry at someone they will edit their photo to yellow their teeth and make their nose larger?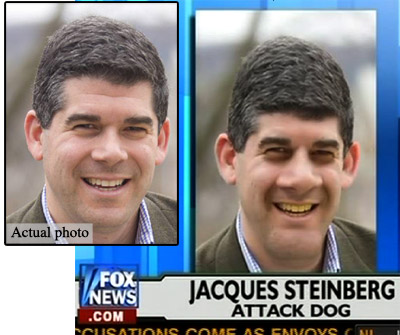 Reductionism
Alan Greenspan was known to speak in "Fedspeak" in an attempt to guide markets without causing panic. But in some cases he was crystal clear with his messaging. When asked of the Bush tax cut plan, Alan said that if US economic surpluses remain, then a tax cut at some point might make sense. And the next day the newspapers flooded the stands with the message "Greenspan endorses Bush tax cut" (ignoring the if surpluses remain part). Alan Greenspan discussed this reductionism in detail in his The Age of Turbulence.
Lies
If your budget is large enough and your sample data pool large enough it is not hard to lie with statistics. Some business models are based on pushing through biased research and hoping that their solution is so ingrained in society that by the time the truth comes out nothing changes.
In almost any area where Google talks about their being "spam" there are brands built off of sleight of hand marketing.
Finance
The bogus consumer bankruptcy bill was pushed using biased stats highlighting a subset of people that filed for bankruptcy because they did not pay their credit card debts. But the real leading cause for personal bankruptcies in the United States is medical issues. The same bankers that pushed that garbage are now at the trough begging for handouts amounting to $7,400,000,000,000 ($24,000+ for every man, woman, and child in the US).
Want to know what that taxpayer money is being spent on? They are not sharing that information! Bloomberg is suing the government in an attempt to find out. Gerald O'Driscoll, a former vice president at the Federal Reserve Bank of Dallas, had this to say: "Nontransparency in government programs is always associated with corruption in other countries, so I don't see why it wouldn't be here."
Education
We are taught that the rising cost of college is just because a degree is worth so much, while ignoring kickbacks to finacial aid officers and a decade of student loan fraud.
Healthcare
After decades of bogus research, much of it was de-bunked.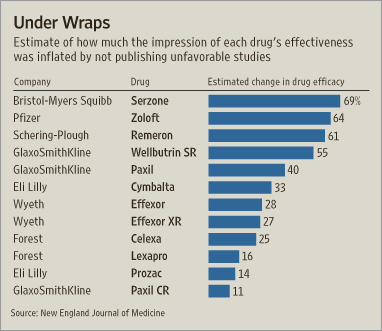 The truth was there all along, but it just took a few decades to come out in the media.
Politics
The examples are so abundant it is hard to pick one. But as an example, here are pre-election stories blaming high oil prices AND low stock prices on the market pricing in the likelihood of an Obama presidential victory. Such analysis is usually thin on research.
Greed and Fraud Are Fundamental Parts of Capitalism
I could list dozens more categories here if I took the time to do the research. Kickbacks and misinformation are everywhere because capitalism promotes short term gain at the expense of future generations. When a company goes public so much is driven by making the numbers and getting your bonus. Some media companies even carry fake video clips created by public relations companies.
Even the US Government Actively Manipulates the Media
The US government so heavily alters economic data that there is a third party website to decode their numbers.
The US government actively manipulates the media to mislead and misinform consumers. If you watch Robert S. McNamara's Fog of War you will see him talk about how they timed Vietnam War related releases to play them down and minimize blowback.
30 years later the media is still being used to propagandize war. What ever happened to those weapons of mass destruction that were central to the lies that started the Iraq war? George Bush thinks their absence is funny. So does the press corps
As one Youtube commenter puts it:
As repulsive as Bush is, we shouldn't forget some of the people laughing at his "humor," notably the press corps who helped him sell his phony war and who derided, as naive or unpatriotic, those who raised doubts about the WMD issue before it started. But hey, war makes for great great TV and big profits for the military-industrial-media complex. They're a big part of the reason why America is so frequently at war.
Back when we were pushing to go to war there was nothing but cheer leading from the media, and now the same media reports how the Pentagon used (and still uses) TV analysts that have equity stakes in defense contractors to sell the Iraq war to the US public:
Collectively, the men on the plane and several dozen other military analysts represent more than 150 military contractors either as lobbyists, senior executives, board members or consultants. The companies include defense heavyweights, but also scores of smaller companies, all part of a vast assemblage of contractors scrambling for hundreds of billions in military business generated by the administration's war on terror.
...
Analysts have been wooed in hundreds of private briefings with senior military leaders, including officials with significant influence over contracting and budget matters, records show. They have been taken on tours of Iraq and given access to classified intelligence.
...
Members of this group have echoed administration talking points, sometimes even when they suspected the information was false or inflated. Some analysts acknowledge they suppressed doubts because they feared jeopardizing their access.
There are laws against inside trading, and yet somehow it is legal for the government to give defense contractors classified information so long as they are willing to lie to the US public in exchange for it. Mind blowing!
In 2004 (just before the US elections) the BBC aired Adam Curtis's The Power of Nightmares - a documentary showing that Al-Qaeda is a fictitious organization created and promoted to scare US citizens for the political gain of neoconservatives. The US TV networks refused to give it air time:
"Something extraordinary has happened to American TV since September 11," says Curtis. "A head of the leading networks who had better remain nameless said to me that there was no way they could show it. He said, 'Who are you to say this?' and then he added, 'We would get slaughtered if we put this out.'" Surely a relatively enlightened broadcaster like HBO would show it? "When I was in New York I took a DVD to the head of documentaries at HBO. I still haven't heard from him."
And while crony capitalism thrives with the government lying to their own citizens, it gets harder for a citizen's voice to be heard. It is as though Carl Sandburg never wrote or read The People Yes.
Reporters Spin the Truth
Some have complained about live blogging not being accurate, but the same thing happens with regular reporting.
I think humans tend to be somewhat dismissive of or scared of technologies they do not understand. That is why Lori Drew was tried on 3 counts of accessing computers without authorization, rather than being tried for psychologically abusing a child.
Reporters should be skeptical because in some cases people are willfully feeding reporters inside details that are false to try to push a stock (or some other business interest). The sheer level of detail in The London Times's report on the false Microsoft Yahoo deal last weekend is mind-boggling. Those sorts of lies are embarassing and make reporters cautious.
Some reporters know their stuff and do in depth research, but some go into writing their pieces with an end goal in mind, looking to misquote you to drive home their point...asking leading questions and making you the focus of them. For example, I was asked about how I could use Google Knol for spamming. I responded with something like "I don't consider myself nefarious, but for sake of argument lets say you or I were the nefarious type..." and that got quoted as "lets say I am the nefarious type."
Why do People Buy SEO?
SEO is Worth a Lot of Money
I gave a presentation at an investor conference and ended up charging somewhere around $1,000 a minute for the presentation.
I recently charged a CEO $300 for a 30 minute speech and hung up feeling guilty that I under-charged him. I taught them all sorts of advanced topics like conditional site structure alterations based on crawl information and traffic levels all other sorts of goodies. I estimate that call will add at least $1,000,000 of search traffic to his business if he executes on 50% of what I taught him.
Nobody Wants Average Rankings
While I have had well over 10,000 paying customers, not a single one of them has ever paid me with the goal of "rank them where they deserve to."
Everyone who has paid me a large sum of money (say 5 figures or more) wanted to rank better than they were, and in most cases (all but 1 so far) better than they would deserve to from an objective view of the web. And those who were already clear category leaders wanted to know how to create a second or third white labeled high ranking site.
Search Can be a Cheap Distribution Channel
If you are already paying for the cost structure of running a brick and mortar business, there is little incremental cost to gaining more organic search traffic...the medium is still exceptionally under-priced.
Search Exposure Builds Real Value
If you are one of 400 insurance brokers or real estate agents selling the same recycled stuff, then you don't want to rank where you deserve...even if you are number 12 out of 400 you are probably getting less than 1% of the potential traffic. That is pretty crappy relative to how well you would do with just a bit more effort.
A thin affiliate site with little to no editorial content was recently bought for $34 million. That site was not bought out because it was above average, but because it had above average rankings. The CEO even stated that they bought the site based largely on its search engine rankings.
Isn't SEO Manipulative?
As referenced above, most of the entire media ecosystem is heavily manipulated. Why? The intersection of 2 key points. ;)
People need to make a living.
Many people who claim to be against manipulative SEO practices have no problem with being manipulative and lying with their public relations. Both have the same end goal of profit, but renting a link to try to rank one spot higher is nowhere near as toxic as lying is.
Almost every public facing person in media is a salesman, electioneering for their own self-interests.
Even Search Engines Hire SEOs
Large media organizations like the NYT employ SEO tactics. Even search engines have internal SEO teams. Laura Lippay is the SEO program manager for Yahoo!. I know Microsoft has an SEO team because a couple years ago a headhunter contacted me wanting to hire me to work on that team.
If search engines employ SEO then you should too. Why not help your company rank the best it can?
Why Outing is Bad
For many webmasters profitability comes from leveraging new platforms along with creativity and innovation...often within the gray area where marketing strategies are not yet abused. But when a well known SEO outs something they are intentionally trying to make the search engine look stupid, forcing the search engineer's hands into banning something or making something 'not count'.
As an industry will we fare better building each other up or advocating knocking each other down?
Want to Help Google Clean Up the Web?
Google Sells Ads to Spammers
Google sells ads that promote virtually anything. All a person needs to do to get exposure through their ad network is open up their wallet.
Eric Schmidt said that the internet is fast becoming a "cesspool" where false information thrives. Here is how you can make the web a better place! Anytime you see a Google AdWords/AdSense advertisement that does any of the following...
makes a false claim
engage in cookie pushing, reverse billing fraud, or push spyware
promotes something that is illegal or immoral
is published on a copy of stolen copyright work
make sure you file a Google spam report AND out it on your blog. Google needs more help cleaning up their ads than the organic search results (as the paid search algorithm is much less complex and is directly influenced by payment). That is, of course, unless Google likes promoting infidelity while cleaning up the web.