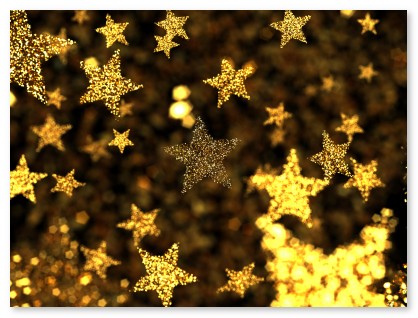 The holiday season is almost upon us.
In fact, it started in July.
More on that shortly.
Part of planning a SEO campaign, especially for anyone involved in B2C retail, is to optimize with holiday events in mind. Obviously, gift giving is a tradition that no retailer can miss out on, so SEO campaigns for the holiday season are often planned and executed well in advance.
Let's take a look at some of the keywords and trends associated with the upcoming holiday season, and look at a few strategies you can adopt in order to cash in.
1. Historical Research
It is fascinating to look at keyword trends, especially around this time of year. Go to Google Trends, and flip the date back to December last year.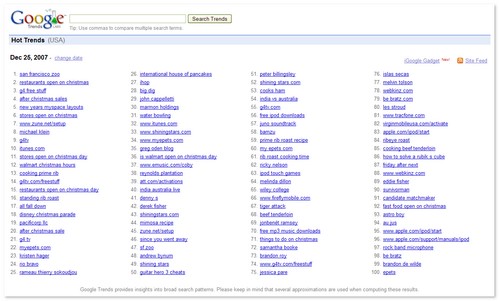 Notice any patterns?
For starters, a lot of people are looking for recipes. If you have a food oriented site, include a section focused on preparing common Christmas meals.
People are also looking for stores and restaurants open on Christmas Day. Think about other holiday specific information you can include to capture this type of search traffic.
The other interesting thing to note is that people are still in the mood for shopping on Christmas day. Either they're looking forward to the after Christmas sales, they're looking for something to do, or they're looking for tunes to put on their shiny new Ipod. Think about how the nature of shopping changes on Christmas day, and the few days following, which should help you earn a bit more revenue than your competitors.
Here's an interesting one: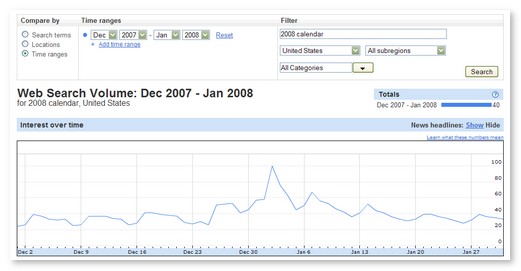 Calendar queries rise from Christmas day onwards, and peak in early January. A last minute purchase, obviously.
2. Gift Lists
Here are few examples of gift lists.
Amazon's Holiday Customer Review Team
Twelve Good, Cheap Christmas Gift Ideas
Geeks Bearing Gifts
Notice how these types of pages pretty much optimize themselves. You can create all sorts of gift lists. Gifts for him, gifts for her, gifts for mothers, budget gift ideas, etc, etc. It is a good idea to personalize the list. Add a human touch, such as a photo, or commentary, or both.
Search on those terms in Google's keyword suggestion tool, and you'll find a wealth of profitable terms and ideas for lists.
For example:
gift ideas for guys
gift ideas for geeks
christmas gift basket ideas
gift ideas for christmas
gift ideas for dad
cheap christmas gifts
unique gifts
corporate christmas gifts
romantic christmas gift
unusual christmas gift
unique christmas presents
Often, people don't know exactly what to buy. They're hunting around for ideas. Organized gift lists solve a genuine problem, and they're a great addition to your SEO campaign. They can convert very well, because the buyer intent is closely aligned with the sales process. Think about the sales funnel and incorporate the hunting stage - not just the buying stage - into your site.
Use sales data to help you decide on your list. What are the most popular and/or high margin products? Can you group these together into the type of list people search for? Link to these lists from prominent pages, like your home page, and try to get links from other sites. This will help drive sales, increase Page Rank, and rankings. And not just for this year - hopefully for many years to come. Can you come up with the definitive Christmas list for "gift ideas for *insert term here*"? You can swap out the products each year.
3. Start Early
If you're only just thinking about SEO for this holiday season, you're probably left your run a little too late. In fact, anyone who didn't have their campaign good to go by July probably left it a little late.
Check out this chart: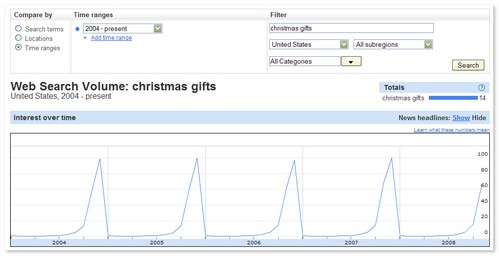 Year after year, people start as early as July on their Christmas shopping! They really start to go for it in October and November.
Start planning early for next year :)
4. It Isn't About Brand, It's About The Offer
Because Christmas has a set deadline, and a lot of people leave things until the last minute, brand is the last thing on people's mind. They're focused on solving a problem.
At times such as these, the offer is the most important thing. Your copy should reflect this. This may mean rewriting some pages, or adding new pages that specifically target this time of year.
Be sure to include delivery times, and assure people that their gifts will arrive in time, else they'll be going to your competitors who do emphasize this point.
5. Coupon Codes & Discounts
There was a time when retailers didn't offer sales and discounts during their most profitable time of year, but there's too much competition these days. People will respond to discounts and coupons, same as they do at other times, so try to work them in. Given we're in a recession, and people are likely to be feeling the pinch, discounts and incentives will be especially important this year.
Check out keywords relating to:
bargain christmas gifts
cheap christmas gifts
cheap christmas gift ideas
christmas coupons
sale christmas
etc....
Speaking of which, and since Aarons clearly already in the holiday mood, we are offering all SEOBook readers $25 off their first month's subscription fees by subscribing to SEO Book through this link.
First in, best dressed. :)
6. Seasonal Imagery & Details
Stores are awash with Christmas imagery, and with good reason. It compels people to spend. If you're selling gifts direct to the public, you should do likewise.
Test pages, using PPC, as early as July. Does the Christmas imagery increase conversion rates? What wording and topics produce better conversion rates at this time of year, compared to other times? Feed this data through into your SEO campaign.
The advantage you have over PPC is that PPC bid prices are going to go higher and higher as Christmas day approaches, whilst your bid price remains the same. Zero.
You just need to prepare well in advance.
Got Any Cool Holiday SEO Tactics?
Share 'em below :)
Published: December 3, 2008 by
A Reader
in
seo tips