In the past when I claimed that the Google Maps insertion in organic search results wasn't more organic search but rather a Google promotion, I was met with skepticism by some, who argued that Google Maps was just another flavor of organic search and visitors would still be able to go to the end ranked website.
If you search for something on Google and click on one of the end URLs you can still visit them, but Google made one step in the opposite direction today. If you click on the map now the Google Maps section lists a bunch of places on the maps, rather than giving you the URLs. You then have to click onto one of the locations to see it on the map and open a pop up area which contains information including the URL. More clicks to do the same thing.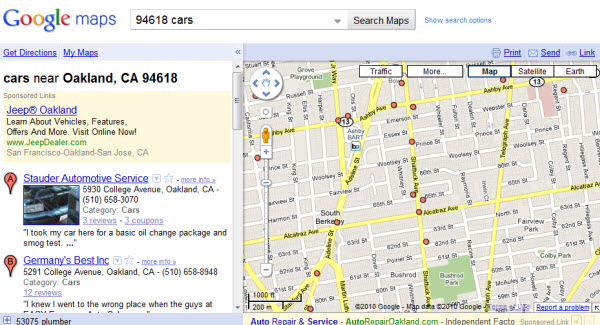 How long until Google replaces the URL listings in the search results with links to locations on the Google Maps or links to Google Places pages? It is the next obvious step in this transition.
Originally Google wanted to send you to the destination as quickly as possible, hoping that in doing so they would encourage you to come back again. This year Google's strategy has changed to one that wants you to stay for a while. There is no better example of that shift than Youtube Leanback:
Jamie Davidson, a YouTube product manager, says that the 15 minutes of daily viewing by a user typically involves six videos, with the conclusion of each presenting "a decision point, and every decision point is an opportunity to leave. We're looking at how to push users into passive-consumption mode, a lean-back experience."