We Are Not a Content Farm
When Google began speaking publicly about content farms Demand Media's Richard Rosenblatt stated that it would be silly to call their stuff a content farm & he emphasized the quality of their content & care that went into it. Of course, those who bothered looking at the content often saw something different
Panda II Hits Demand Media
When Google did the global roll out of Panda earlier this month, they also modified their approach to core Panda algorithm to include user block data:
Today we've rolled out this improvement globally to all English-language Google users, and we've also incorporated new user feedback signals to help people find better search results. In some high-confidence situations, we are beginning to incorporate data about the sites that users block into our algorithms. In addition, this change also goes deeper into the "long tail" of low-quality websites to return higher-quality results where the algorithm might not have been able to make an assessment before. The impact of these new signals is smaller in scope than the original change: about 2% of U.S. queries are affected by a reasonable amount, compared with almost 12% of U.S. queries for the original change.- Amit Singhal
While many of Demand Media's sites got dinged in the first update, the fall of content farms in general meant that any site operating in that space which was not hit ended up seeing a sharp increase in traffic (as so much of the competition fell). As sites like AnswerBag and Livestrong fell, eHow's traffic increased significantly. I believe Google didn't want to rely on end user block data because it would make it easy for people to do competitive sabotage, however I think they needed to use it in order to hit eHow with the update. eHow had a number of signals (some older quality content, nice web design, syndication partnerships, tons of media exposure, etc.) which made it hard to whack it without creating too much collateral damage unless the block data was used.
Demand Media's Google Traffic Off 40%
Forbes.com highlighted Hitwise data which estimated that Demand Media traffic from Google is off 40%:
In the first two weeks of January, 0.57 percent of those who departed Google next visited a site operated by Demand Media ... by mid-April, with the full suite of Panda updates in place, Demand was feeling the pain. As of April 16, it accounted for only 0.34 percent of Google's downstream, a 40 percent decline from the start of 2011.
Demand Media's Stock Falls 40%
Incidentally, over the past couple weeks Demand Media's stock is off roughly 40%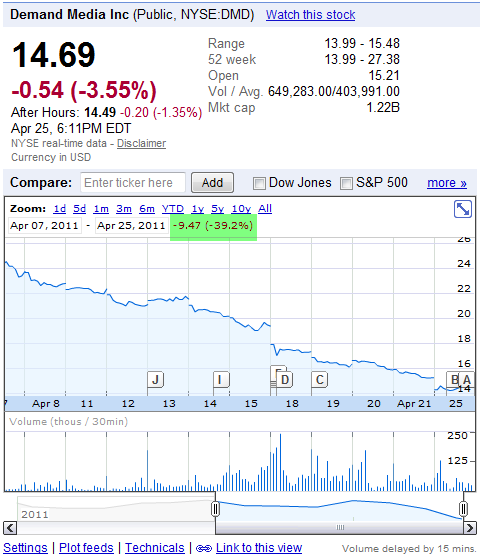 With that in mind, let's consider why eHow got torched. Here is a visual interpretation of the rise & fall of content farms. Here is part 1 of the eHow story, and part 2 follows below.
Branding
Ultimately I believe if content farms did not market themselves as sleazy operations almost nobody would have noticed or cared. You didn't see many people talking about "the content farm problem" until after Demand Media was featured in Wired as the cheap, disposable answer factory.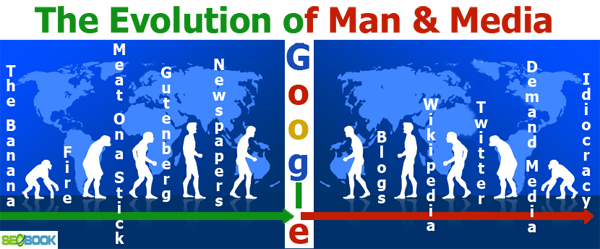 That article not only inflamed journalists (who were losing their jobs due to downsizing, outsourcing, and technology changes), but also inflamed anyone who created original content and later saw a rewrite of their own work replaced by eHow.
That article (which claimed eHow to be profitable as hell, a fuzzy claim depending on how one accounts for content depreciation) was aimed at trying to position Demand for an IPO and to try to pull in more media syndication partnerships.
What it did was inflame the web community & encourage others to play the same game & create content farms based on the blueprint Demand gave away. When a piece of marketing either pisses off almost everyone & encourages many of the people who are not pissed off to compete directly against you & cut your margins it is not a successful marketing approach.
Wages
A reason it was so easy for journalists to claim bad things about Demand Media was that the wages were so low that they didn't practically allow for any in-depth research to be done (unless a person was willing to work far below minimum wage). Thus when journalists started to dig into eHow's business model they got eHow writers to state things like:
"I was completely aware that I was writing crap," she said. "I was like, 'I hope to God people don't read my advice on how to make gin at home because they'll probably poison themselves.'

"Never trust anything you read on eHow.com," she said, referring to one of Demand Media's high-traffic websites, on which most of her clips appeared
Scale
The larger your scale is the easier it is to find something wrong with what you are doing. 1% of a really big number is much greater than 10% of a rather small number. If you are cutting corners & operating at scale & create a lot of enemies then I wish you the best of luck, because you are going to need it!
Outrageous Content
In spite of letting a few things fall through the cracks, to this day there are some OUTRAGEOUS eHow titles. A friend showed me a couple and after 5 minutes of searching I found:
Nose Picking
How to Pick Your Nose The Proper Way ehow.com/how_5722363_pick-nose-proper-way.html
How to Pick Your Nose or Scratch Surreptitiously ehow.com/how_2181862_pick-nose-scratch-surreptitiously.html
How to Effectively Pick Your Nose ehow.com/how_5067366_effectively-pick-nose.html
Exploring Other Orifaces
How to Fart ehow.com/how_2151823_fart.html
How to Stop Farting ehow.com/how_4785860_stop-farting.html
How to Muffle a Fart ehow.com/how_2320127_muffle-fart.html
How to Poop in the Woods ehow.com/how_2179463_poop-woods.html
Productivity Advice
How to Not Get an Ehow Article Erased ehow.com/how_5570908_not-ehow-article-erased.html
How to Slack at Work (and not get caught) ehow.com/how_4522164_slack-work-not-caught.html
How to Slack Off at Work and Not Get Caught ehow.com/how_4837878_slack-off-work-not-caught.html
How to Do Nothing at Work and Still Get Paid ehow.com/how_4430256_do-nothing-work-still-paid.html
Honing Your Social Graces & Charm School
How to Manipulate People to do Your Bidding ehow.com/how_2167832_manipulate-people-do-bidding.html
How to Get a DUI ehow.com/how_4825159_get-a-dui.html "You might think getting a DUI is as easy as getting behind the wheel of a car after drinking alcohol. But that's only half the battle. You also need to get pulled over by law enforcement and cited for it."
How to Not Be a Husband Caught Cheating ehow.com/how_5528899_not-husband-caught-cheating.html
"Don't leave trails which can and will turn into signs you're cheating. First point to remember is to not use any computer your partner has access to when you communicate via email or IM to the cohort."
AdSense Click Fraud
How to get banned from Google Adsense ehow.com/how_5740892_banned-google-adsense.html
How to Increase Your Click Through Rate with Google AdSense ehow.com/how_5203081_increase-through-rate-google-adsense.html
How to not get Caught With Google Adsense Click Fraud ehow.com/how_5979999_not-caught-google-adsense-fraud.html
Leveraging Expired Domains
Demand Media bought out a leading domain registrar named eNom & leveraged some of the expired domains with links to prop up eHow, by 301 redirecting those domains into eHow's deep pages.
Javascript Nofollow on Outbound Links
Most of eHow's outbound links were coded in a javascript that prevented search spiders from being able to credit the original content sources which Demand Media writers used as the base for writing their content.
If you throw off links you get some love for it from your fellow webmaster, but no publishers like a PageRank black hole (unless they own it).
Duplication & Auto-generated Content
eHow was not only churning out loads of shallow content, but Demand Media was also using the data gleaned from eHow to make sister sites which included auto-generated pages and feeding search engines their own results.
They Made Google Look Stupid
Doing one thing and claiming another can provide cover for some finite period of time, but ultimately when you create such a spectacle out of Google that your exploitative ways become the core marketing message for Google's competitors you know your days are numbered. And given that the Wired piece made the media hate Demand Media, there was nobody left to defend them other than folks who would also seem in some way conflicted.
Ultimately this goes back to the core issue that hurt Demand Media: branding.
Don't make Google look stupid. That is the #1 rule of SEO.