I must confess to being a junky for reading economics and investing sites. A person can't beat the market for a long period of time without having some skills, and so the level of discourse you find on top investing blogs blows other areas out of the water. And sometimes the comments are more quote-worthy and insightful than the blog posts. For instance, "The organisation of society is for one purpose only, to separate as much labor-value from the majority as is possible."
Cynical? Or Realistic?
Some people might look at the above quote and say "well that is cynical" but the truth of a debt based money system means that many people MUST fall behind and be impoverished by debt. How else do you explain most people having nothing saved for retirement going into our jobless recovery, while their children get to eat nearly 6 figures of debt just for being born?
It is fraudulent, but it is how "the system" is set up, and until enough people get outraged by it, it will continue: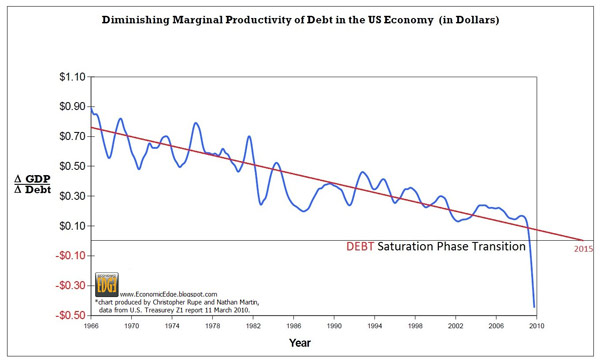 That chart of diminishing returns is the window to understanding why humankind is trapped in a central banker debt backed money box. No money for NASA manned space flight - NASA's total budget a puny $18 billion in comparison to the $1.9 Trillion that went to service the bankers last year. One half the schools closing in Kansas City, states whose debts and budget deficits seem insurmountable all pale in comparison to how much money went to service the use of our own money system.

It doesn't have to be like that, in fact it's a ridiculous notion that the people of the United States, or any country, should pay private individuals for the use of their money system. Ridiculous!

It's difficult to see this from inside the box, so let's look at what happened to Iceland to illustrate. The central banks of the world created financial engineered products and brought them to the banks of Iceland. These products created a boom in the amount of credit. Prices of everything rose, and the people of Iceland then had no choice but to go along for the bubble ride. Then with incomes no longer able to service the bubble debt, the bubble collapsed.

To "save the day," the IMF and central bankers around the world rushed in to "rescue" the people, banks, and government of Iceland. They did this by offering loans... documents that create money simply by signing a contract of debt servitude. That contract demanded ownership of Iceland's infrastructure such as their geothermal electrical generating plants. It also demanded the future productivity of the people of Iceland in that they should work and pay high taxes for decades to pay back this "debt." Debt that they did not create or agree to service in the first place!

There were some wise people who saw through this central banker game and started a movement. They DEMANDED that the President of Iceland put the debt servitude to a vote and the people wisely said, "Central Bankers Pound Sand!"
How Structural Accounting Fraud Produces "Wealth"
All around the world banksters make large bets, and lever up on any kind of fraud they can spread to blow huge speculative bubbles. When/while they win, they keep the profits. When they lose (an inevitable consequence of blowing huge economic bubbles), they threaten to destroy the economy if someone else doesn't cover their losses. The correct term to describe the strategy is financial terrorism.
They Don't Make Presidents Like They Used To!
"I believe that banking institutions are more dangerous to our liberties than standing armies. If the American people ever allow private banks to control the issue of their currency, first by inflation, then by deflation, the banks and corporations that will grow up around [the banks] will deprive the people of all property until their children wake-up homeless on the continent their fathers conquered. The issuing power should be taken from the banks and restored to the people, to whom it properly belongs" - Thomas Jefferson
Some people thought the current US president would be different than the most recent president. It is the populist angle he based his campaign on. But promptly after entering office he got on his knees for the banking class. "And the banks -- hard to believe in a time when we're facing a banking crisis that many of the banks created -- are still the most powerful lobby on Capitol Hill. And they frankly own the place." - Dick Durbin.
Non-transparency = Fraud
The sad reality is we are headed toward bankruptcy and are implementing exactly the wrong strategies if we have any hope to get out of it. Years after the fraudulent bailouts were passed in the U.S. (against the will of the people) the Federal Reserve is still withholding information and appealing legal requests, and key members are willing to commit perjury to maintain secrecy. When they gave away a half-trillion Dollars to foreign interests they couldn't even share who got the money.
The don't worry, trust us angle doesn't hold water when the mathematical realities of failure hit us all. "Nontransparency in government programs is always associated with corruption in other countries, so I don't see why it wouldn't be here" - Gerald O'Driscoll, former vice president at the Federal Reserve Bank of Dallas.
Until the bankers who looted Trillions of Dollars via mortgage fraud see jail time I don't think there is any hope for change. The system is rotten to the core, from the top down.
Moral Hazard in Context
Normally we make laws to prevent such corruption: "In the early years of the London insurance market, it was possible to buy a life insurance policy on a complete stranger. Then insurance companies noticed the high incidence of unexpected homicides among their lives assured, and the concept of insurable interest was devised, codified by the Life Assurance Act of 1774. Today, you can't buy a life insurance policy unless you can demonstrate some loss by the assured party's death. The business is safer that way!"
In paying banksters for losing money & relaxing accounting standards (so they can claim false profits while losing money), they are only encouraged to commit more fraud. It's moral hazard writ large.
Stolen vs Earned
Give anyone a trillion Dollars to play the market, backstop the losses on the losing half and let them keep the profits on the winning trades and they will make billions. It's so easy a monkey could do it. And yet it is considered a legitimate trade for bankers to do just that.
Most of these large financial companies are entirely parasitic in their nature, providing society with no real or lasting value - stealing whatever they earn while creating economic distortions that harmfully misallocate capital. Whatever scam they can use to steal your retirement will be deployed: "Quite bluntly, the clueless dolts who allowed [high frequency trading] to occur need to be publicly excoriated, fired from their job as exchange officials, and driven out of town on a rail. Oh, and, all the gains from this organized theft should be clawed back from all the front-running firms that stole this money — THAT'S RIGHT, ITS THEFT — one quarter cent at a time. - Barry Ritholtz"
A top investment bank can give you bogus trading tips on a stock over a half-dozen times in a row - while trading against the (mis)information they share publicly to move the markets. But if someone else trades against that information before they do it is illegal and must be stopped.
How is This Relevant to the Web?
The web shifts the flows of information and finance. The above mention folks in positions of authority don't like that much.
"In a time of universal deceit, telling the truth is a revolutionary act." - George Orwell
Popularity is the inequality in supply and demand, equalized by price. The web allows for a direct connection between content creators and their audiences with little to no intermediation:
This isn't complicated. In today's wired world, the most important economic competition is no longer between countries or companies. The most important economic competition is actually between you and your own imagination. Because what your kids imagine, they can now act on farther, faster, cheaper than ever before — as individuals. Today, just about everything is becoming a commodity, except imagination, except the ability to spark new ideas.
The inventor of the web & leaders of other popular internet services think government transparency is important. Many people view access to the WWW as a fundamental human right.
What do elected officials like Jay Rockefeller think? The internet should have never existed.
Numerous governments have aimed at destroying WikiLeaks due to fake security concerns, while some government agencies track social network activity. Lets not forget how many governments are willing to outright lie to their own populous to gain support for bogus wars. War is a racket. It always has been. Just like our banking system!
The freedom and opportunity the web represent can't last long. If it does, many of the above concerns will try to regulate it or (rightfully) find themselves irrelevant.
Where do you place your bets? And who is betting against you?