New AdWords Classifications
"Google will use its predictive modelling to know what words are not going to do well and give them more time to run. Instead of the 1,000 impressions and you're out... this new system may allow terms as much as 10 times more access to eyeballs." ... coming in November
Google Toolbar is Evil?
DaveN and many other technically gifted aggressive SEOs do not like using the Google Toolbar.
Recent Google Lectures
Gary Price found a recent Google lecture and made a post linking to it and a few other recent lectures.
MSN Search / MSN Desktop Search
coming soon... Did anyone else notice MSN Search being advertised on AdSense? Here is a piece of one of the visuals I saw a few days back: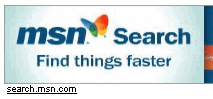 New to the site? Join for Free and get over $300 of free SEO software.



Once you set up your free account you can comment on our blog, and you are eligible to receive our search engine success SEO newsletter.
Already have an account? Login to share your opinions.