Bing caused a big stink today when they unveiled Scroogled, a site that highlights how Google Shopping has went paid-inclusion only. A couple weeks ago Google announced that they would be taking their controvercial business model global, in spite of it being "a mess."
Nextag has long been critical of Google's shifts on the shopping search front. Are their complaints legitimate, or are they just whiners?
Data, More Reliable Than Spin
Nothing beats data, so lets start with that.
This is what Nextag's search exposure has done over the past few years, according to SearchMetrics.


If Google did that to any large & politically connected company, you can bet regulators would have already took action against Google, rather than currently negotiating with them.
What's more telling is how some other sites in the shopping search vertical have performed.
PriceGrabber, another player in the shopping search market, has also slowly drifted downward (though at a much slower rate).


One of the few shopping search engines that has seen a big lift over this time period was Yahoo! Shopping.



What is interesting about that rise is that Yahoo! outsourced substantially all of their shopping search product to PriceGrabber.
A Self-Destructing Market Dynamic
The above creates an interesting market dynamic...
the long established market leader can wither on the vine for being too focused on their niche market & not broadening out in ways that increase brand awareness
a larger site with loads of usage data can outsource the vertical and win based on the bleed of usage data across services & the ability to cross promote the site
the company investing in creating the architecture & baseline system that powers other sites continues to slide due to limited brand & a larger entity gets to displace the data source
Google then directly enters the market, further displacing some of the vertical players

The above puts Nextag's slide in perspective, but the problem is that they still have fixed costs to manage if they are going to maintain their editorial quality. Google can hand out badges for people willing to improve their product for free or give searchers a "Click any fact to locate it on the web. Click Wrong? to report a problem" but others who operated with such loose editorial standards would likely be labeled as a spammer of one stripe or another.
Scrape-N-Displace
Most businesses have to earn the right to have exposure. They have to compete in the ecosystem, built awareness & so on. But Google can come in from the top of the market with an inferior product, displace the competition, economically starve them & eventually create a competitive product over time through a combination of incremental editorial improvements and gutting the traffic & cash flow to competing sites.
"The difference between life and death is remarkably small. And it's not until you face it directly that you realize your own mortality." - Dustin Curtis
The above quote is every bit as much true for businesses as it is for people. Nothing more than a threat of a potential entry into a market can cut off the flow of investment & paralyze businesses in fear.
If you have stuff behind a paywall or pre-roll ads you might have "poor user experience metrics" that get you hit by Panda.
If you make your information semi-accessible to Googlebot you might get hit by Panda for having too much similar content.
If you are not YouTube & you have a bunch of stolen content on your site you might get hit by a copyright penalty.
If you leave your information fully accessible publicly you get to die by scrape-n-displace.
If you are more clever about information presentation perhaps you get a hand penlty for cloaking.
None of those is a particularly desirable way to have your business die.
Editorial Integrity
In addition to having a non-comprehensive database, Google Shopping also suffers from the problem of line extension (who buys video games from Staples?).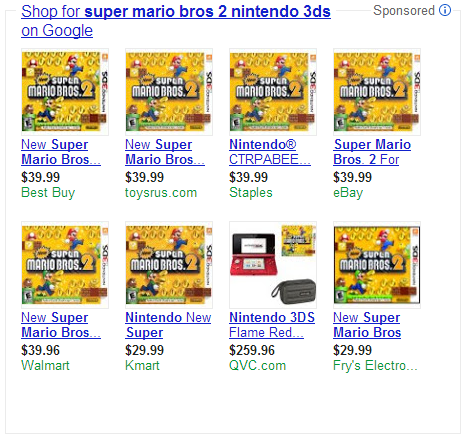 The bigger issue is that issue of general editorial integrity.
Are products in stock? Sometimes no.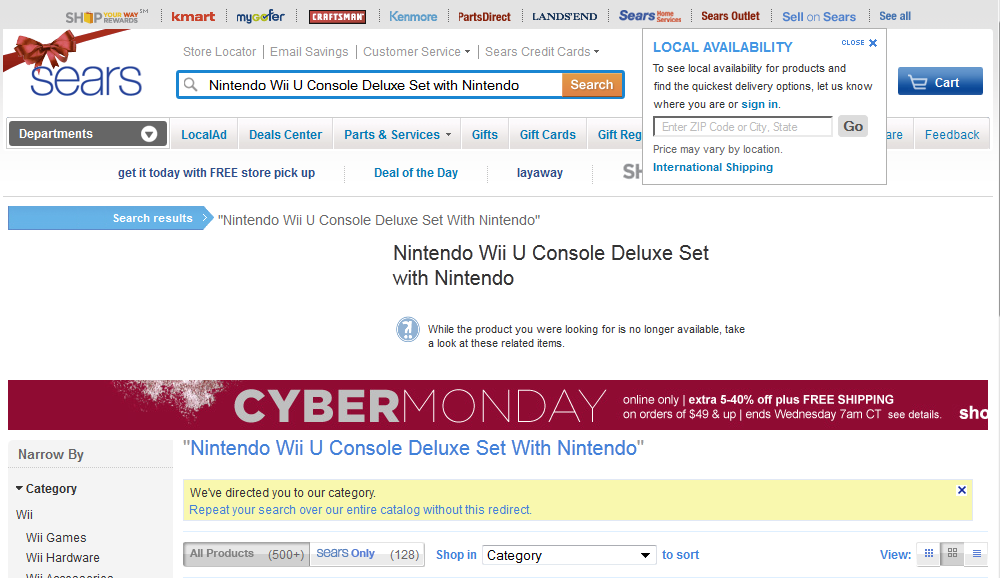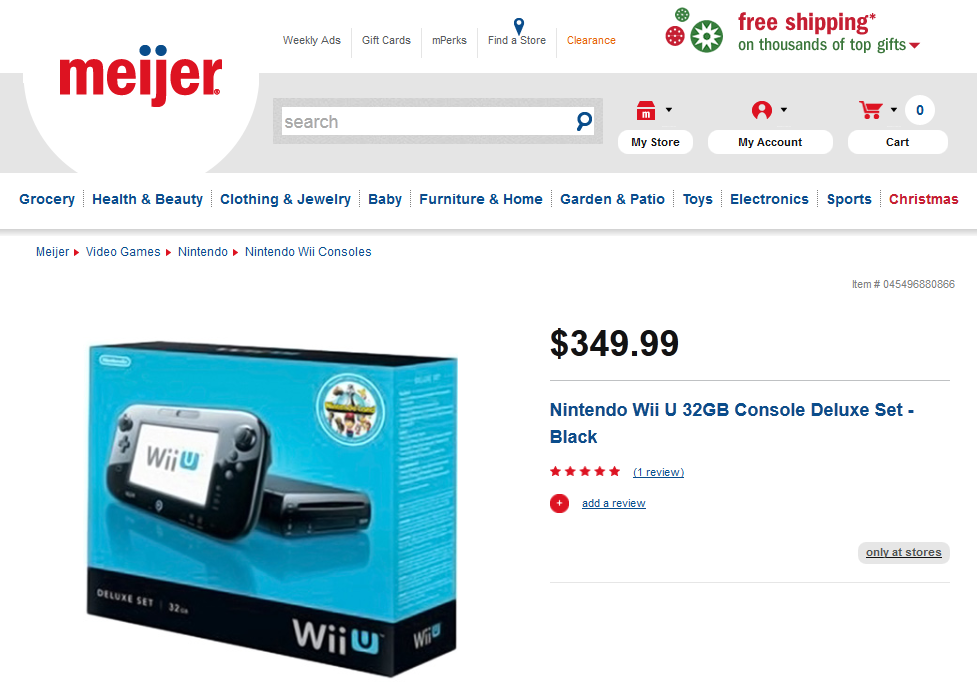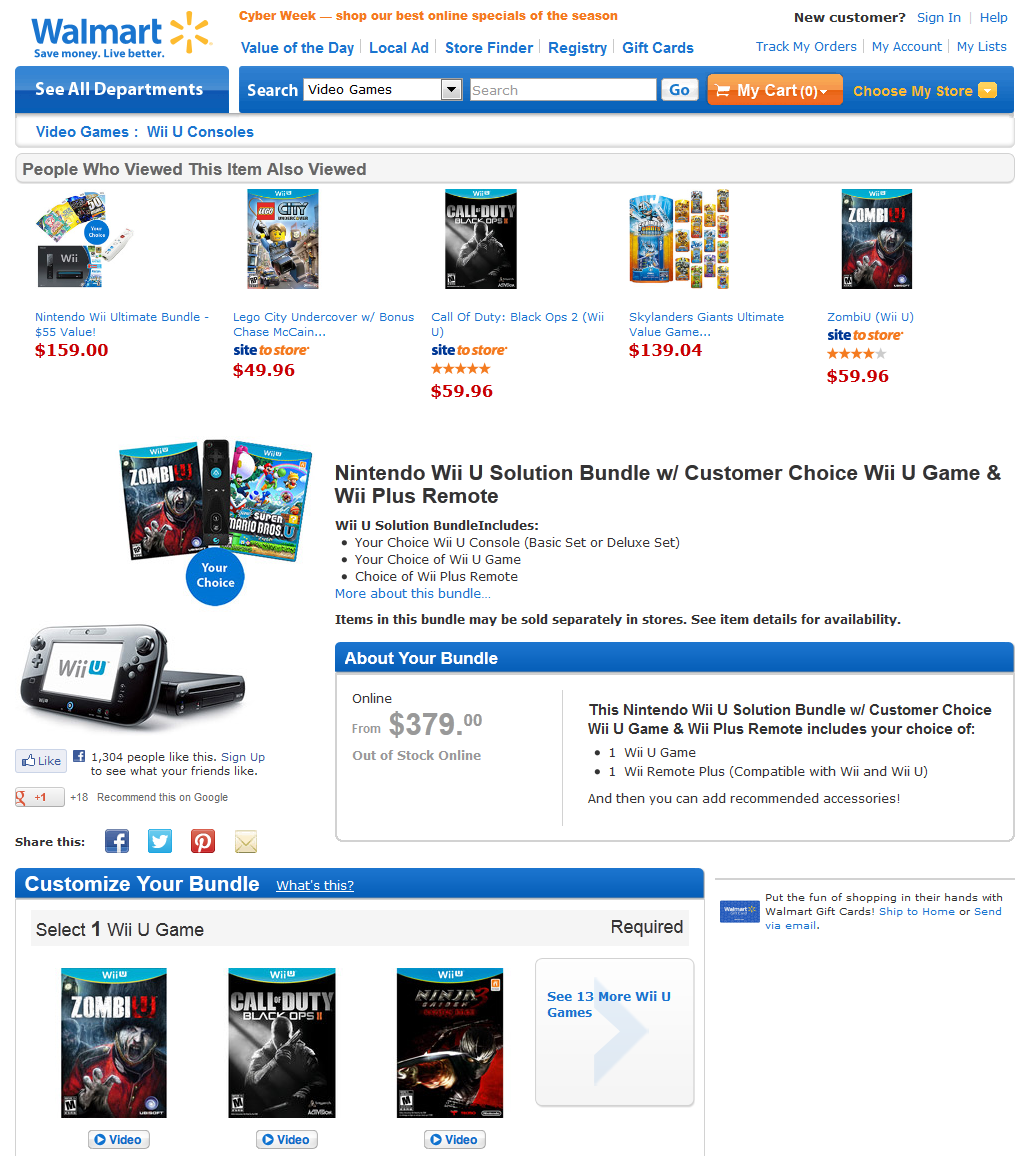 It is also worth mentioning that some sites with "no product available" like Target or Toys R Us might also carry further Google AdSense ads.
Then there are also issues with things like ads that optimize for CTR which end up promoting things like software piracy or the academic versions of software (while lowering the perceived value of the software).
Over the past couple years Google has whacked loads of small ecommerce sites & the general justification is that they don't add enough that is unique, and that they don't deserve to rank as their inventory is unneeded duplication of Amazon & eBay. Many of these small businesses carry inventory and will be driven into insolvency by the sharp shifts in traffic. And while a small store is unneeded duplication, Google still allows syndicated press releases to rank great (and once again SEOs get blamed for Google being Google - see the quote-as-headline here).
Let's presume Google's anti-small business bias is legitimate & look at Google Shopping to see how well they performed in terms of providing a value add editorial function.
A couple days ago I was looking for a product that is somewhat hard to find due to seasonal shopping. It is often available at double or triple retail on sites like eBay, but Google Shopping helped me locate a smaller site that had it available at retail price. Good deal for me & maybe I was wong about Google.
... then again ...
The site they sent me to had the following characteristics:
URL - not EMD & not a brand, broken English combination
logo - looks like I designed it AND like I was in a rush when I did it
about us page - no real information, no contact information (on an ecommerce site!!!), just some obscure stuff about "direct connection with China" & mention of business being 15 years old and having great success
age - domain is barely a year old & privacy registered
inbound links - none
product price - lower than everywhere else
product level page content - no reviews, thin scraped editorial, editorial repeats itself to fill up more space, 3 adsense blocks in the content area of the page

no reviews, thin scraped editorial, editorial repeats itself to fill up more space, 3 adsense blocks in the content area of the page
no reviews, thin scraped editorial, editorial repeats itself to fill up more space, 3 adsense blocks in the content area of the page
no reviews, thin scraped editorial, editorial repeats itself to fill up more space, 3 adsense blocks in the content area of the page
the above repetition is to point out the absurdity of the formatting of the "content" of said page

site search - yet again the adsense feed, searching for the product landing page that was in Google Shopping I get no results (so outside of paid inclusion & front/center placement, Google doesn't even feel this site is worth wasting the resources to index)
checkout - requires account registration, includes captcha that never matches, hoping you will get frustrated & go back to earlier pages and click an ad

It actually took me a few minutes to figure it out, but the site was designed to look like a phishing site, with intent that perhaps you will click on an ad rather than trying to complete a purchase. The forced registration will eat your email & who knows what they will do with it, but you can never complete your purchase, making the site a complete waste of time.
Looking at the above spam site with some help of tools like NetComber it was apparent that this "merchant" also ran all sorts of scraper sites driven on scraping content from Yahoo! Answers & similar, with sites about Spanish + finance + health + shoes + hedge funds.
It is easy to make complaints about Nextag being a less than perfect user experience. But it is hard to argue that Google is any better. And when other companies have editorial costs that Google lacks (and the other companies would be labeled as spammers if they behaved like Google) over time many competing sites will die off due to the embedded cost structure advantages. Amazon has enoug scale that people are willing to bypass Google's click circus & go directly to Amazon, but most other ecommerce players don't. The rest are largely forced to pay Google's rising rents until they can no longer afford to, then they just disappear.
Bonus Prize: Are You Up to The Google Shopping Test?
The first person who successfully solves this captcha wins a free month membership to our site.