The Free Credit Report ads have caused such user confusion in the marketplace that the government has felt the need to create a spoof site with $100,000 worth of amateur video to mock Free Credit Report.com. And yet even if you search for the official website [Annual Credit Report] to this very day Google is cashing in showing 3 PPC ads ABOVE the organic search results for that NAVIGATIONAL search query...sorta like how they were cashing in on eBay's brand recently.
For [Annual Credit Report] the government has stepped in and said what is right for the consumer. But the Google AdWords team has different ideas. "Increasing user choice" means the official site at best ranks #4.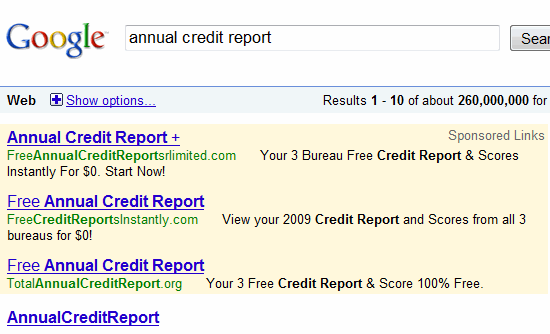 It doesn't matter if you are a white knight SEO. This free credit report link doesn't matter if Google is going to put scammy AdWords ads at the top of the search results where most searchers think those are the most important results.
Google is cashing in on searcher ignorance and misplaced trust, at least while they can - just like other scammers pushing reverse billing fraud would do.
Search competition is important, because without it, consumers lose out on choice. You can see the absurdity of Google's position when they claimed sitelinks on AdWords ads increase user choice. Giving the most dominant players in any market more share of voice only aims to consolidate the marketplace further. If they wanted to increase user choice they would show more result diversity on the page and/or more search results on the page, not just show you more from a big spending market leader.
When you think about Google moving into lead generation and becoming an affiliate play you can see they have massive upside potential. Why? They are the default way most people search the web. So even if someone is searching on a brand and making a navigational search, Google still gets a bite on the apple and shows up as the source of conversion. Don't pay Google their tithing? Too bad, they will sell your brand to leading competitors.
And they are aiming to extend out with this strategy. Not only did the Google Chrome browser replace the address bar with a search box, but Google has been pulling back on data they put in some search results to drive a second click onto other Google properties.
Here is my favorite local Indian restaurant on Google

Up until this past week that listing had a phone number on it. Now it doesn't. I am required to make 1 more click so Google can show their large local search marketplace and their dominance over local/maps search.
In the short run Google makes it easy to embed themselves in your business. Analytics and testing are free. They provide services at a loss to gather data and destroy marketplace competition - exerting their monopoly power without being called a monopoly. Cell phone providers get the Android operating system for less than free. Ecommerce players get a new commerce site search option. Content players get an enhanced Friend Connect. In the short run they make life easier and margins thicker. But after competition is removed from the marketplace look for Google to claw back on partners - just like they did to LendingTree, domainers, and anyone with a brand or a local business listing.
BEWARE: Information wants to be free. Attention wants to be monetized. After net-neutrality will we need a Google neutrality?