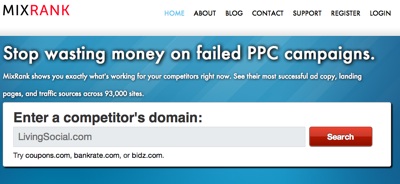 Not many spy tools out there do what MixRank does. MixRank is a tool that gives you the ability to peek into the contextual and display ad campaigns of sites advertising with Google AdSense.
Uncovering successful advertising on the AdSense network can give you all sorts of ideas on how to increase your site's profitability.
Not only can you uncover profitable AdSense ad campaigns but you can pick off AdSense publisher sites and leverage competitive research data off of those domains to help with your SEO campaign.
With MixRank own your competitors in the following ways:
Obtain the domains your competitor's ads are served on
Swipe your competitor's ad copy
Watch ad trends to target your competition's most profitable campaigns and combinations of ads
Another great thing about MixRank is how easy to use it is. Let's go step by step and see how powerful MixRank really is!
Step 1: Pick a Competitor to Research
MixRank makes is super easy to get started. Just start typing in a domain name and you'll see a suggested list of names along with the amount of ads available:

Here we are going to take a look at Groupon as we consider building a niche deals site. Keep in mind that MixRank is currently accepted free accounts while in beta so over time we can expect their portfolio to grow and grow.
MixRank breaks their tool down into 2 core parts:
Ads (text and display)
Traffic Sources
We'll cover all the options for both parts of the MixRank tool in the following sections.
Step 2: Working with Ad Data (Text and Display)
Let's start with text ad options. So with text ads you have 3 areas to look at:
Active Ads
Ad Reach
Best Performers
Here's a look at the interface:

As you can see, it is really simple to switch between different ad research options. Also, you can export all the results at any time.
The image above is for "Active Ads". In the active ads tab you'll get the following data points (all sortable):
Publishers - maximum number of AdSense publishers running that particular ad
Last Seen - last known date the ad was seen by MixRank
Frequency - amount of publisher sites on which the ad appeared
Avg. Position - average position of the ad inside AdSense blocks
Here you can export the data to manipulate in excel or do some sorting inside of MixRank to find the ads earning the lion's share of the traffic.
The Ad Reach tab shows up to 4 ads at a time and compares the publisher trends for those ads. To spread the love around let's look at a couple ads from LivingSocial.Com: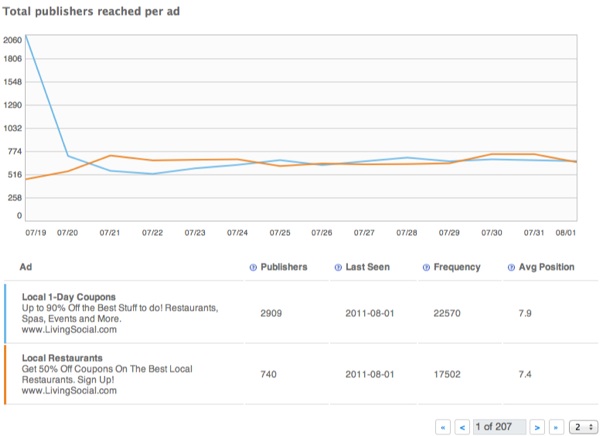 Here you can see that one ad crashed and fell more in line with an existing ad. You can compare up to 4 ads at once to get an idea of what kind of ad copy is or might be working best for this advertiser.
The Best Performers section compares, again, up to 4 ads at a time (use the arrows to move on to the next set) which have recently taken off across the network.
Needless to say, this report can give you ideas for new ad approaches and maybe even new products/markets to consider advertising on.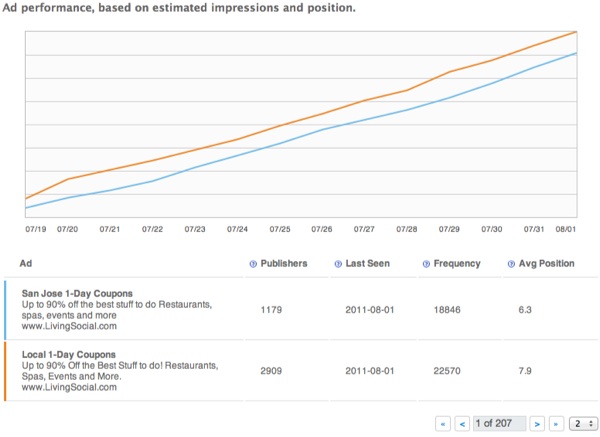 If the advertiser is running Banner Ads you can see those as well:

With Banner Ads, MixRank groups them by size and you can see all of them by clicking on the appropriate size link.
When you click on a banner ad you'll see this:

This is a good way to get ideas on which banner ads are sticking for your competitors. Also, it's a great way to get ideas of how to design your ads too. A little inspiration goes a long way :)
So that's how you work with the Ads option inside of MixRank. One thing I dig about MixRank is that it's so easy to use, the data is easy to understand and work with, and it does its intended job very well (ok, ok so 3 things!)
Step 3: Traffic Sources
Now that you have an idea of what type of text ads and banner ads are effective for your competition, it's time to move into what sites are likely the most profitable to advertise on.
MixRank gives you the following options with traffic sources:
Traffic Sources - domains being advertised on, last date when the ad was seen, average ad position and number of days seen over the last month
Reach - total number of publishers the advertiser is running ads on

The traffic sources tab shows:
Uniques - estimated number of unique visitors based on search traffic estimates
Last Seen - last date MixRank saw the ad
Days Seen - number of days over the last month MixRank saw the ad
Average Position - average position in the AdSense Block
A winning combination here would be recent last seen dates and a high number under the Days Seen category. This would be the advertiser has been and is running ads on the domain, indicating that it may be a profitable spot for them to be in.
You can also pull these domains into a competitive research tool like our Competitive Research Tool, SemRush, SpyFu, or KeywordSpy and find potential keywords you can add to your own SEO campaign.
Another tip here would be to target these domains as possible link acquisition targets for your link building campaign.
The Reach option is pretty self-explanatory; it shows the total number of publishers the advertiser is showing up on: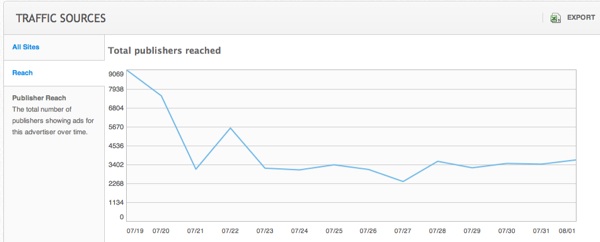 Another good way to evaluate traffic sources is to view the average position (remember, all the metrics are sortable). A high average position will confirm that the ads are pretty well targeted to the content of that particular domain.
Combine the high average position with Days Seen/Last Seen and you've got some well-targeted publishers. You can export all the data to excel and do multiple filters to bring the cream of crop to the top of your ad campaign planning.
MixRank is Looking Good
It's early on for MixRank but so far I like what I see. The tool can do so many things for your content network advertising, media buy planning, link building campaigns, and SEO campaigns that I feel it's an absolute no-brainer to sign up for right now.
For now it's *free* during their beta testing. Currently they are tracking about 90,000 sites so it's still fairly robust for being a new tool.