Bing's Webmaster Tools recently got a nice refresh and update. There is a lot you can do inside of the tools so we figured you'd want to know all about it :)
Also, we've included some free advertising coupons at the end of this guide to help get you started.
Account Dashboard
Bing's webmaster tools are fairly easy to use and the interface is quite clean. On the main account dashboard page you can select whatever site you want, in your account, and see quick stats on:
Clicks
Impressions
Pages Indexed
Pages Crawled
The percentages account for the net gain or loss from the week. For more specific site data, and more historical numbers, you would want to get into the site's dashboard which we will cover in the next section.
This initial account dashboard shows all the sites you have in your account and the associated metrics. The data is from a test site I created awhile back and kind of forgot about until they updated the tools over at Bing.

From this page you can:
Add sites
Remove Sites
Export data
Click on a site to get to its dashboard
See any account specific messages from Bing
A snapshot of all your sites in one place is a good way to immediately spot any recent issues with ranking, indexing, or crawling on your sites.
Once you are ready to move on into a specific site, just click on the site name under the heading "Site". When you click the site's name, you'll be brought to the site's dashboard.
Site Dashboard
Each site you have in Bing's webmaster tools has its own dashboard (not to be confused with the account dashboard). Once you get into a site's dashboard you see the data we talked about above at the top of the dashboard and then a 30 glimpse of the following metrics for the selected site:
Traffic summary
Index summary
Crawl summary (and a separate chart for crawl errors)
Here is what my test site's dashboard looks like: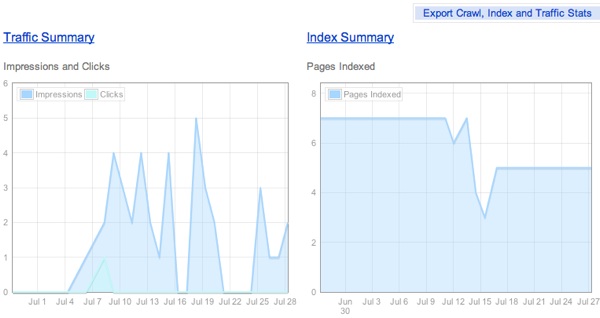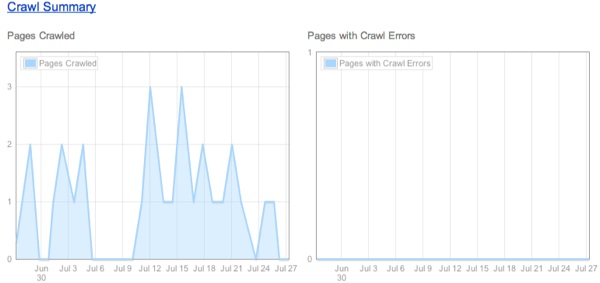 For established sites with steady traffic (if for tracking ongoing campaigns) these 30 day snapshots are good ways for you to get a read on recent site activity and/or issues with traffic, crawling, indexing.
These types of reports can also be very helpful to watch when you are doing site re-structuring or complete site overhauls (changing CMS, url structure, and so on).
Each section has its own place within your site's webmaster tool profile. You can get more information on traffic, indexing, and crawling just by clicking the approriate link and we'll discuss each of these sections below.
Traffic Summary
Inside the Traffic Summary tab you have 2 options:
Traffic Summary - 6 month history of traffic and search query performance
Page Summary - Same as Traffic Summary except the data is broken out by page with the option to click through to the page's search query report
On this page the second chart listed is one that you can slide back and forth to shorten or lengthen the history of the data you are looking at.
The lines are color coded to show overall impressions versus clicks. Bing does present the data in a clean and easy to understand way inside of their webmaster tool reports.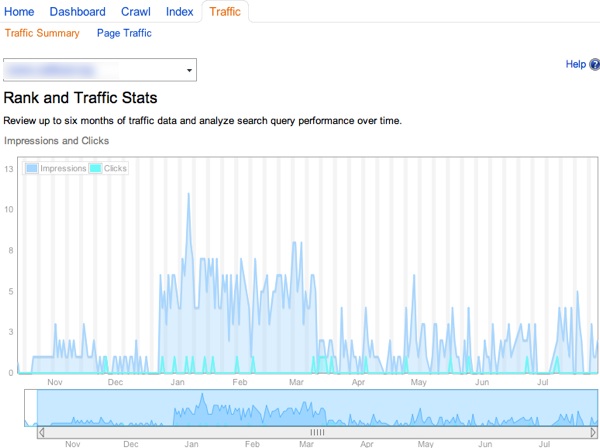 The second chart on the traffic summary page shows search query performance. You'll see keywords you received traffic for as well as ones that you gained impressions (but no clicks) for:

This report is in conjunction with the first report of overall traffic/impressions from a time view. If you shorten the report this report will adjust as well.
You'll see the following data points in this report (all sortable and exportable):
Keyword
Impressions
Clicks
CTR
The Average Position your listing was in when the impression was gained
Average Position of your listing when a click was earned
This is a good way to evaluate how you might be able to increase your CTR. By showing you impressions versus clicks (the average positions) you can guesstimate on which keywords could use a bit of freshening up on the title tag and meta description front.
Page Traffic Report
The Page Traffic report shows the same charts as the Traffic Summary page with the exception of the bottom chart, which shows page level metrics. Here's a snippet from yesterday:

You can click whatever page you want and get the following keyword summary, similar to the initial chart on the Traffic Summary page but on a per page level on whatever time frame you selected (the above was a day so when you click through, that date carries into this report):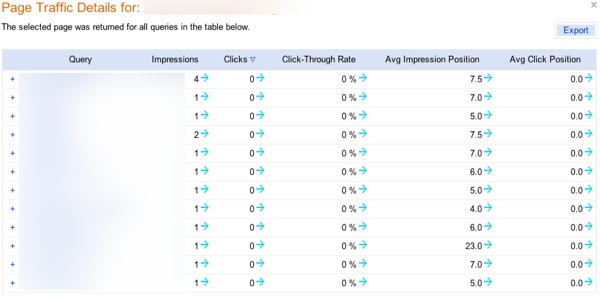 You can do the same thing here with average impression and average click position (and CTR) to evaluate pages which can use a refresh on title tags and meta descriptions for possible CTR upswings.
Another tip here would be to export the queries and see if there is potential to build out the page's category further with content targeted to specific queries.
So if a query is "chocolate truffles" and you are seeing some data for "white chocolate truffles" you might want to consider building out this section to include content specifically for those related but separate queries (if you haven't already)
Index Summary
The index summary page shows the index rate of your selected site, in Bing, over (roughly) the last 6 months.
The index summary chart is similar to the other charts in Bing's webmaster tools, which all the interactive sliding parameters that let you expand the report out over 6 months or drill down into a really tight, specific time frame.
Index Explorer
Bing's index explorer is a helpful tool that can alert you to HTTP code problems or confirm correct implementation of things like 301 directs.
The interface is easy to use: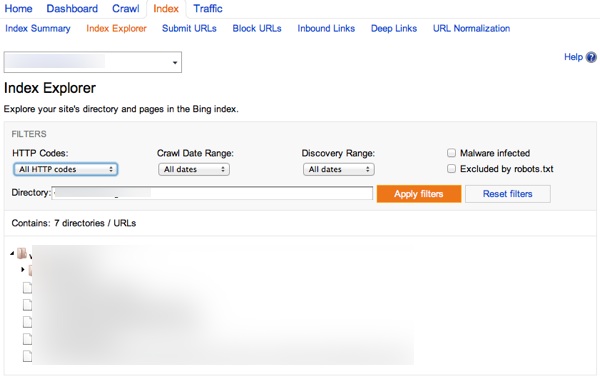 With the index explorer you can check the following HTTP status codes that Bing has discovered over your selected time period (all time, last week, last month) and over your selected crawl range (all time, last week, last 2 weeks, last 3 weeks):
All HTTP codes
HTTP codes 200-299
HTTP codes 300
HTTP code 301
HTTP code 302
HTTP codes 400-499
HTTP codes 500-599
All other HTTP codes
You can also search for pages where the Bing bot has identified malware as being present as well as choose to show pages that you've excluded in your robots.txt file:

Below the options listed above, are where the pages that meet your filter requirements will show. It breaks the site down into categories and pages. When you hover over a page you'll see the following details:

If you click on a page you can also see a couple of additional data points:
Document size
Inbound links to the page
Block cache and block URL options for that particular page
Using this in conjunction with internal link checking tools like Xenu Link Sleuth (win) or Integrity (mac) can really help you get a good peek into the potential on-page technical issues of your site.
A couple of tools that give you valuable data about your on-page optimization are our Website Health Check tool (web based) and Screaming Frog's SEO Spider (mac/win).
I hope Bing adds some export functionality here, as they do in other areas of their webmaster tools, but the filtering options are solid enough to drill down into key issues for now.
Submit URLs
So this is a pretty straightforward option. Bing gives you the option to submit URLs (can be ones that are or are not in their index now) that you would like to request a recrawl or an initial crawl on.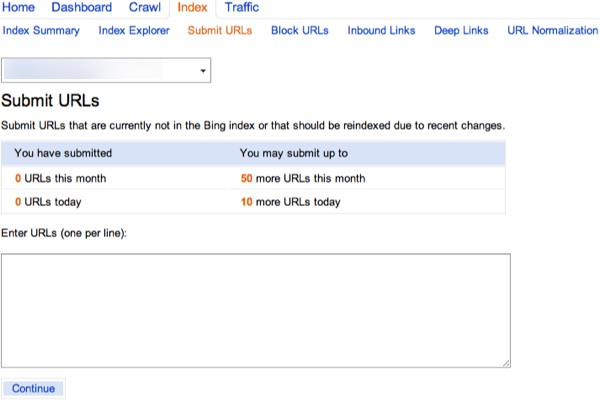 The URL allowance is pretty limited so it's best to save these requests for more important pages on your site (their crawl section has a spot for sitemaps).
Block URLs
You can also select pages, directories, or an entire site to block from indexing and/or Bing's cache: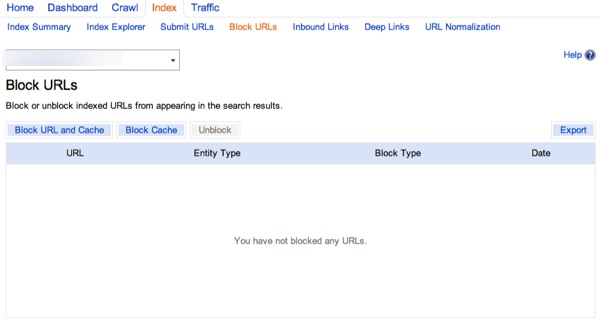 One area for improvement here, I think, is to be able to input or upload individual pages. As of now, you can only input 1 page per click, or select a directory to block (site.com/directory/), or block the entire site.
They do offer export functionality which is helpful when doing site audits, but a way to mass upload or input URLs would be nice (though you can tackle some of this with their URL normalization feature that will cover below).
Inbound Links
Bing will also show you the links they know about (in their index) that point to specific pages on your site.
Much like the charts above, you are presented with a historical chart which you can adjust with the slider below it (just like the Rank and Traffic stats shown prior).
Below those charts Bing will show you the pages on your site which have external inlinks and how many links they know of per page.
Once you click on a page, you'll see the linking URLs and the corresponding anchor text:

You can export page-specific links as well as the overall breakdown of pages with links and how many links those pages have. The export functions offer a nice way to get a high-level view of the overall link depth of your site.
While it's still a recommend practice to invest in a paid link research tool, supplementing your paid research by getting free link data from search engines is a no-brainer :)
Deep Links
Bing's Deep links are basically the same as Google Sitelinks. If you have been blessed by Bing, you'll see them in the Deep Links section of your site.

Bing's official statement on Deep Links is:
These Deep Links are assigned to websites which are seen by Bing to be "authoritative" on the topic which they target. The best way to influence whether you are chosen to have Deep Links displayed for your website is to create unique, compelling content that pleases searchers. Sites receiving this feature do an excellent job of delivering what visitors want, and keep visitors coming back time and again.
URL Normalization
If your URLs encounter parameter issues that can lead to duplicate content (e-commerce sites, CMS functionality, etc) then you might want to take a look at Bing's URL normalization feature.
Google offers a similar tool called Parameter Handling (great write up on this from Vanessa Fox)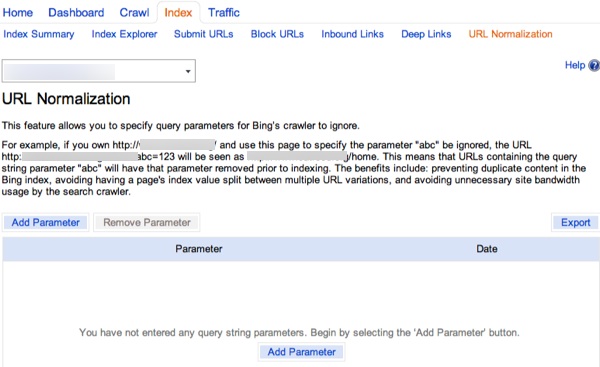 This is a section where you need to be really careful as to not unintentionally boot out relevant URLs and content from the site.
Combining this with use of the canonical tag (which Bing uses as a hint) is your best bet to ensure that there are as few duplicate content, link juice splitting issues on your site (with Bing).
Again, make sure you or your programmer(s) know what you or they are doing so you do not do more harm than good.
With Bing, you basically just add whatever parameter you want to ignore so make sure that parameter or parameters do not crossover to other areas of your site that you would rather not have Bing ignore: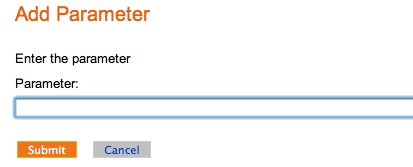 You can export all your inputted parameters as well.
Crawl Summary
The Crawl Summary section shows similar charts to other category charts inside Bing's Webmaster Tools on the landing page (6 month charting with interactive timeframe filtering).
You can check total number of pages crawled as well as pages with crawl errors off the landing page for this category (no exporting unfortunately) and dig into specific sections like:
Crawl Settings
Crawl Details
Sitemaps
Crawl Settings
Bing let's you set up custom crawl rates on a per site basis: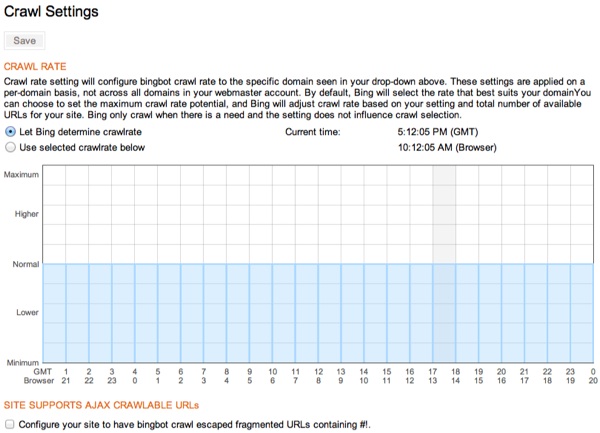 You may have situations where a custom crawl rate might make sense:
You want the bot to visit off-peak hours rather than when customers are visiting
You might be running special promotions or season promotions at specific times on an e-commerce site and want to limit bandwidth usage to visitors rather than Bing's bot
You might be doing a live stream or interview of some sort, and are expecting large amounts of traffic
Maybe you are doing some heavy content promotion across the web and social media and you want to avoid having any site load issues
You can use the timeframes given to line up with your server's location to make sure you are hitting the hours correctly (base time on the chart is GMT time).
You can also allow for crawling of AJAX crawlable URLs if so you choose. They recently rolled this out and their help section is weak on this topic so it's unclear on exactly how they'll handle it (outside of #!) but it's an option nonetheless.
Crawl Details
Bing's Crawl Details page gives you an updated overview of what's covered in the Crawl Summary. This feature doesn't require you to do any filtering to find issues, you can simply see if any of your pages have notable HTTP information, might be infected with Malware, and which ones are excluded by robots.txt.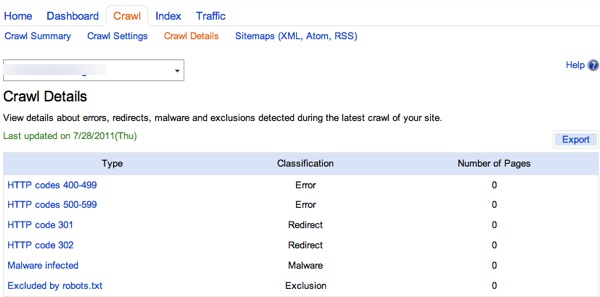 If you have any pages pop up, just click on the corresponding link to the left and a list of exportable pages will pop up.
Another helpful, exportable report for site auditing purposes.
Sitemaps (XML, Atom, RSS)
This is where you'd submit your sitemap to Bing. For XML sitemaps, double check your submission with the Sitemaps.Org protocol
For a site that's going to be a fairly static site (like this one) I'd pay more attention to proper site architecture rather than relying on a sitemap, I might even skip the sitemap unless I was using Wordpress where you could just have it auto-generate and update with new posts and such.

You can add, remove, and resubmit site maps as well as see the last date crawled, last date submitted, and URLs submitted.
Bing Webmaster Resources
Bing's recent update to their Webmaster Tools added a good amount of value to their reporting. Here are some additional resources to help you get acquainted to Bing.
Free Microsoft Advertising Coupon
While you are over at Bing, signing up for Webmaster Tools, feel free to use these Microsoft AdCenter coupons for your advertising account :)