Growing search marketshare is hard work. At a recent investor conference Marissa Mayer stated that: "The key pieces are around the underpinnings of the alliance themselves. The point is, we collectively want to grow share, rather than trading share with each other."
Part of the reason Yahoo! & Bing struggle to gain marketshare is Google's default search placement payments to Mozilla and Apple. If the associated browsers have nearly 1/3 the market & Chrome is another 1/3 of the market then it requires Yahoo! or Bing to be vastly better than Google to break the Google habit + default search placement purchases.
Danny reported some interesting comments from Nikesh Arora:
half of those billions of queries it handles comes from Google partners, rather than searches at Google directly.
Arora also said that he expects about 50% of advertising to move online in the next three to five years.
he just said ad team looks at ways to make ads not look like ads. I think he meant that positively, like content you want.
A friend sent me a screenshot where he was surprised how similar the results looked between Bing & Google.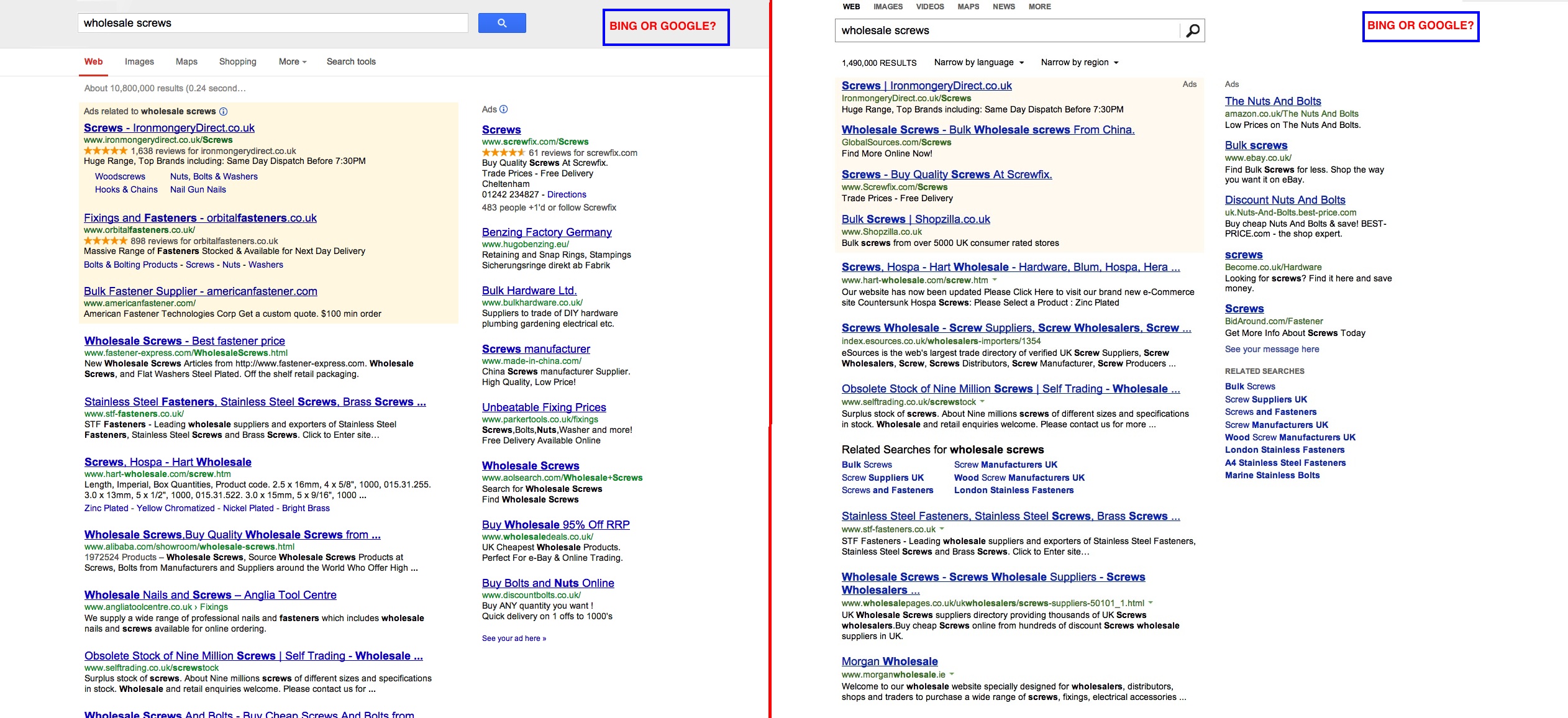 If Bing looks too different it feels out of place, if it looks to similar it doesn't feel memorable. And if Google is optimized for revenue generation then Bing is going to have a fairly similar look & feel to their results if they want to earn enough to bid on partnerships.
Another factor helping Google maintain their dominance in search marketshare is the shift of search query mix to mobile, where Google has a 95.8% marketshare.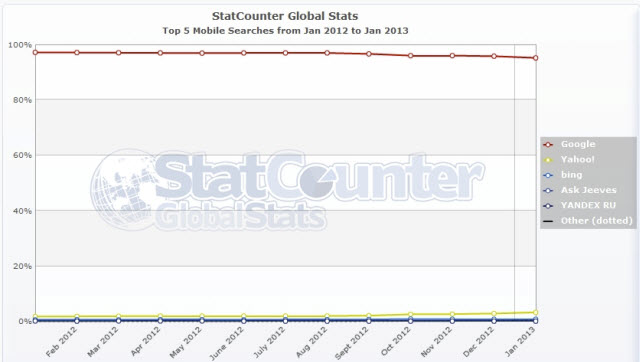 Mobile search has a significantly higher CTR than desktop search, due in large part to there being less screen real estate. By the end of this year tablets will likely account for 20% of Google's search ad clicks & drive $5 billion in ad revenues. Add in mobile phones with tablets & mobile search will drive 1/3 of paid search clicks by the end of this year.
With mobile becoming such a huge share of search clicks Google is forcing advertisers into buying all platforms with their ad purchase via their enhanced AdWords campaigns. Google builds off that sort of dominance & Yahoo! is only making about $125 million a year in total revenue from Yahoo!'s mobile traffic.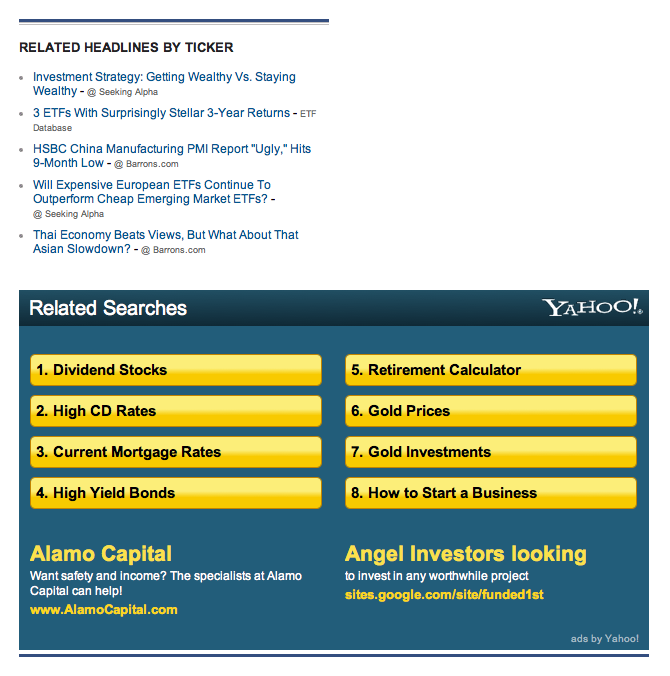 In spite of losing share on browser defaults & mobile, Yahoo! managed to grow their search ad clicks 11% year over year. How was Yahoo! able to do that? In part by quietly dialing up on search arbitrage. They have long had a "trending now" box on their homepage, but over the past year they have dialed up on ads in their news, finance & sports sections that are linked to search queries. Some of these ad units are in the sidebar & some are inline with the articles.
Yahoo! also buys ads on some smaller ad networks & sends those through to a search result with almost no organic results.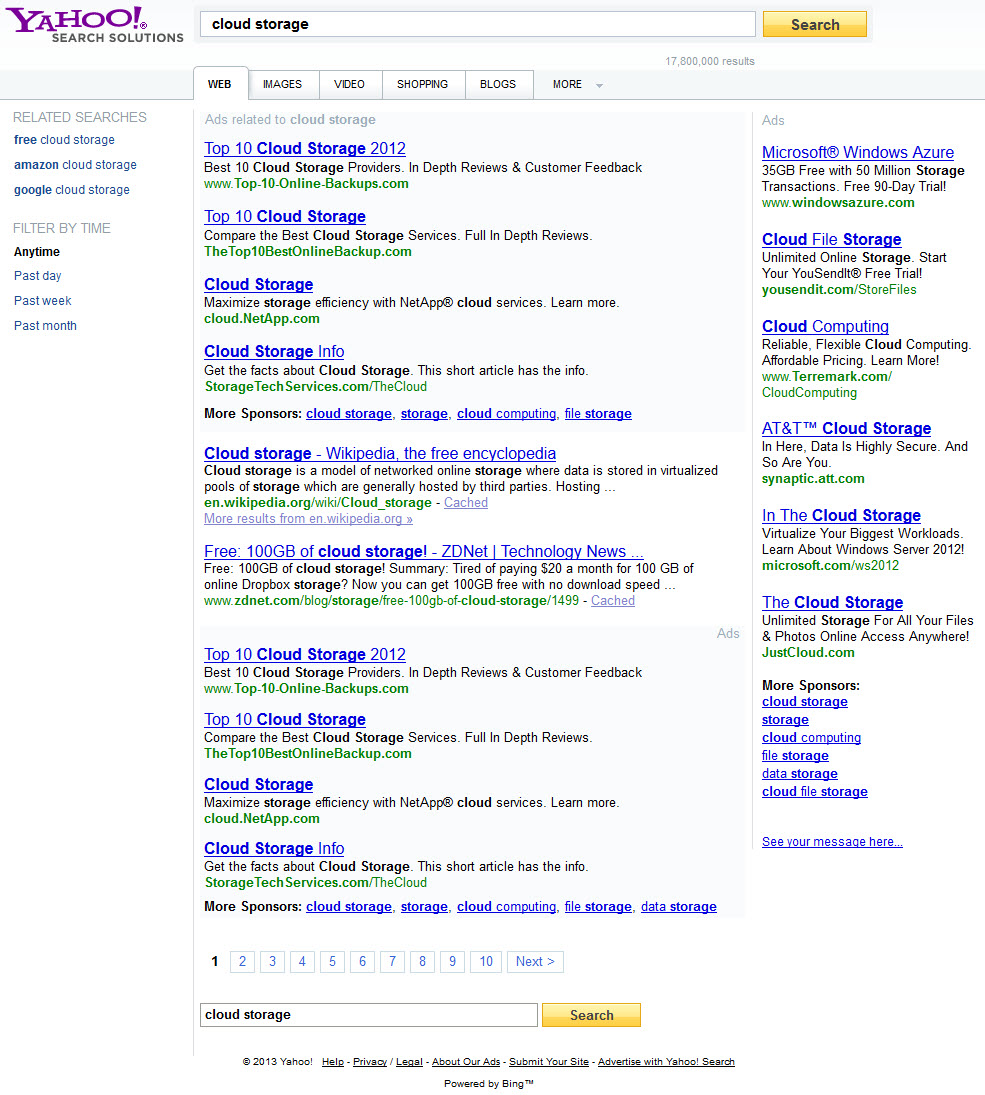 Yahoo! has had a long history of search arbitrage, but they typically did it through a partner network which lowered click value. That was part of what lowered their click prices & made them sign the deal with Microsoft (you couldn't even opt out of Yahoo!'s partner syndication until after they signed the deal with Microsoft).

I recently saw the above ad for Bing which highlighted how they want to work with brands, but Bing still has a number of issues they are dealing with on the monetization front: tighter broad matching, smaller ad ecosystem, regional issues with ad targeting, and no serious effort to develop a contextual ad program open to the long tail of publishers. In spite of those issues, the Yahoo! / Bing ad network was finally starting to build a critical mass & Yahoo! responded by signing a deal to carry Google's contextual AdSense ads.
As Google continues to layer contextual search layers into mobile devices, launch their own physical stores, layer their social network into the search ecosystem, expand their venture investments, inserts themselves at an ISP level, shape the news, control a greater share of ad budget with programmatic bidding, control measurements of success, redefine words, scrape-n-displace publishers with the knowledge graph, de-fund competitors, & hyper-target ads at users, their leverage & market dominance will only grow.
Google is great at growing the search pie.
Yahoo!, not so much. ;)