Most Yahoo! Search Ad Clicks Are NOT From Yahoo!
Danny Sullivan mentioned Efficient Frontier research which stated that 55% of Yahoo! Search ad clicks from last week were from syndication partners.

Arbitrage Clicks Have Less Value
If you normalize the above Yahoo! numbers you will see that search clicks convert nearly twice as well as their syndication traffic does.
Imagine how ugly those numbers were before both Google and Yahoo! aggressively fought click arbitrage. Yahoo! let advertisers take the shaft for years and years, and only started caring this year after Microsoft's offer to buy them out.
Comparing Google Click Prices to Yahoo! Search Marketing Click Prices
What type of clicks are likely to be driven by arbitrage and other syndication partners? Arbitragers are more likely to go after high value keywords, thus driving down their value. Buying a valuable keyword like "mortgage" on Google costs much more than it does on Yahoo!.
Google AdWords Average Estimated CPC: $15.58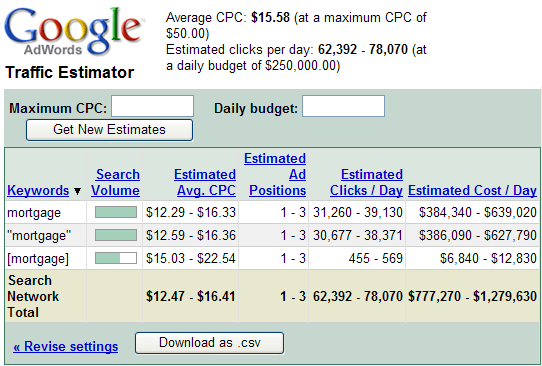 Yahoo! Search Marketing Average Estimated CPC: $4.85
From Yahoo! Search Marketing's keyword tool (Yahoo! Search Marketing account required)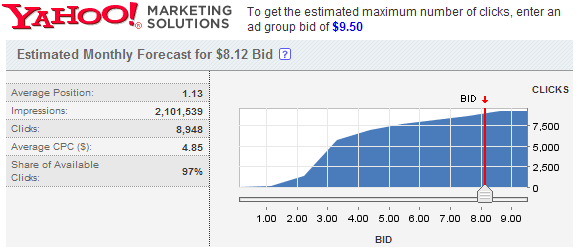 Default Pricing Options
I did not enter bid prices in the above tools. Those were the default bid prices the tools suggest for mortgage. The difference in click cost is an indication of how much Yahoo! is undermining the value of their own traffic to prop up syndication partners that funnel dirty traffic through the Yahoo! Search Marketing ad network. Even when I slid the Yahoo! tool all the way to the right it said the estimated click cost was $4.98 - less than 1/3 of Google's suggested price.
Yahoo! has to sell 3 mortgage clicks to make as much as Google makes from 1, but Yahoo! sells a couple of those clicks through syndication partners which keep most of the ad revenue.
Yahoo! Search Syndication Blows
Advertisers Are Forced Into Ad Syndication
Because Yahoo! makes it hard to opt out of search syndication they are essentially paying shoddy syndication partners 70 to 80% payout for arbitrage that builds volume, but destroys the value of Yahoo! Search.
Put another way, a Yahoo! click for mortgage is worth the same $15 that it costs on Google, but it goes for less than $5 because Yahoo! forces advertisers to eat junk traffic too. If Yahoo! virtually killed off their syndication partnerships (at least all but the cleanest ones) their short term revenue might decrease, but their click values & click prices would sharply increase.
Google AdWords to the Rescue?
Google is Not a Viable Solution
Yahoo! mentioned the possibility of syndicating Google ads if the Google ads paid more, but if they do that then Google gets Yahoo!'s best inventory while Yahoo! Search Marketing advertisers buy random mystery meat traffic. What exposure do you get from a Yahoo! Search Marketing ad account if your ads do not appear on Yahoo!? Sounds a lot like Looksmart to me.
If They Syndicate Google Ads, Yahoo! Search Marketing Becomes a Market for Lemons
Yahoo! already has less traffic and lower quality traffic than Google. If they outsource their best traffic to Google savvy marketers will quickly talk about how Yahoo! has low quality and you should just advertise with Google. The perception of market decay and market whispers will only accelerate the decay. When it comes time for Yahoo! to renew with Google they would have lost most of their leverage.
Once again Yahoo! may find a way to pump their short term numbers, but it is not a strategy they should try building their business around. The first step to restoring value to their search results should be making it easy for advertisers to opt out of ad syndication. If they syndicate Google AdWords most advertisers should just opt out of Yahoo! all-together.
What Should Yahoo! Search Marketing Do?