Google is desperate to promote Helpouts. I first realized this when I saw the following spam message in my email inbox.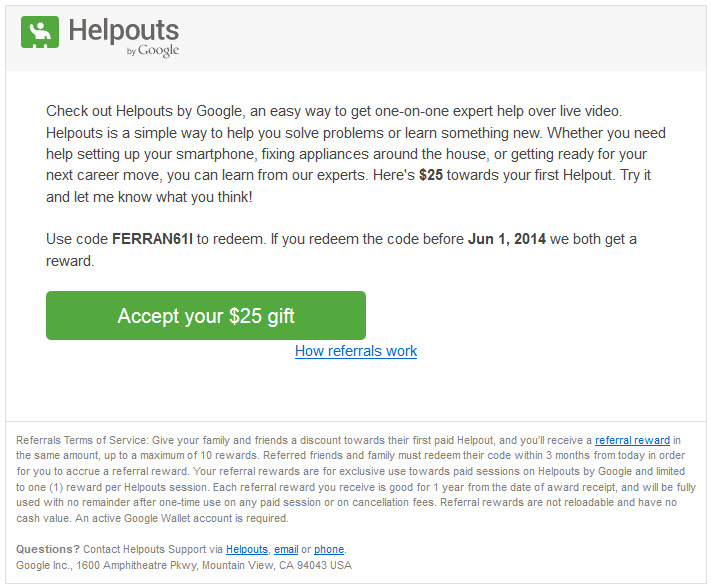 Shortly after a friend sent me a screenshot of a onebox promoting Helpouts in the SERPs.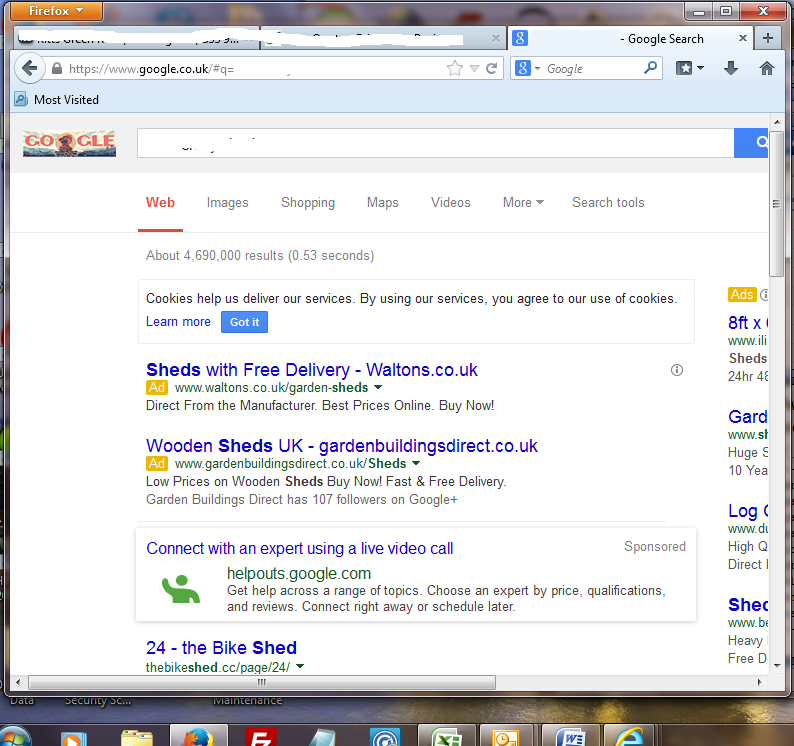 That's Google monopoly and those are Google's services. It is not like they are:
being anti-competitive
paying others to spam other websites
Let's slow down though. Maybe I am getting ahead of myself:
Google has its own remote technology support service similar to Mr. Gupta's called Google Helpouts. Mr. Gupta's complaint alleges Google may have been blocking his advertisements so Google Helpouts could get more customers.
Oh, and that first message looked like it could have been an affiliate link. Was it?
Hmm
Let me see
What do we have here?
Google Helpouts connects you to a variety of experts--from doctors, parenting experts, tutors, personal trainers, and more--over live video call. The Google Helpouts Ambassador Program is a unique opportunity to spread the word about Helpouts, earn money, and influence a new Google product--all on your own schedule.

As an Ambassador, you will:

Earn extra income–receive $25 for each friend you refer who takes their first paid Helpout, up to $1,000 per month for the first 4 months.
Give direct feedback and help shape a new Google product
Join a community of innovative Ambassadors around the country
Receive a Helpouts gift and the chance to win prizes
We all know HELPFUL hotel affiliate websites are spam, but maybe Google HELPouts affiliate marketing isn't spam.
After all, Google did promise to teach people how to do their affiliate marketing professionally: "We will provide you with an Ambassador Toolkit with tips and suggestions on creative ways you can spread the word. You are encouraged to get creative, be innovative, and utilize different networks (i.e. social media, word of mouth, groups & associations, blogs, etc.) to help you."
Of course the best way to lead is by example.
And lead they do.
They are highly inclusive in their approach.
@homosexualwentz Help is here! Use the code IFOUNDHELP for $20 off a 1-on-1 session w/ a trusted tech expert today: http://t.co/OtiePzjOIS— Helpouts by Google (@Helpouts) May 12, 2014
Check out this awesome Twitter usage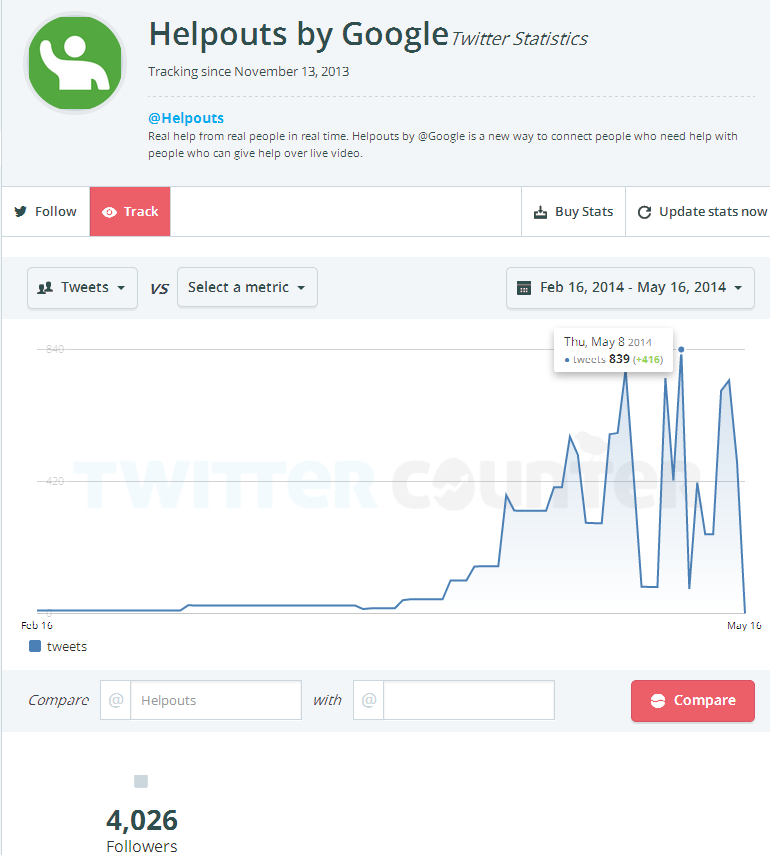 They've more Tweets in the last few months than I've made in 7 years. There are 1,440 minutes in a day, so it is quite an achievement to make over 800 Tweets in a day.
@Helpouts did google helpouts really just reply to a tweet of mine?— Emma Klinger (@Emma_Klinger) May 15, 2014
You and many many many many thousands of others, Emma.
Some minutes they are making 2 or 3 Tweets.
And with that sort of engagement & the Google brand name, surely they have built a strong following.
Uh, nope.
They are following over 500 people and have about 4,000 followers. And the 4,000 number is generous, as some of them are people who sell on that platform or are affiliates pushing it.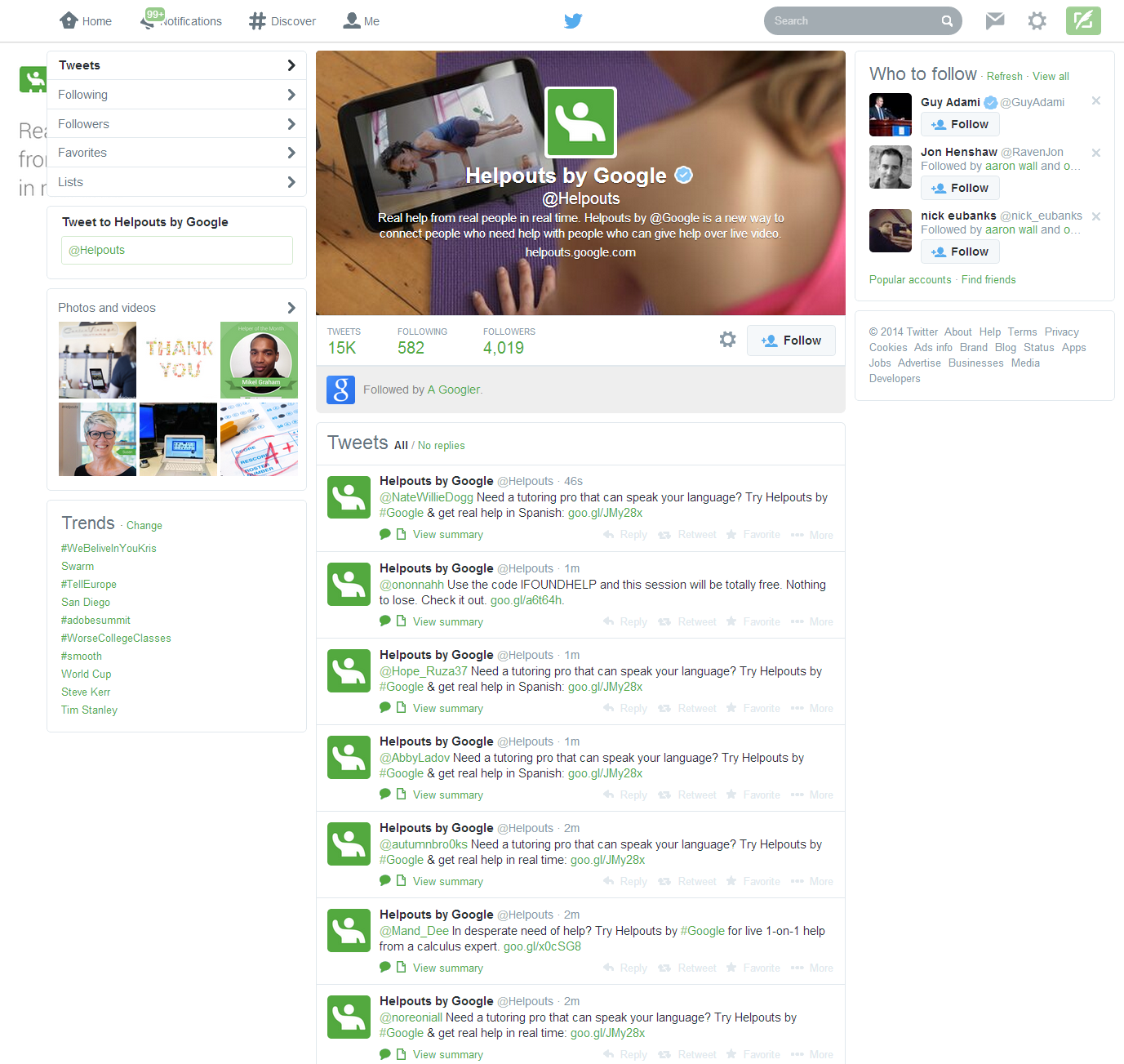 Let's take a look at the zero moment of truth:
@Helpouts I really don't want to pay for support.— Krishna M. Sadasivam (@pcweenies) May 14, 2014
Thanks for your unsolicited commercial message, but I am not interested.
@baileyboo612 @Helpouts what the heck??— logan™ (@logangaspard) May 13, 2014
You're confusing me. Some context would help.
@Helpouts Hi, who can help me? , do u have an email for talk there?— Pamela López (@karlismkt) May 15, 2014
No email support, but support "sessions"? What is this?
@Helpouts $1.00 a minute? No thanks...— (@Owennn_Marsh) May 14, 2014
Oh, I get it now. Is this a spam bot promoting phone sex?
RT "@Helpouts: Help is just a click away! Helpouts by #Google has Apple tech experts who can help out today." … No, just no— Johnny Blanchard (@JonnBlanchard) May 15, 2014
Ah, so it isn't phone sex, but you can help with iPhones. Um, did we forget that whole Steve Jobs thermonuclear war bit? And why is Google offering support for Apple products when Larry Page stated the whole idea of customer support was ridiculous?
@Helpouts MAN I'VE ALREADY TRIED GOOGLE— mya ☪ (@gleebegay) May 15, 2014
OK, so maybe this is more of the same.
@Helpouts hahaha I'm not going to pay money for things that probably won't even help me.— Nate Morse (@nt4343) May 16, 2014
Cynical, aren't we?
@Helpouts no, that's too expensive— Mahalah (@Mahalah_faye) May 16, 2014
And cheap?
@Helpouts im not paying— ononnah❄ (@ononnahh) May 15, 2014
Really cheap. :(
@Helpouts fu I'm not paying for help— Sam (@ttihweimmas) May 14, 2014
And angry?
@Helpouts Chill out!— Atsuro Kihara (@atsuro_enbot) May 15, 2014
And testy?
@Helpouts then why the fuck arent you fixing my mentions if youre such "trusted tech experts"— bianca // KIAN 4/6?? (@lawlorfflower) May 13, 2014
And rude?
@Helpouts no— Abby Williams (@abbywilliams96) May 15, 2014
And curt?
@Helpouts no— spongebobs weave (@googlingcraic) May 15, 2014
Didn't you already say that???
@Helpouts fuck you— Samuel (@SamuelJones69) May 14, 2014
Didn't you already say that???
@Helpouts what the heck— hey cal (@holycalum) May 14, 2014
It seems we are having issues communicating here.
@Helpouts ok I fucks with it. Next time try not to spy on my tweets lol— E (@Easy_Eli) May 14, 2014
I'm not sure it is fair to call it spying a half day late.
That was 11 hours ago @Helpouts pic.twitter.com/jRVV7rgtdW— 28 (@5SOSmaryam) May 14, 2014
Better late than never.
@Helpouts I fixed it already maybe? Thank you tho automatic message— Megar (@AH_Megan6) May 15, 2014
Even if automated.
Good catch Megar, as Google has a creepy patent on automating social spam.
@Helpouts Sorry, but I'll just ask my friends because they are free and I need to do the homework right now.— Emma Raye Mosier (@EmmaRayeMosier) May 15, 2014
Who are your real Google+ friends? Have they all got the bends? Is Google really sinking this low?
@Helpouts Classmates over corporations, Google. I'm not interested. BTW please don't censor the European internet.— Hash (@saikorhythm) May 15, 2014
Every journey of a thousand miles begins with a single step.
@Helpouts This is hilarious. If I ever need it I know you guys have this, thanks!— Gabriella (@Gaby441) May 14, 2014
Humorous or sad...depending on your view.
@Helpouts thanks! is there also a Helpout on how to shameless self promote yourself through twitter? just wondering— Etta Grover (@ettafetacheese) May 14, 2014
There's no wrong way to eat a Reese's.
Google has THOUSANDS of opportunities available for you to learn how to spam Twitter.
As @Helpouts repeatedly Tweets: "Use the code IFOUNDHELP for $20 off" :D
++++++++
All the above Tweets were from the last few days.
The same sort of anti-social agro spamming campaign has been going on far longer.
@Helpouts fuck off— Dagger Anderson (@daggeranderson) May 8, 2014
When Twitter users said "no thank you"...
@Helpouts THIS SHIT AINT FREE— mariam / 20 (@psychoticamila) May 8, 2014
...Google quickly responded like a Marmaris rug salesman
@Helpouts leave me a lone— mariam / 20 (@psychoticamila) May 9, 2014
Google has a magic chemistry for being able to...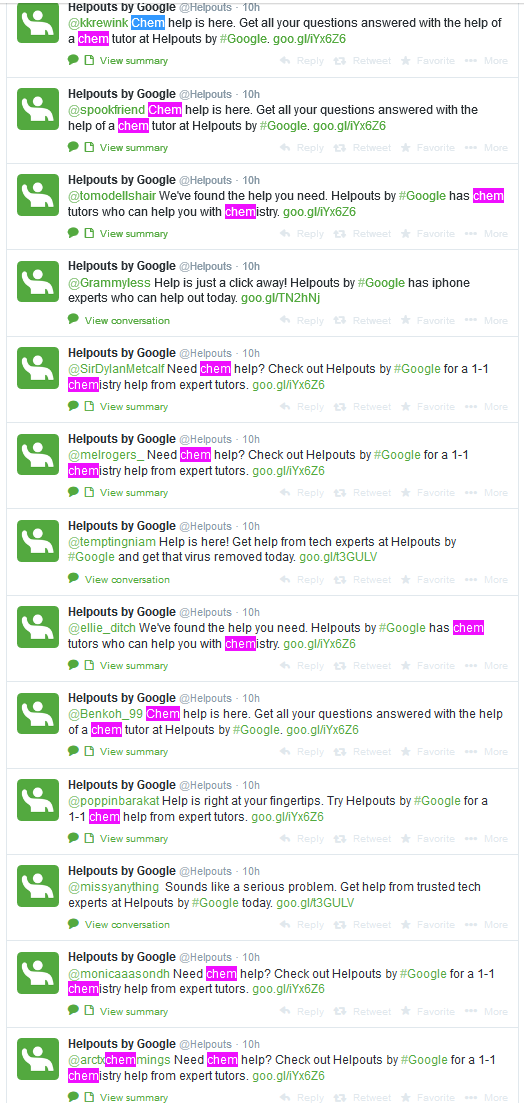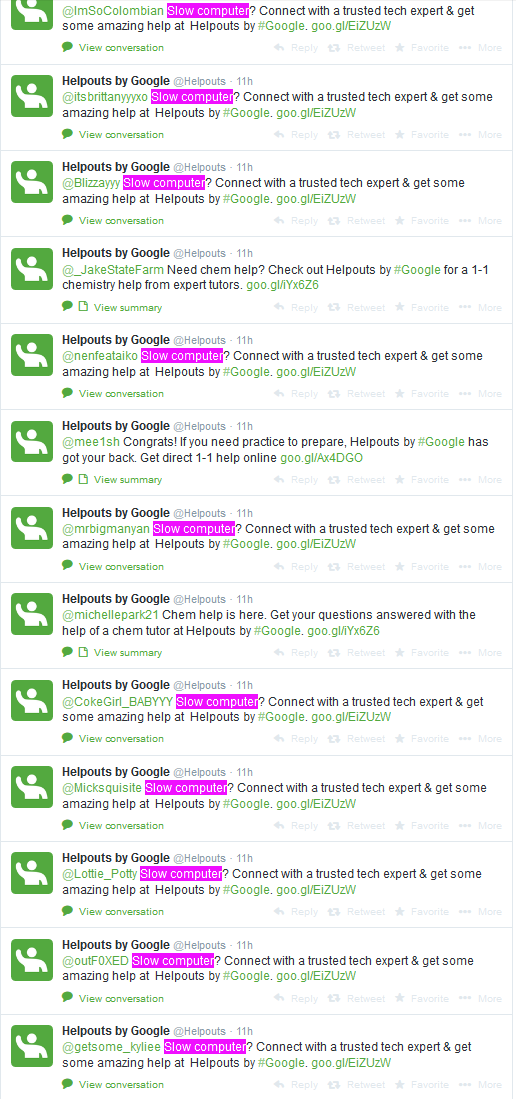 We need to fight spam messages (with MOAR spam messages).
@shelleyamybeth Lets try to get rid of all those Spam messages. Check out #Helpouts by Google for Wordpress help. http://t.co/eTTOMnpIhF— Helpouts by Google (@Helpouts) March 25, 2014
In a recent Youtube video Matt Cutts said: "We got less spam and so it looks like people don't like the new algorithms as much." Based on that, perhaps we can presume Helpouts is engaging in a guerrilla marketing campaign to improve user satisfaction with the algorithms.
Or maybe Google is spamming Twitter so they can justify banning Twitter.
Or maybe this is Google's example of how we should market websites which don't have the luxury of hard-coding at the top of the search results.
Or maybe Google wasn't responsible for any of this & once again it was "a contractor."
Update: After they stopped spamming, Google Helpouts never took off and is shutting down in April of 2015.