Google timed a nice Friday evening release to update of their policy toward copyright infringement.
Starting next week, we will begin taking into account a new signal in our rankings: the number of valid copyright removal notices we receive for any given site. Sites with high numbers of removal notices may appear lower in our results.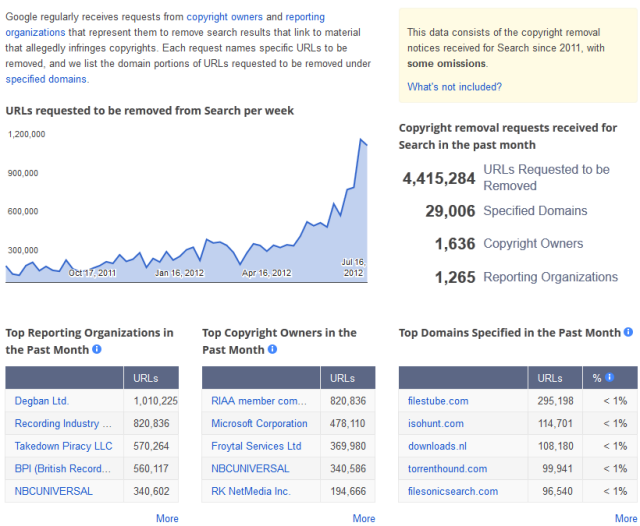 Wow. Sounds like trouble. Surely that means that YouTube's rankings are about to get torched.
Oh, nope. One quick exemption for the video king:
This data presents information specified in requests we received from copyright owners through our web form to remove search results that link to allegedly infringing content. It is a partial historical record that includes more than 95% of the volume of copyright removal requests that we have received for Search since July 2011. It does not include:

requests submitted by means other than our web form, such as fax or written letter
requests for products other than Google Search (e.g, requests directed at YouTube or Blogger)
requests sent to Google Search for content appearing in other Google products (e.g., requests for Search, but specifying YouTube or Blogger URLs).
Google does not state where the thresholds will be set & grants blanket immunity for themselves, yet they (illegitimately) emphasize that they are being transparent.
Only copyright holders know if something is authorized, and only courts can decide if a copyright has been infringed; Google cannot determine whether a particular webpage does or does not violate copyright law. So while this new signal will influence the ranking of some search results, we won't be removing any pages from search results unless we receive a valid copyright removal notice from the rights owner. And we'll continue to provide "counter-notice" tools so that those who believe their content has been wrongly removed can get it reinstated. We'll also continue to be transparent about copyright removals.
YouTube vs Sites Cleaner Than YouTube
Courts have ruled that embedding a YouTube video is not copyright infringement. The EFF has mentioned that embedding a video is simply a link.
And yet, a UK student faces up to 10 years in jail in the US for founding a crowdsourced site which links to sites that allow you to watch TV online.
Kim DotCom suffered a militant raid on his house & had his assets frozen for running MegaUpload, which was a tiny spec of dirt compared to the size of YouTube.
On the copyright front YouTube was rotten from the start:
Broader Copyright Questions
There still are a lot of murky questions in Google's "transparency."
HUGE Impact on the Web
Has anyone registered DMCASEO.com & DMCA-SEO.com yet? ;)
In terms of impact on the web for publishers, this change is every bit as big as Florida, Panda & Penguin. It may not seem so at first (as it will take time for market participants to consider the uses) but this is a huge deal. Consider some of the following scenarios...
Why did Google feel the need to grant themselves blanket immunity from the policy?
That question was largely missing among the fanboi blogs & journalists who were encouraged by Google's "transparency."
24 Karat Pyrite On Sale for Only $100 an Ounce
If YouTube is going to win big, then that's a great place to invest, right?
Maybe not.
Some venture capitalists are investing in YouTube channels, but that is a fool's game.
Note that I don't claim YouTube is a bad host for your own content, but that I am skeptical in applying the VC model to it with a belief that you can out-invest Google on their own site; particularly when they own the dominant platform, control the non-public revenue share rates, invest in competing channels & can offer free promotion + higher rates to anyone they invest into in order to dominate the category.
And the issue isn't just video either. The same dynamic can apply to just about any other infrastructural layer. For instance, Google could buy out a torrent site (say like uTorrent) and have that site gain immediately immunity for being part of the borg, while other sites that compete now absorb both greater editorial filtering costs & greater risks that destroy their ROI.
As Google continues to lock down search, you can expect more smart publishers to hedge investments in search and YouTube with investments in proprietary non-search applications that Google can't take away.
The Devil is in the Details
"We are optimistic that Google's actions will help steer consumers to the myriad legitimate ways for them to access movies and TV shows online, and away from the rogue cyberlockers, peer-to-peer sites, and other outlaw enterprises that steal the hard work of creators across the globe. We will be watching this development closely — the devil is always in the details — and look forward to Google taking further steps to ensure that its services favor legitimate businesses and creators, not thieves." - Michael O'Leary, Senior Executive Vice President for Global Policy and External Affairs of the Motion Picture Association of America, Inc.
The concerned with Google pitching themselves as the preeminent authority on copyright is they have consistently played both sides of the fence.
When Google was competing against YouTube, this was how they viewed copyright internally.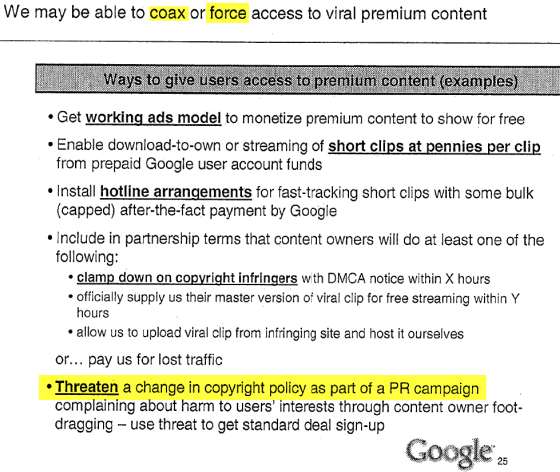 Business Objectives Drive "Relevancy" Signals
Google is a big player in business online and off. They can sell private data exclusively & their online profits are so huge that they are now buying auto loan bonds.
Now that Google wants to sell premium content they (sort of) respect copyright (& are willing to hold the rest of the web to a higher standard than themselves to create this impression).
I have long believed that relevancy signals were often politically driven & that internal business development goals often lead or create various signals. Certainly that was obvious when Google+ was hardcoded in the search results. It was equally true when Knol outranked the original content sources. Google frequently pretends to be (belligerently) unaware of externalities, but when the issues impact their own business they gain an elevated sense of importance.
And these business objectives not only influence the relevancy algorithms, but also the editorial guidelines.
And even while Google is rolling out this "copyright violators are spammers" algorithm (which they are exempt from) they still chug on with their ebook offering:
They posted several of my 41 books up as free downloads (some were missing a few pages at most a single chapter) It took several e-mails from me pointing out that they were infringing copyright before they took them down. During the time my books were free on Google my sales of e-books fell dramatically. " - K C Watkins
When Google started scanning books an internal document stated: "[we want web searchers interested in book content to come to Google not Amazon" ... or, as put another way, in that same document, "[e]verything else is secondary … but make money."