On Sitepoint Clinton Lee wrote a 6 page high quality web site valuation guide.
The New York Times recently published a great article about flipping websites, quoting my buddy Peter Davis.
Shane Pike recently blogged about selling one of his sites to Internet Brands. The site he sold was the one that let him quit his job. I gave him some tips on how to build traffic and increase monetization during a 15 minute chat at Elite Retreat in December of 2006. He quickly took my advice to heart and is a richer man for it. Here is his revenue graph from that site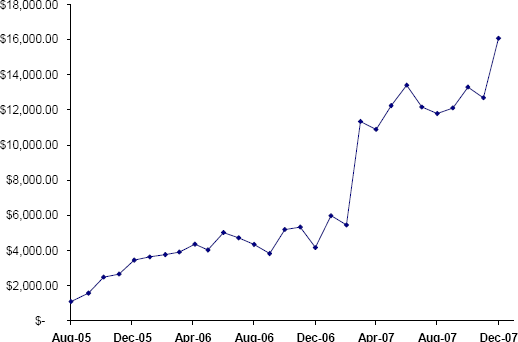 But where he really made a killing was when he found investment bankers to help him sell on a nice multiple of that
If you believe your site could sell for more than $100,000, you're throwing money away if you don't use an experienced broker or investment banking firm to help you sell it. Because they're much more adept than you at running an efficient process, finding potential buyers, and maximizing the bids from those buyers, they make up their fee many times over.

For example, this whole process started when I received an unsolicited bid for the site. Before all was said and done, though, my representatives had secured not just one, but two final bids that were ten times that initial offer. I couldn't have gotten half that on my own.