May 5th
Google gobbles more data by releasing Google Web Accelerator.
Thought I doubt the tool has much use, I love how smart the marketing is. They show a time meter of how much time the tool saved to make it seem as though it is providing an exceptionally useful service for users. To me it just looks like an excuse for Google to try to collect more data.
In my last post there was the following comment

I agree with the premises of privacy, and of not giving people too much information, I just don't know how Google would hurt any individual smart search marketer's business model.
There are many ways Google can hurt many people. One thing you have to worry about with some of these helpful plugins is how often will you see screens like this?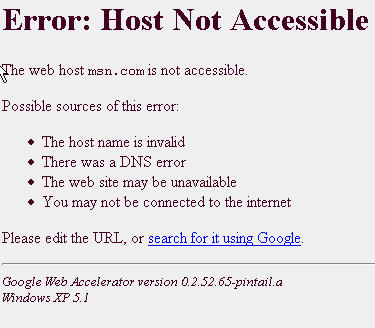 If you rely on internet marketing and do not have a strong brand you can count on Google swallowing more and more of your margins as their network will allow the richest & most socially active businesses to learn from and control the search results.
Lots of people were talking about their TrustRank algorithm over the weekend. What I find interesting is just how positively people spin the concept. Just look at this post title:
Future PageRank Helps Reputation And Trustworthiness Shine Over Artificially Inflated Search Results: Google TrustRank
and see how much many people still trust Google.
Fantomaster has a good post about the bigger picture, and the potential end goal of Google:
Most people, even in SEO / SEM, don't seem to be entirely clear about what data mining actually is about. A lot of fuzzy concepts abound, but only a few people seem to realize the commercial potential inherent in owning the world's largest database of trackable and verifiable user behavior.

Take AdWords: a great revenue stream for Google, true; but offhand I'd estimate that the overall value of the data generated from that venture alone probably beats the AdWords revenues by factor 6 or more if properly processed, analyzed, calibrated and marketed.
Published: May 5, 2005
New to the site? Join for Free and get over $300 of free SEO software.



Once you set up your free account you can comment on our blog, and you are eligible to receive our search engine success SEO newsletter.
Already have an account? Login to share your opinions.
Over 100 training modules, covering topics like: keyword research, link building, site architecture, website monetization, pay per click ads, tracking results, and more.
An exclusive interactive community forum
Members only videos and tools
Additional bonuses - like data spreadsheets, and money saving tips